The Argument for Skate Parks
The numerous benefits of skate parks outweigh their high costs for the growing number of U.S. cities pursuing them.
---
"If a city doesn't have a skate park, it is a skate park."
That short sentence, tucked at the end of "30 Reasons," an essay published by Skaters for Public Skateparks (SPS), should jump off the page if you work for a city or town.
Skateboards, BMX bikes, freestyle scooters and inline skates: We see them being propelled by teens (and adults) all around our cities, in and out of traffic, and sometimes grinding across edges in our public spaces. What's the alternative?
Building a skate park, which provides many long-term benefits for wheeled-sport participants and the community, according to SPS, a nonprofit skate-park advocacy organization.
Also, says SPS, skate parks:
Provide a safe place to recreate
Attract skateboarding tourists
Add a healthy, athletic outlet for today's youth facing a greater number of national health issues
Offer an accessible, low-cost, equal opportunity way to participate
Improve safety -- they are much safer for skating than streets
Displace less desirable activities in the area they are located in
Pricey Parks
If skate parks are such a boon to the community, why doesn't every city have one?
Skate parks are expensive to design and build, approximately $40-$45 a square foot says research from the Tony Hawk Foundation, totaling an average of $262,481 nationally.
Despite the daunting cost, groups are determined to build skate parks in their communities, employing various methods to raise money, through large donations, grants, corporate sponsorship, city funding and even old-school fundraising.
Under The Bridge Asset
After more than 12 years of planning and raising money, the 40,000-foot Lynch Family Skatepark received rave reviews when it opened below the Leonard P. Zakim Bunker Hill Memorial Bridge in 2015.
The park, located in East Cambridge, Mass., along the Charles River, cost $4.5 million, including construction, environmental remediation, planning and design, according to Charles River Conservancy, the nonprofit that oversaw the project.
"That figure includes a $1.5 million donation from Vans, which plans on hosting two skating events per year at the site, an $800,000 donation from the Lynch Foundation, $1.75 million raised via various grant donors, and $450,000 in public money," according to CRC's website. The public money includes $100,000 from the Boston Redevelopment Authority, $200,000 from the city of Cambridge and $150,000 in state funding.
Dreaming Big in Michigan
In 2010, a group of young skaters in Armada Township, Mich., formed Armada Board and Bike with the goal of building a skate park in town. They started with just $240 in the bank.
As of last year, the group had managed to raise $1 million toward its goal, beginning in 2011 with a $10,000 award from Reader's Digest, after the group entered an essay contest called "We Hear You America." Armada was one of 20 towns that received grants to allow them to kick off or complete projects within their community, according to The Voice.
The money was awarded to the township and turned over to Armada Board and Bike once they became a 501(c)3 nonprofit organization.
"Years of spaghetti dinners, bowling nights and a marathon were put on as fundraisers by a group that was made up of teenagers and parents passionate about the project," according to the article, as well as in-kind donations from local businesses, support from United Auto Workers, and a $100,000 matching grant from the township.
Spohn Ranch Skateparks began construction in June and it's expected to open later this summer.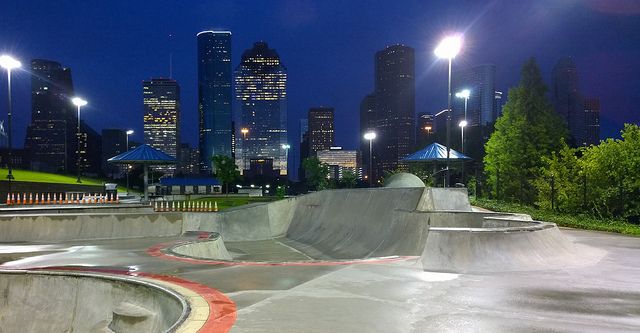 Twice an Angel
Skaters and riders in Houston, Texas, patiently waited 11 months for the Lee and Joe Jamail Skatepark to reopen after the Houston Parks and Recreation Department closed it over safety concerns in April 2016.
In the case of this 40,000 square-foot park, an angel donor paid for its original construction as well as its renovation.
According to the Houston Chronicle, the original facility was built in 2008 with a $1.5-million donation from Houston attorney Joe Jamail in memory of his wife. Joe Jamail died in 2015, but the Lee and Joseph D. Jamail Foundation covered the $2 million renovation.
"This is 11-months-worth of waiting, so a lot of people are pretty impatient today," Shannon Trevino, the park's supervisor, said in the article. "They're just dying to skate — I don't blame them."
Skate Park Foundation Grants
For grants, many groups turn to the Tony Hawk Foundation (THF), which awarded $5.4 million to build 560 skate parks in all 50 states, and the District of Columbia between 2002 and 2015, according to its 2015 annual report.
In 2002, Hawk – a professional skater and the face of the sport for many years -- established THF "after receiving thousands of e-mails from parents and children across America who did not have a safe, legal place to skate," according to the organization's website.
THF has two annual application periods, in June and January and will award as much as $25,000 to projects that meet its strict guidelines.
"The Tony Hawk Foundation seeks to foster lasting improvements in society, with an emphasis on supporting and empowering youth in disadvantaged communities. In the U.S., the foundation supports the creation of public skateboard parks that promote healthy, active lifestyles."
Learn more about funding opportunities with the Public Skatepark Development Guide.