South Bend is Enhancing Community Safety Through Massive Parks Effort
South Bend is enhancing community assets and safety through a $50 million parks redevelopment effort. Part of long-term planning on pedestrian safety enhancements, a city-owned bike repair shop supports bike commuting in the city's West Side.
---
A South Bend, Indiana, initiative, "My South Bend Parks and Trails," is intended to enhance park access for people of every level of income, according to the city's mayor (and an Election 2020 Democratic presidential candidate) Pete Buttigieg.
"This is the biggest investment that our parks and public spaces have ever seen," Buttigieg told WSBT in 2018. "It's a lot of resources, but we also think we're going to get a lot back from that investment in terms of (a) healthier, more equitable, fast-growing community."
South Bend, Indiana's new Venues Parks & Arts department (VPA) has made an impact on the city since its formation in 2017. The strategic merger of two departments has led to a $50 million investment that will reshape the parks, trails and riverfront throughout the city situated at the southernmost bend of the St. Joseph River.
Aaron Perri, South Bend VPA's executive director, described the public health and public safety goals as active agency drivers behind programming the city's public spaces.
"We know, for example, that when a shared neighborhood space like a park is deteriorating a few things happen: Children and families don't go there; physical activity decreases and public health suffers and the spaces become less safe and turn into areas that attract illegal and illicit activity," he said, noting that the city's maintenance costs increase due to vandalism and misuse, while property values decline.
Like attracts like -- when the city takes good care of (its) properties, adjacent properties tend to follow suit," he added.
Several Parks Will Undergo Modernization
According to a 2017 segment on ABC57, money to reshape the parks will be raised through:
Private and outside funding -- $19 million
Tax-Incensement Financing (TIF) funds -- nearly $11 million
Park bonds (new and old) -- about $18 million.
Along with other mayors countrywide, Buttigieg signed the 10-Minute Walk Challenge, promising to make sure everyone in his city has safe, easy access to a quality park within a 10-minute walk of home by 2050. With that in mind, Perri and his staff are working to fill in the gaps and improve trail access between parks.
Perri pointed to two marquee projects -- doubling the size of the Charles Black Center and the revitalization of Howard Park. He added, however, that "the neighborhood parks are the most important places to residents on a daily basis."
Howard Park -- the city's first park --  is currently undergoing a major reconstruction that will include a 14-foot-wide ice trail, the second of its kind in the country, according to the city's prospectus. It will also include a café, playground, recreation center, an interactive water fountain, an events lawn and extended trails.
"It'll be pretty special for folks to visit, not only if you're from South Bend, but it'll be a destination for folks from near and far," Perri told WNDU.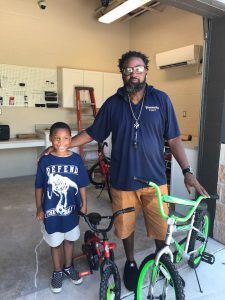 The Charles Black Center will be renovated and upgraded, and the expansion will provide more room for storage, three practice basketball courts, an expanded fitness center, a music studio, new HV/AC systems, concession area, locker rooms and a bike repair shop, according to the VPA's website.
The publicly owned bike shop, operated with Charles Black Center staff and community volunteers, will be the first on the West Side.
"This new amenity is designed to help provide some equity when it comes to access of basic services, while also creating public health and mobility benefits," Perri shared with Gov1. "Combined with miles of new on- and off-street bike trails, the bike shop should serve to make our community safer and more physically connected."
Integral neighborhood parks projects and initiatives include:
Brownfield Park: addition of a zipline, relocated soccer goals, player benches and a swinging bench
Fredrickson Park: Improved multi-purpose trail to enhance neighborhood connectivity
Rum Village Park: A new dog park, nature center and disc-golf course as well as an aerial adventure center
Increased activities: VPA's extensive website lists a multitude of things to do like as senior workouts, children's summer camps, sports, yoga, concerts for all ages, Middle-Eastern dance, a kids triathlon and cardio drumming.
'Boomin' Parks Tour': A custom-designed trailer that visits city parks, staffed and programmed with ever-changing activities that include music, video, recreational activities and food. The goal of "Boomer" is to reactivate neighborhood parks and increase community engagement and connectedness.
Key Impact Drivers
VPA's "Strategic Plan 2017-2021" lists six overall departmental impact drivers that serve to guide the department. They consist of:
Social Equity: Erasing societal divides and ensuring the ability to thrive for all, regardless of income level, race, gender, ability, orientation or age.
Neighborhood and Environmental Impact: Creating strong and safe neighborhoods and providing significant return on investment.
Health and Wellness: Enhancing the physical, mental and emotional wellbeing of individuals.
Ecological Stewardship: Responsible use and protection of the natural environment through conservation and sustainability practices.
Social Unity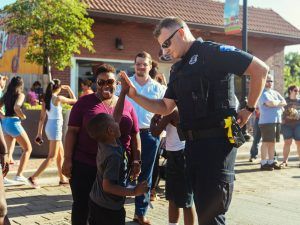 Each June, the city produces Best Week Ever (BWE) a comprehensive festival that celebrates creativity, culture and progress in South Bend and includes concerts, fireworks, parades, rafting competitions and more intended to bring the city together.
"Social Unity is important," Perri said. "The more people are out connecting with one another, the more cohesion there will be in our community. It's not enough for us to do it neighborhood-by-neighborhood; we want high impact occasions, like Best Week Ever to bring the entire city together, perhaps into places that they might not normally visit. That's why BWE takes place in various neighborhoods throughout the week -- it's not just a downtown festival."
Strategic Parks
Vibrant, well-maintained parks are a critical component to South Bend's development, according to Perri.
"Sometimes work like performing arts centers and parks can seem like the 'soft' work of the city. It's more extra-curricular than perhaps, the streets or public safety departments," he said. "But just like extra-curriculars are critical to the development of a child in school, so too are they in the development of the city. We're well served to combine our work into a more strategic and consolidated effort."
Learn more about My SB Parks & Trails on South Bend's website.
In 2016, South Bend earned the Secretary's Award for Overall Success and Complete Streets award in the U.S. Department of Transportation's Mayors' Challenge. Review and download the official DOT case study:
South Bend Wins Overall Success in DOT Mayors' Challenge by Ed Praetorian on Scribd
Editor's Note: July 30, 2019. Updated to include pedestrian safety case study.