COVID-19: Local parks departments are on the front lines of social distancing enforcement
A roundup of how local parks and recreation departments are helping residents stay both healthy and safe as the pandemic threatens communities
---
As outdoor organizations promote the safe use of parks and open spaces as a way to reduce stress and improve mental health during this period of mandatory social distancing, some municipalities, on the other hand, are finding such guidance falling on deaf ears.
In Oak Park, Illinois, city officials have had to go so far as to remove the tennis nets and basketball hoops from their now closed facilities to deter local residents from further flouting safety guidelines. 
And unfortunately, this is far from an isolated incident, leading vital outdoor resources across the country to be shut down en masse to protect the public from not only the virus, but themselves, it would seem.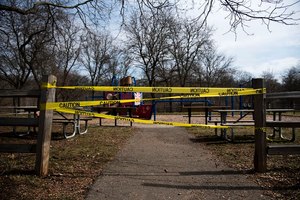 In New York City, the U.S. epicenter of the virus with at least 33,768 cases at last count, the Parks Department Service has closed all park recreation centers, nature centers, historic houses and even the popular High Line.
Gov. Andrew M. Cuomo, at his April 1 coronavirus update, announced the state will close down New York City playgrounds and leave open spaces available for recreation.
I've talked about this for weeks. I warned people that if they didn't stop the density and the games in the playgrounds — you can't play basketball, you can't come in contact with each other — that we would close the playgrounds," Cuomo said.
Without specifying if it was an immediate shutdown, Cuomo called for social distancing in the remaining open spaces.
"No close contact, no violation of social distancing. Period. That's the rule."
Tulsa, Columbus close facilities
On March 26, Tulsa, Okla., closed playgrounds, adult fitness facilities, sports courts, dog parks and skate parks "in an effort to combat gatherings of 10 or more people," the city explained in a statement.
Tulsa trails, open space, disc golf and city and county golf courses will stay open.  
Similarly, the Columbus, Ohio, Recreation and Parks Department recently announced that all facilities, public playgrounds, sports courts, and public recreational equipment are closed through May 1 as officials urge precautionary measures amid the coronavirus outbreak, according to a release.
"Parks and open spaces continue to serve as a vital resource for our neighborhoods," Columbus Health Commissioner Dr. Mysheika Roberts said.
"As a city, we continue to be committed to protecting the health and safety of all residents. By closing playgrounds, basketball courts and public recreational equipment, we can all do our part to stop the spread," she said. 
To comply with the Ohio Department of Health's orders for social distancing and basic hygiene to slow the spread of COVID-19, Columbus Recreation and Parks Department asked residents to follow these guidelines: 
Do not use parks or trails if exhibiting COVID-19 symptoms. 
Follow Columbus Public Health's guidance on personal hygiene before and during the use of parks or trails. Wash your hands often. 
While on trails, people should warn other users of their presence as they pass, and step aside to let others pass. 
Practice social distancing. Stay six feet from other individuals at all times. If this is not possible, users should find an alternate location or depart that space.
Dallas threatens closures
After hundreds packed Dallas parks Saturday, many not adhering to six-foot social distancing guidelines, the city threatened to close some of its 397 parks, according to a report from the city's NBC affiliate.
"We don't want to shut down parks, but public health comes before amenities," Dallas County Judge Clay Jenkins said. "Please help us help you by observing social distancing."
The Parks and Recreation Department will now use barricades at the entrances to some parks in an effort to slow vehicular traffic, the city explained in a tweet.
Please adhere to the required social distancing rules when utilizing parks and trails. If not, overcrowding will lead to closing of all parks and trails. pic.twitter.com/KB5m0VorCc

— City of Dallas (@CityOfDallas) March 29, 2020
Concern in Boston
Boston parks were busy over the weekend, too, with so many groups playing team sports, Boston.com reported, that Mayor Marty Walsh announced new measures Sunday aimed at discouraging group activities in public green spaces.
Walsh announced that sports like soccer, street hockey, basketball, and tennis are banned. City employees have already begun putting zip-ties on basketball nets. Walsh also said they're planning to put up more signage informing visitors of the rules, and did not rule out further action if they weren't followed.
"The last effort is to lock the park down," he said. "We don't want to lock the park down."
Charlotte, St. Louis under pressure
Charlotte, N.C., parks were so packed last weekend that social distancing wasn't an option, Mecklenburg County Health Director Gibbie Harris said during a Sunday press conference.
These are presenting situations where we will see individuals exposed in ways that are against our stay-at-home order," Harris said, as county officials announced the first local death from COVID-19 likely arose from "community spread" of the disease.
Greater restrictions may be needed to enforce distance rules in outdoor spaces, Harris said.
Facilities in the St. Louis, Missouri, region faced similar challenges on Sunday; park-goers resorted to leaving cars on the grass after lots filled up.
Missouri State Parks Director Mike Sutherland visited Castlewood State Park in Ballwin on Sunday afternoon, according to the St. Louis Post-Dispatch.
"I wanted to get out, as the parks director making decisions, to see firsthand what the situation was," Sutherland said.
 "The park was really at capacity. During the day, we had to shut the gate twice because it got to where cars would come and couldn't find a parking spot," he told the Post-Dispatch. "On some of the trails people were sparse and gave plenty of distance. Then there were some other trails where there was a high density of people."
Asked if he foresaw implementing more restrictions to maintain social distancing, he said not all 92 state parks are as busy as Castlewood but that he'd be looking into it.
Denver citations
Denver's Department of Public Health and Environment recently issued an enforceable stay-at-home public health order that denotes "outdoor recreation" as a critical activity.
But if recreation enthusiasts don't stay at a legally mandated safe distance of six feet or more from other parties, city staff will issue and track warnings and citations, according to a FAQ page.
Citations are orders to appear in court. A judge will decide if there will be a fine imposed, which could be up to $999.
Compounding the issue is the fact that Denver has a limited number of hiking trails and the order precludes active people from traveling outside the city to stretch their legs.
Staying at home means staying where you are — not going to neighboring communities or the mountains for recreation where we could further spread COVID-19 and overwhelm limited healthcare systems," the order explains.