Connected Safety: Using IoT to Boost Emergency Communications
Through its free connected safety platform, Noonlight shares critical caller information with 911 dispatchers and first responders in real-time -- situational and contextual data like GPS-location, medical history and more.
---
It's no secret that the 911 system is dated. From poor caller location services to siloed information systems for police, fire and EMS providers, legacy 911's dependence on landline infrastructure imposes a slew of challenges for dispatchers and first responders. With our current 911 system, dispatchers typically spend the first 2-3 minutes of emergency calls gathering basic information, like a person's name, description and location. But during an emergency, every minute is critical.
Imagine a 911 system that can intuitively know more about emergency alerts -- without having to answer a phone call.
IoT is Boosting Emergency Communications
Since 2000, NENA and others have promoted Next Generation 911 (NG911), but because of system interoperability issues, along with the financial investment needed to overhaul dispatch centers nationwide, that promise has yet to be delivered. In a 2014 survey by the Center for Digital Government, only 6% of emergency call center respondents had NG911 infrastructure in place, and 73% of respondents were unsure if they would even be replacing their legacy systems.
The good news is that advancements in the realm of consumer IoT bring new opportunities to improve 911, without the costly implementation of reconstructing infrastructure.
Connected devices exist in almost every corner of our lives. Smart thermostats and home security cameras, health-monitoring wearables, voice assistants and more are powered by technology that was largely unthinkable even a decade ago. Bain predicts that the IoT market will more than double from 2018 to 2021.
Companies from Apple to Uber are recognizing IoT's potential to streamline emergency response communications, cut down call response times and ultimately, save lives. Automating the exchange of information during emergencies is one of the clearest solutions to one of legacy 911's biggest challenges. Our team at Noonlight streamlines communications between consumers, dispatchers and first responders through our free consumer app and back-end platform.
In an emergency, Noonlight's responder-focused features are designed specifically for emergency response personnel and work directly with dispatchers and public-safety access points (PSAPs) to vet emergencies and provide highly accurate location and other vital emergency event information.
How Connected Safety Works
The free platform is compatible with any PSAP in the United States, regardless of the infrastructure in emergency communications centers or in public safety field units, and is free to first responders nationwide. Any dispatcher or first responder with Internet access can utilize the secure platform to join live alarms and receive automatic alerts with crucial emergency information.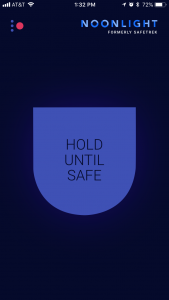 The consumer platform is the source of that vital data. Consumers connect IoT devices to the free Noonlight app, and sensors and data from the devices are communicated to PSAPs during emergencies, delivering critical and pertinent user information, like personal background, medical history and even live context from an in-progress emergency.
Noonlight then alerts local first responders of confirmed emergencies with geotagged locations, and instantly shares contextual information from devices connected to the Noonlight consumer app – such as Amazon Alexa, Canary smart camera systems, Fossil smartwatches, Nest Protect and more.
What's perhaps most efficient about this process is that it's automated and does not require a traditional 911 phone call or even text from a victim. Alarms can be triggered automatically from IoT devices, such as when a smart smoke/CO detector detects dangerous levels of carbon monoxide. Noonlight's team of certified operators are able to screen alarms before calls reach public safety dispatch centers, mitigating more than 99% of false alarms. Through the platform, Noonlight can empower first responders with greater situational awareness about an emergency before they arrive on scene.
Noonlight launched in 2013 and has helped in more than 150,000 emergencies across the U.S. to date. Emergency communications professionals and first responders alike are increasingly using the platform to access information during emergencies, increasing efficiency and helping them save lives.
Learn more about the platform and request a free training kit for ECCs and dispatchers.