5 big box store community grant opportunities
Big box stores offer communities grants for public safety, community engagement and resilience. Learn more and know when to apply
---
Lowe's just announced that it will be making $25 million in grant funding available to assist minority-owned businesses reopen following COVID-19 shutdowns. In an interview with CNBC's Jim Cramer, CEO Marvin Ellison announced the initiative and urged other large businesses to follow suit: "To all my fellow CEOs out there running large companies," he said, "let's do our part to help the small businesses get back up and going."
Funds are available for small businesses, especially home improvement professionals, in need of masks, personal protective equipment and other supplies to operate safely. Interested applicants can email Community@Lowes.com for more information or contact their local store directly.
Several big box chain stores provide small grants to local non-profit organizations and community groups and community engagement, disaster preparedness, resilience, public safety and emergency planning are eligible efforts.
Walmart Grants from $250 to $5,000
In FY2019, Walmart stores and clubs provided more than $42 million in local grants, which are "designed to address the unique needs of the communities where we operate," explains the Walmart Foundation website.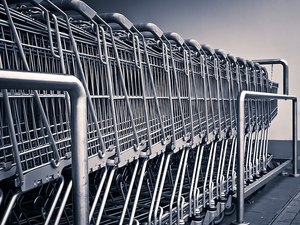 In 2017, [for example], the La Harpe, Illinois, Walmart store recognized a need for fire safety education in the community. The store led grant-making efforts aimed at the local fire department's safety education program and enabled the purchase of new equipment for training."
Grant applications can be submitted on a rolling basis throughout the year. The 2020 grant cycle began February 1, 2020 and runs through December 31, 2020. 
Target Foundation Grants
The Target Foundation offers grants to communities in three focus areas:
Equity for All — These grants are for organizations based in the Minneapolis-St Paul area "that are working to address the specific systemic and structural barriers facing under-resourced and underserved communities." Awards range from $25,000 to $200,000. Review the funding guidelines here.
Financial Security & Empowerment — These grants are intended for organizations across the U.S. "that are building financial security and individual empowerment in communities across the U.S." While application to this program is by invitation only, the Target Foundation welcomes the opportunity to learn more about interested organizations. Information forms can be submitted to the foundation here.
Sustainable Livelihoods — These investments are for organizations working globally to improve "economic opportunities for families in emerging economies to sustain themselves and their communities." Application for this program is also by invitation only, but interested organizations can submit their information form here.
Home Depot Grants up to $5K 
The Home Depot provides grants in the form of gift cards for tools, materials and services up to $5,000 to communities and non-profits that are seeking to improve the physical health and well-being of communities by engaging the power of volunteers.
Grant-eligible projects include weatherizing and improving the resilience of low-income or transitional housing and community facilities. Applications for Community Impact Grants can be submitted throughout the year and are only accepted online. 
Update: As of April 27, 2020, The Home Depot Foundation has closed the Community Impact Grant program for the remainder of 2020 as we focus our resources on the immediate needs of our national nonprofit partners.
Lowe's Foundation Grants  
The Lowe's Foundation has recently changed how it identifies organizations for support. Although applications for its Community Partners Grants are now accepted by invitation only, interested organizations can introduce themselves via email.
Costco Charitable Community Donations
Costco Wholesale's grant program is intended to provide support for non-profit organizations focused on children, education and health and human services. Only monetary grants will be awarded.
Costco invites applications throughout the year — September through August — from organizations of varying scopes and sizes. For local organizations supporting local causes, applications should be submitted to the Warehouse Donations program. Larger, broad-based organizations can submit a grant application here.
Visit the Costco Charitable Giving FAQ page for more detailed information.