Can a neighborhood rebuild wealth for the people who actually live there?
By embracing incremental development, starting with supportive regulation, civic leaders can help revitalize neighborhoods and keep the gains local
---
Strong Towns
By Rachel Quednau
Is it possible to slowly improve a neighborhood — fixing up homes, increasing property values, and encouraging business activity — without displacing the people who live there? 
Joel Dixon thinks so, and he would know. Dixon is a small-scale developer working on the west side of Atlanta, who has been incrementally rehabbing and selling houses in a neighborhood where he grew up and still lives today. He's committed to both making a profit and also helping neighbors in his community build wealth for themselves and find beautiful places to call home.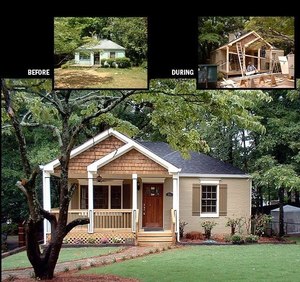 In the early 2000s, Dixon was working for a tech startup and began partnering with a friend on the side doing real estate development. He watched an area that was previously known as "Little Vietnam" because of its high levels of violence transition into a space filled with million-dollar homes and one of the best public school systems in the city. "Because I was raised here and I knew the context, it was amazing to see from afar," says Dixon.
But Dixon also began to be troubled by the immense speed with which property values had risen in that neighborhood. 
If homes that were previously worth $10,000 were now going for $1 million, where did that leave middle class and lower income residents? 
In 2016, Dixon took a leap and left his tech job to focus on development full time, in the hopes of finding a new model that would be more inclusive and affordable. He connected with the Incremental Development Alliance and attended one of their bootcamps, as well as participating in the Center for Leadership at the Urban Land Institute. These organizations not only helped him learn concrete small-scale developer skills but also helped him make important connections that would later open doors for him, something Dixon finds particularly significant as an African American who might not otherwise have had access to that sort of networking.
Dixon began this part of his journey as an incremental developer by moving into the neighborhood that he wanted to work in, where he still lives to this day. His business partner lives a few blocks away from him. Dixon says this is an "essential component of my story." It means "automatically creating a buy-in with our neighbors and doing community engagement just by living here."  
Dixon is deeply committed to this model of living where he works because he knows that by being present in the neighborhood, he's more in tune with the needs of that community. For Dixon, who grew up in Atlanta, this is personal. He watched many wealthier Black Atlantans gradually leave core urban neighborhoods as desegregation enabled them to move out to the suburbs, and what was left behind were poor Black communities mired in decline and drugs.
Dixon is trying to shift those tides, leading by example to say that African American middle-and upper-income people can and should make a home back in the city. "I wanted to let people know I'm willing to do it," he says.
If neighborhoods are going to improve and property values are going to increase, Dixon wants Black people to be part of that process rather than getting displaced through gentrification. "We can create Black wealth," he says.  
While he dreams of a world free of housing discrimination, institutional racism and other forces that have prevented African Americans from gaining wealth, he also recognizes that people need to work within the system that exists today. "If we move into neighborhoods that are going to transition upwardly in value," Dixon states, "we will create wealth early and be part of the wealth-building that happens." 
So in 2016, Dixon and his business partner began fixing up and reselling single-family homes in their neighborhood a few at a time — buying at the low price points that were the norm on the west side, and trying to sell these rehabbed homes for amounts that were accessible to middle class families while still covering the costs of the project. 
We didn't have any relationships with governments or subsidies, so we still had to do it with a for-profit developer mindset," Dixon says.  
Incremental development is based on the idea that small improvements, one home at a time, can slowly make neighborhoods more attractive and safe — increasing property values step by step over time. By purchasing houses in disrepair in a neglected neighborhood for their current affordable prices (often well under $100,000), then rehabbing them to become livable and beautiful again (but not massive or fancy) — Dixon and his team at Urban Oasis Development are able to sell or rent them to neighbors for reasonable prices.
Dixon reports that income levels and housing prices have indeed been growing in the neighborhoods where he develops. He shares his own home as an example: "My house was $230,000 when I bought it. It has since been appraised for over $400,000 — and that's just in a three-year period."
In his earlier developer days, when he watched Little Vietnam turn into a wealthy enclave, he estimates that only one in ten of the homes he and his partner developed on the east side of Atlanta were sold to a person of color. Today, working on the west side, three or four out of ten homes he develops will end up in the hands of a person or family of color, usually African American. 
Dixon sees this as progress toward improving neighborhoods while still growing Black wealth. "While that is still going to create a transition [for the neighborhood], it's going to be a lot more moderated," he remarks. Such a process of development — where prices are kept at a reasonable level and the development happens at scale with the surrounding neighborhood — maintains more racial diversity than might have happened if modest homes were being bulldozed with million-dollar mansions built in their place. 
One challenge to keeping prices affordable, though, is that Atlanta's current zoning laws make it very tough to develop multifamily housing, especially for a small-scale developer. Since zoning is structured mostly for single-family homes, Dixon says even someone wanting to just redevelop an existing duplex to current code will struggle to get the necessary exceptions and approvals.
Dixon says his company owns a few lots next to one another where they have been hoping to build a duplex, but could not afford to wait for approvals and pay the legal fees necessary to wade through the process for months on end.  
Still, Dixon is passionate about promoting affordable multifamily housing, and part of that does not even rely on changing policy — it's also about changing public perception associating multifamily rentals with poverty and crime, he says. In addition, Dixon hopes more people who care about their neighborhoods will choose to buy rental properties when prices are low and then keep the rent affordable. If you can cash-flow a duplex at $500 per unit right now, Dixon offers as an example, then you can leave the rent at that rate in the future, even if other rental prices go up in the area.
So what's next for Dixon and Urban Oasis? While many businesses are experiencing a downturn right now, business is booming for Urban Oasis. Dixon has multiple projects in the works, including developing homes that are part of a community land trust, partnering on the adaptive reuse of a former church, and more.
On top of his own development work, Dixon also finds time to teach others to do this, too, as a faculty member with the Incremental Development Alliance. Dixon believes the basic model of incremental development can be applied everywhere because it's so adaptable. "It's created to allow for customization that will be specific and contextual to your neighborhood," he says.  
He wants everyone to know: "You are empowered to help with the saving of your own neighborhood."
This article was originally published on StrongTowns.org.