Why low income housing has no effect on nearby home values
Trulia looked at the 20 most expensive U.S. metros and assessed nearby home values after affordable housing projects completed, finding no effect
---
By Dina Hanna on behalf of Trulia
Opponents to building affordable housing — especially in the nation's least affordable or competitive markets like San Francisco, New York and Seattle — say that low-income housing depreciates nearby home values.
However, a recent Trulia report showed that this ripple effect is actually not the case in most of the country's aggressively growing regions.
The U.S. Department of Treasury administers a program called Low-Income Housing Tax Credit (LIHTC), which funds low-income housing projects. The data collected by the U.S. Department of Housing and Urban Development (HUD), as well as Trulia home value data, determines the validity of complaints about low-income housing depreciating the value of nearby homes.
But in the nation's 20 least affordable markets, Trulia's analysis of over 3,000 low-income housing projects, from 1996 and 2006, found no significant effect on home values located near those subsidized housing projects, with a few exceptions.
Trulia's research indicates that some markets show a slightly more negative home value after the completion of nearby low-income housing. Despite this correlation, more factors are involved to influence a neighboring price drop than might be expected.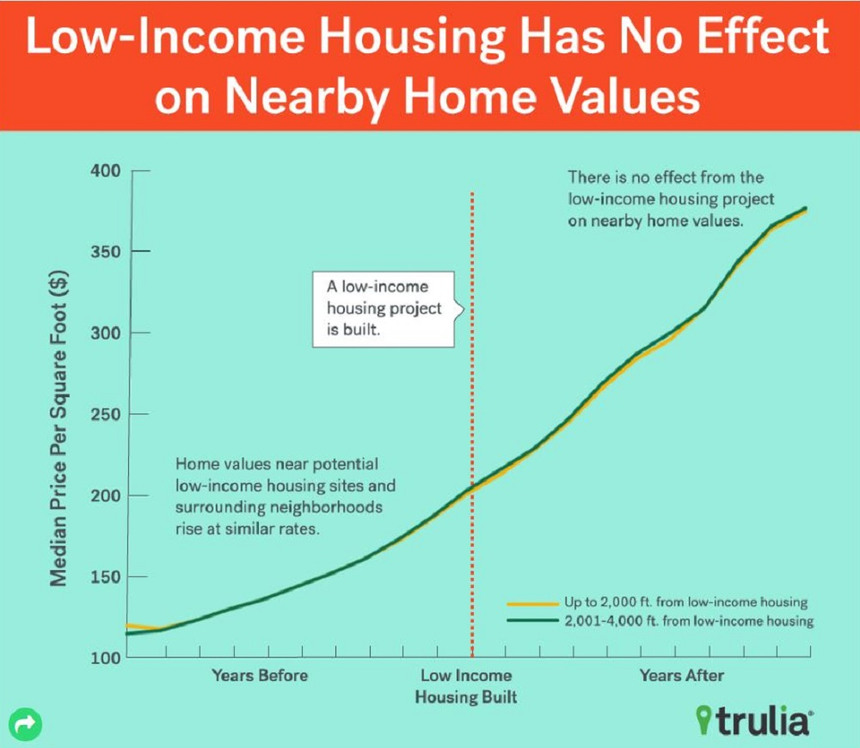 Home Values Rise at the Same Rate, Before and After
Further detail shows that home values near potential low-income housing sites and surrounding neighborhoods values rose at the same rate as they did after a low-income housing project was complete. Testing for distance from the project, Trulia considered neighborhoods within 2,000 feet of the low-income housing project, and neighborhoods between 2,001 and 4,000 feet away. These values, again, showed no difference.
Among the cities where there was enough data to measure, San Jose, Calif., was the most aggressive in adding low-income housing units within the 10 years of focus. Nearby Oakland added the fewest units per capita, and yet neither metro found a change in home values, one way or the other.
In fact, in some cases, like Denver, homes located near low-income housing projects registered a positive effect in terms of price per square foot after a project was completed.
Denver's data indicated a $7.35 per square foot increase in property values in the neighborhood versus the region overall, but this could display other possible causes. Parts of downtown Denver where the low-income projects were built also saw increased development overall in the 1990s, and the construction of the Coors Field around the same time, making these neighborhoods highly sought out real estate.
The Neighborhood Exceptions
In Boston and Cambridge, Mass., low-income housing projects did have a negative effect on nearby homes in terms of price per square foot, but the data may reveal a region-specific market effect. Subsidized housing projects were concentrated in particular areas in a very short space of time, possibly crowding out other potential development opportunities that might balance those markets.
Despite the few exceptions, Trulia's research detailed in its "There Doesn't Go the Neighborhood" report is clear:
In most large metropolitan areas, especially ones that are known for high real estate prices and competition, the construction of subsidized housing has little to no effect on the value of homes in the surrounding neighborhoods.
Editor's Note: According to the Boston Globe, Brandeis University researchers found that 79% of federally subsidized units in the region are concentrated in moderate- and low-opportunity neighborhoods. In Eastern Massachusetts, affordable housing advocates have filed cases against cities for violating the Fair Housing Act in accommodating neighbors' opposition in locations where housing projects are proposed.