Ask a city manager: Durham, N.C.'s Thomas Bonfield
Durham, N.C. looks to a future of shared economic prosperity while facing COVID-19 and a malware attack
---
Thomas Bonfield, city manager of Durham, N.C., found the time to talk about his job with Gov1 while dealing with a malware attack and the COVID-19 pandemic.
Gov1 sat down with Bonfield to discuss Durham's safety and improvement measures.
Where are you from originally?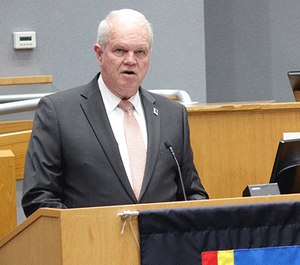 Bonfield: Gulfport, Fla., a small town on west coast of Florida near St. Petersburg.
How long have you been in your current position?
Bonfield: 11½ years.
What did you do before becoming Durham's city manager?
Bonfield: I was the city manager in Pensacola, Fla.
What does your job entail?
Bonfield: As city manager, I am ultimately responsible for the services and operations of City of Durham government that consists of 24 departments and over 2,700 employees.
What are some of the greatest challenges you face in your job?
Bonfield: Currently responding to a simultaneous malware attack on our city network and computers, and the COVID-19 coronavirus pandemic. Outside of this, the biggest challenge is responding to significant growth in Durham and its impact on housing affordability.
What are some of your greatest successes you've had in your job?
Bonfield: I never attribute our organization's success to me but to our entire organization. I am most proud of our organization's development as being recognized as one of the leading innovative city governments in the country.
What is Durham's population?
Bonfield: Approximately 270,000 and growing.
What is Durham's annual budget?
Bonfield: About $500 million.
What three goals do you have for Durham in 2020?
Bonfield:
Help community respond to and recover from coronavirus pandemic
Begin full implementation of our five-year affordable housing strategy
Begin implementation of our shared economic prosperity strategy
What measures is the city taking to help make communities safer across Durham?
Bonfield: Durham has a number of strategies to help keep our residents safe including enhancing police/community relations, focusing on most violent repeat offenders, enhancing relationships with the entirety of criminal justice system, and improving social network.
What should other town and city administrators know about the position?
Bonfield: That being city manager of Durham is an honor and a great challenge requiring persistence, flexibility and collaboration.
What city-run projects are currently underway to improve Durham?
Bonfield:
 Comprehensive plan update
 Transit plan update
 Affordable housing strategy
Shared economic prosperity strategy
For more info on this community's initiatives, visit https://durhamnc.gov/.