3 ways to recognize dispatchers during Public Safety Telecommunicators Week
Each year during the second week of April, public safety telecommunicators are honored. Here are three ways to thank them publicly
---
Gifts, lunch and saying thank you are just some of the ways to thank 911 dispatchers or public safety telecommunicators during National Public Safety Telecommunicators Week (NPSTW). But here's three ways local governments and public safety agencies can make a public statement that are sure to be appreciated April 14-20, 2019, and each year during the second week of April.
#1 Make a Public Proclamation
The NPSTW website is a great place to start to look for inspiration to honor local dispatchers. Chief among the ways to thank dispatchers are publicly-spoken words:
"Whereas Public Safety Telecommunicators are the first and most critical contact our citizens have with emergency services; and,
Whereas Public Safety Telecommunicators are the single vital link for our police officers and firefighters by monitoring their activities by radio, providing them information and insuring their safety; and,
Whereas Public Safety Telecommunicators of the [INSERT AGENCY] have contributed substantially to the apprehension of criminals, suppression of fires and treatment of patients; and..."
Last year, Administrator Larry D. Burks of West Chester, Ohio, made the township's official proclamation to publicly salute the community's 911 emergency dispatchers for their diligence and professionalism in being the "First first responders" during a Board of Trustees meeting.
Butler County then submitted their proclamation to NPSTW to praise the work of the West Chester Emergency Communications Center's 14 staff in responding to more than 100,000 calls that year, and providing round the clock service to residents, visitors and public safety agencies.
Get a letter template for making proclamation requests to local public officials and a sample NPSTW proclamation on NPSTW.org. 
Or, be like Humboldt County and make a really personal, fun video your community's dispatchers and others will share and gush about on social:
Heroes with Headsets: National Public Safety Telecommunicators Week

Thank you HCSO dispatchers for the incredible work you do serving Humboldt County! April 8-14 is National Public Safety Telecommunicators Week. This week we are honoring our nine dispatchers who always go above and beyond, dedicated to serving Humboldt County with kindness and compassion: Morgan Schlesiger- 15 Years – Communications Supervisor Christine Werner- 13 Years – Senior Dispatcher Natalie McCall- 12 Years- Senior Dispatcher Lindsey Esh- 11 Years Foxi Keane – 3 Years Miyana Dorrell -2 Years Jade Campbell- 1.5 Years Alisha Moore- 8 Months Nick Falconer- 6 Months You all are the best! Thanks for your hard work. We couldn't do what we do without you!

Posted by Humboldt County Sheriff's Office on Monday, April 9, 2018
#2 Grow a Public Safety Telecommunicators' Recognition Program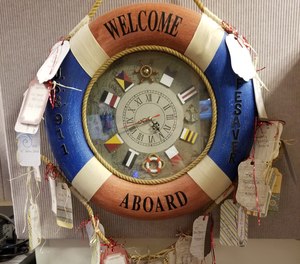 Sergeant CayeLynn Duchow built dispatcher recognition at the Outagamie County Communications Center by cultivating relationships, building trust with partner agencies and creating an evolving visual.
In her spark of creativity, she added "USS 911" on one side of a life ring wall clock and "Lifesaver" on the other and asked the administration to hang it in the 911 center.
Each time a dispatcher had a life-saving event, she added a luggage tag to to recognize their role in that patient's survival.
"We don't have windows, we work long hours and spend a lot of time away from our families. They don't always understand why we come home stressed, and tired. It's nice to have opportunities to meet the individuals you impact and a visual display representing something so positive," said fellow dispatcher Kati Stahmann.
#3 Tell Dispatcher Stories
This year after Hurricane Michael blew power to 911 systems, the Panama City Beach Police Department's tele-communications supervisor, Sergeant Cliff Olivier, said he returned to work after three days to find dispatchers working on backup radios — "No CAD and no A/C and little sleep," learning later that several had traveled in groups to survey damage to their homes and retrieve supplies for work.
Recently, Olivier took the time to share their story — in addition to buying them lunch.
"In the Comm Room it was work as ordinary in an extraordinary situation. My office became a nursery for months old babies and a bunk room for worn out Comm Officers. We cried with each other. We hugged each other when we knew it was needed. Two of my staff had resigned and move out of the area because their house was destroyed and had no other options here. They are still part of our work family. I know other agencies here had to endure worse conditions during and after the storm. But, my staff showed their true colors during this time and it was beautiful," he wrote.