The top 5 challenges cities must overcome to become 'smart' in 2020
While implementing a smart city program is often easier said than done, overcoming these challenges will have your city on its way to hyperconnectivity in no time
---
Cities turn to 'smart' solutions for a variety of reasons -- to combat crime, ease congestion, limit pollution, the list goes on. But as a recent report from ESI ThoughtLab points out (which can be reviewed in full below), there are often as many roadblocks to implementation as there are reasons to implement in the first place, if not more.
From finding the right partners to gaining citizen support to figuring out how to pay for solutions that may not even exist yet, city leaders have a lot to work through.
But as Susan Wilkinson of Microsoft's Smart Cities division explains in the report, "across the board, the research tells us that the cities [that do manage to overcome these hurdles] are the ones that recognize the greatest benefits."
What follows are the top five obstacles, identified by ESI ThoughtLab, that cities must navigate in order to become "hyperconnected urban centers" -- those that not only use the latest technologies to interconnect key areas of their ecosystems, but also unlock "the full economic, social, environmental and business value" in the process.
#1 Citizen Buy-In Is Key
Of all the barriers to smart city success, getting citizen buy-in is the most crucial -- and often, the most difficult.
First and foremost, the report's authors write, "cities need to overcome the current disconnect between what cities are doing and what citizens think they are doing [when it comes to smart city initiatives], otherwise there is a risk of a 'techlash.'"
Case in point: San Diego recently made the headlines for it's smart streetlight program, and not in an entirely flattering light.
Originally billed as a cost-saving measure only -- old street lights would be replaced with more energy efficient LED ones, similar to the initiative Lima, Ohio, recently announced -- the program was much later revealed to also include surveillance cameras that could be accessed by law enforcement and other agencies.
The city argued that these cameras were in no way being used for everyday surveillance. "As long as there is not a crime, we are not looking at video," Police Chief David Nisleit told The San Diego Union-Tribune. But many citizens were still skeptical.
No one has ever said that we don't want safer communities," said Geneviéve Jones-Wright. "It's the use of this intrusive surveillance technology without proper oversight that is troubling. We need an ordinance that is put in place that will contain strong policy and mechanisms for oversight and public discourse."
Indeed, this being part of the larger conversation to determine how such technology is used within the community is a top priority for Jones-Wright and other concerned citizens.
And cities like Stockholm -- one of ESI ThoughtLab's list of 100 hyperconnected cities across the globe -- are taking note. As the report explains, Stockholm is "rethinking its social contract with citizens as it rolls out new technology," such as its recent implementation of urban drones.
"If we want this to be successful," said Petra Dalunde, COO for the Urban ICT Arena at the Kista Science City, Stockholm's technology and innovation hub, "we have to show how it adds value for citizens and also make it possible for them to interact with the technology and be a part of the design."
We would really like to know what citizens really are asking for," she continued, "what things are working, and what things don't work. The contact between citizens and the city should be natural. It's a question of building relationships to create trust."
#2 Overcoming Regulatory Barriers
While regulations governing land use, privacy and cybersecurity are critical pieces of the smart city puzzle, particularly when it comes to building trust with the community, they can also have the unintended consequence of slowing innovation.
According to the report, 58% of hyperconnected cities in Western Europe rank policy and regulatory barriers as the greatest obstacle to smart solution implementation, undoubtedly due to the EU's General Data Protection Act (GDPR), which restricts how cities can use citizen data.
And as of January 2020, tech companies doing business in California will have to contend with similar restrictions under the state's new consumer privacy act (CCPA). Though the law doesn't explicitly limit governments' use of data, it will apply to private companies partnering with government agencies in their smart city implementations.
Some analysts argue that the CCPA "[threatens] the full value and promise of smart cities," but the report paints a decidedly more positive picture. Not only are such regulations necessary for consumer confidence, the authors point out, but they also encourage an ongoing dialogue between all stakeholders.
City leaders often find that legislators are open to discussions on digital innovation when framed by the economic and social benefits it will bring," they write.
#3 Finding the Right Solutions and Partners
While the standard request for proposal process may make sense for a variety of public-private partnerships, hyperconnected cities have found that this doesn't quite fit the bill when it comes to smart city solutions.
For starters, RFPs are notoriously time-consuming, and in today's fast-paced digital world, a matter of months could mean the difference between successful innovation and being stuck with something already obsolete.
And in many instances, cities may be looking for solutions that don't even exist yet.
But this doesn't mean that cities have to wait around for a one-size-fits-all solution to come to them. The smartest cities have upped the procurement ante with innovation labs and incubators.
The Los Angeles Cleantech Incubator (LACI) is one such program. A coalition between government agencies, corporations, utilities, academic institutions, community organizations and other nonprofits, LACI provides the breeding ground for innovation to flourish as the partners work in tandem to tackle the city's various challenges before a final solution is chosen.
#4 Managing Increased Security Risks
With more connectivity unfortunately comes more cyber risk, and cities across the globe are struggling to keep up. In fact, less than half of the smart cities in ESI ThoughtLab's study consider themselves well prepared for a cyberattack.
This is of course problematic from a public trust perspective, but it's also downright expensive. Not only do cities have to make up for the substantial financial losses that often accompany ransomware and other attacks, but they also have to absorb the additional spending on cybersecurity initiatives.
Which brings us to the final roadblock:
#5 Footing the Bill
"While funding smart city projects is more of an obstacle for cities with lower income -- 50% cited high implementation costs and budget/financing constraints -- finding the money is nonetheless a challenge for all," the authors write.
But as with the potential solutions themselves, the funding options are fairly extensive: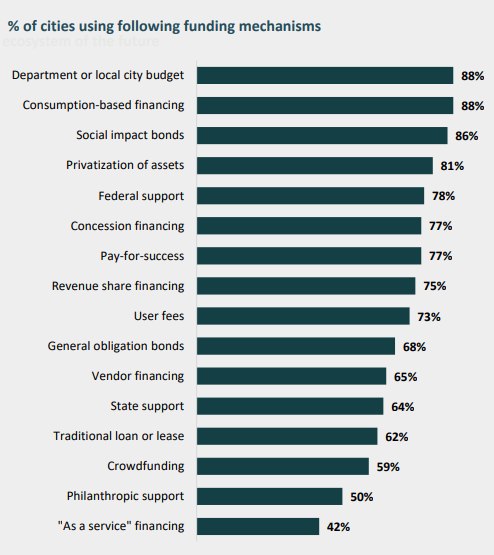 While most hyperconnected cities are financing at least a portion of smart initiatives through their own budgets, others are getting more creative. It just goes to show that when there's a will, there's a way.
Review and download the full ESI ThoughtLab hyperconnected cities report:
ESITL Building a Hyperconnected City Report by Ed Praetorian on Scribd