What to know about ketamine, a common date rape drug
Ketamine is a Schedule III anesthetic that can be slipped into a drink or used to facilitate date rape or sexual assault
---
Ketamine, or Special K, Cat Valium or Kit Kat, is one of the three most common date rape drugs according to many sources, including Womenshealth.gov. It's actually an anesthetic used legally in the United States, easily found at local veterinary clinics.
Local governments, public safety and public health agencies are concerned about ketamine for the following reasons.
Ketamine is a Widely Shared Schedule III Drug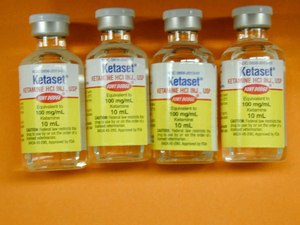 In 1999, ketamine became a Schedule III non-narcotic substance under the Controlled Substances Act, and according to the Drug Enforcement Administration, street sales are rare.
DEA has found that it's generally distributed at parties, raves and nightclubs.
In 2014, after detailed abuse by hospitals in the United Kingdom, then Home Secretary Theresa May approved ketamine's upgrade to a Class B substance on par with amphetamines (generally Schedule II in the U.S.) according to the Daily Mail.
As a powder, it's smoked or snorted, but as a readily-available clear liquid, it's often slipped unnoticed into drinks. It leaves people in a detached, hallucinogenic state that drug abusers refer to as a 'k-hole.'
Spiked Drink Victims May Have Flashbacks
Spiked drink victims may taste ketamine's bitterness in their drink, but not in enough time to act, according to Future Palm Beach, an addiction treatment center:
Ketamine can leave you unconscious very quickly or cause a loss of muscle function combined with a dream-like awareness of what's happening to you. Because it also causes amnesia, you may not remember an assault the next day."
DEA's 2017 fact sheet agrees stating that the effect is fast. Ketamine acts as a sedative, slowing down breathing and heartbeat, but it may also cause agitation, immobility or unconsciousness. For these reasons, DEA indicates it's used to facilitate sexual assault.
Though it might cause amnesia initially, flashbacks have been reported several weeks later. By the time memory of date rape occurs, ketamine may be long gone from the body. Certain date rape drug detection cards or coasters can detect the presence of ketamine in a drop of a drink, and some organizations, like the The Center for Pregnancy Choices in Logan, Utah, give them out to clients or patients.
Use of Ketamine to Facilitate Rape is Punishable with Prison
While abuse of Special K does not always involve rape or date rape, ketamine is included in the Drug-Induced Rape Prevention Act of 1996, and any offender convicted of using the drug to facilitate sexual assault or any other violent crime may face prison.
In July 2004, the U.S. Justice Department released a bulletin about ketamine trafficking, noting several major busts. Some involved ketamine purchased in Mexico and driven through various part of the country en route to cities in the Northeast.
Trafficking of large quantities of ketamine continues today. In January 2018, a traffic stop by Nebraska State Patrol on I-80 found several controlled substances on a driver from New York City, including 41 pounds of ketamine.
Small burglaries, like one last July from the Grasslands Vet and Claggs in Garvin County, Oklahoma, that resulted in theft of five ketamine bottles, are a concern for local law enforcement.