Locals Love Bentonville's Trails, Art, Gardens & Bike Recreation
Bentonville, Arkansas, locals love their green space network designed in part for bike recreation, with a labyrinth of sculpture-dotted trails, gardens and a collection of world class art.
---
Editor's Note: When travelers created a list of the 30 'coolest' small cities in the United States, we asked locals why they think their cities are the best places to live, work and play, and then vote for their favorite entry. Ellensburg, Washington, won, and Bentonville, Arkansas, was the voters' runner-up choice for superb art, gardens, bike recreation and more in the city's beloved greenspace.
A trip to Northwest Arkansas is not complete without a stop in Bentonville, where you can stretch your legs on Crystal Bridges Trail and explore the grounds of neighboring Compton Gardens. Both properties fuse art and nature to create a culturally enriching experience for visitors as they ambulate in the forest.
The 1-mile, hard-packed Crystal Bridges Trail – also part of the Razorback Greenway – is popular with walkers and bicyclists destined for Crystal Bridges Museum of American Art, a vast, 120-acre campus with "a series of pavilions nestled around two spring-fed ponds that house galleries, meeting and classroom spaces, and a large, glass-enclosed gathering hall," according to the museum's website.
The museum opened in 2011 and was spearheaded by Alice Walton, daughter of Wal-Mart founder Sam Walton. The Walton Family Foundation funded its construction and owns its permanent collection, which spans five centuries of American masterworks, with paintings by Warhol, Rockwell, O'Keeffe and others.
The retail giant is headquartered in Bentonville and – prior to the museum's opening -- the town's main attraction was the Wal-Mart Museum.
Crystal Bridges Trail commences in downtown Bentonville and meanders through Compton Gardens, a 6.5-acre "green oasis" with a woodland garden and native plant collection. The property is run by the nonprofit Peel Compton Foundation, which oversees the Peel Mansion and Heritage Gardens and a conference center, both available for rent.
"Both facilities are valued for their commitment to historic and environmental preservation." according to Compton Gardens website.
Sculptures, Stands & Sky
Turning onto the ½-mile Art Trail, which features several outdoor sculptures, an amphitheater and access to artist James Turrell's "Skyspace" structure, accesses the museum's extensive, 3.5-mile trail system.
Skyspace is a naked-eye viewing chamber that allows guests to view the sky through a round oculus in the roof.
Each morning and evening, in conjunction with sunrise and sunset, a programmed LED light display occurs inside the structure, according to the museum.
"Changing colors against the ceiling cause changes in our perception of the color of the sky viewed through the oculus."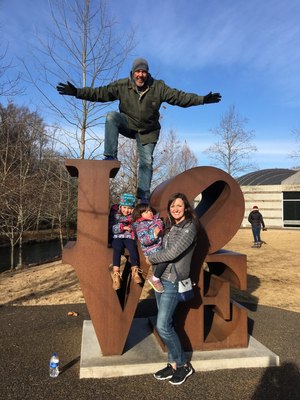 On the Art Trail walkers pass Robert Indiana's iconic sculpture "LOVE," which has been used as a U.S. postage stamp; André Harvey's "Stella," a bronze pig; and "Vaquero," a polychrome fiberglass work that depicts a Mexican Cowboy atop a bucking bronco, sculpted by Luis Alfonzo Jiminez.
Continue on the Art Trail or turn onto Crystal Springs Trail, which takes visitors to the heart of the property -- a natural spring from which the museum derives its name.
"Crystal Spring bubbles up from the Ozark limestone at the base of a ravine just a short walk from the Museum's south entrance."
Several more district trails of varying length snake throughout the park, and from them walkers can visit stands of evergreens, dogwoods, Eastern red cedars and tulip trees, and view the expansive grounds from rock ledges.
Designed to spark the imagination, the trails help locals and guests form connections to the land and its history, as well as enjoy outdoor artworks," according to the museum.
Set among the backdrop is the Bachman-Wilson House, designed by Frank Lloyd Wright in 1954 and relocated from New Jersey in 2014.
Naturalist Education Opportunities
Dotting the landscape are several, Eco-boxes that provide audio recordings with information about a range of subjects.
Some recordings feature information about nearby sculptures while others include audio about wildlife, nature or the history of the property. Power them by hand crank, select a silver button and listen to a wildlife specialist give tips on identifying the call of the barred owl and other birds. Push another button, and hear a clip from a museum horticulturalist talk about the property's ecosystem.
Mountain Bike Recreation Mecca
Prior to building Crystal Bridges, the Walton Family Foundation helped to turn Bentonville into Northwest Arkansas' "unlikely mountain biking mecca," when trails were developed as an employee recruitment tool, according to Pinkbike.
"The Walton Family donated the first piece of land to develop trails on a vast trail system that is now affectionately referred to as Slaughter Pen."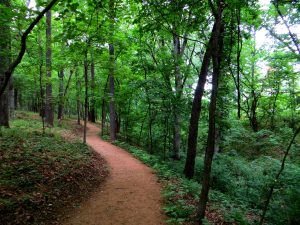 The terrain, year-round riding and hotels that are full of business travelers during the week -- leaving the weekends available -- are also part of the recipe creating a world class riding destination, according to the article.
"'If you build it, they will come' has been proven here," said Gary Vernon, the program officer for the Walton Family Foundation, crediting great community partners and the volunteers as the heart and soul of Bentonville's mountain bike culture.
Bike Bentonville, which promotes and enhances a bicycle-friendly culture for residents and tourists, hosts events like an three-day Escape to the Ozarks ride in August and the inaugural Arkansas Bike Summit this June. The summit will discuss cycling infrastructure, development, events and more.