Locals Love Ellensburg's Bike Culture & Public Events
Ellensburg, Washington, locals love their bike culture from the award-winning bike friendly infrastructure and policy to all the public events they can peddle to safely.
---
Editor's Note: When travelers created a list of the 30 'coolest' small cities in the United States, we asked locals why they think their cities are the best places to live, work and play, and then vote for their favorite entry. Ellensburg, Washington, won for award-winning bike culture, including its infrastructure, policy and recreational opportunities. Bentonville, Arkansas, was the voters' runner-up.
The most centrally located city in Washington State is historic Ellensburg, a college town known for its support of the arts, vibrant festival scene and a growing bicycling culture.
Festivals, Performances & Rodeo
Beer drinkers will love the Winterhop Brewfest, held annually in January, which features product from more than 30 Pacific Northwest breweries at 12 venues downtown.
Also, Dachshunds on Parade is held each June, when the breed and their owners descend on Ellensburg for races, pet tricks, a costume contest and, of course, a pet parade.
There's more: Jazz in the Valley takes place in Ellensburg in July; the Ellensburg Rodeo (a tradition sine 1923) rides into town over Labor Day weekend and Buskers in the Burg happens the last Saturday in September, when regional street performers take over downtown.
The city has made pedaling to these events – and commuting around Ellensburg -- simple and safe.
Silver Level Bike Culture
Ellensburg was granted the Silver Level award as a National Bike-Friendly Community by the League of American Bicyclists in 2015.
"As a community, we've come a long way in making Ellensburg bike-friendly," said Nancy Lillquist of the Ellensburg City Council in the award announcement.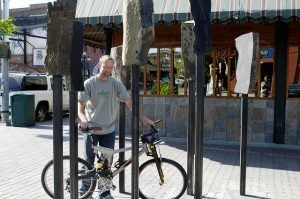 Lillquist, a longstanding supporter of pro-bike policies, cited the establishment of bike lanes, crossings, artistic bike racks downtown and a Bike to Work Day as examples of Ellensburg's bike-friendliness, which has led to reduced traffic, cleaner air and residents' improved physical fitness.
In a Creating a Bicycle Friendly Ellensburg post on Washington Bikes, Lillquist wrote that many students attending Central Washington University (CWU) take advantage of the relatively gentle terrain to get around by bike.
"CWU has, over the years, created a large 'auto-free' portion of campus," she wrote.
In 2015, the city began planning a bike boulevard on Seventh Avenue designed to keep bicyclists safe, relieve traffic congestion and reduce wear and tear on streets, according to an article in the Ellensburg Daily Record.
The $150,000 project, constructed in the summer of 2017 over a six-week period, was mostly funded by a grant from the Washington State Department of Transportation. The project installed vehicle diverters at five intersections to block cars and to reduce vehicles on the roadway.
The changes come with pavement markings and signs to promote safe bicycle travel along the street.
We hope to serve riders who don't feel safe sharing the road with autos, such as youth and families who would not cycle without more protection," Lillquist said.
All-Level Cyclist Training Ground
The "hub" of Ellensburg's bike culture is located at the ReCycle Shop, where residents buy gear, get tuned up and meet to start long rides along the rural roads of Kittitas County or within its vast trail system.
"This area has some of the best mountain biking in the Northwest," said Colton Beutel, manager of ReCycle, which opened in Ellensburg in 1971. "Finding a good set of trails to mountain bike is very easy and a lot of fun."
According to Beutel, ReCycle sponsors many bike-related events in the city as well as the CWU Cycling Club.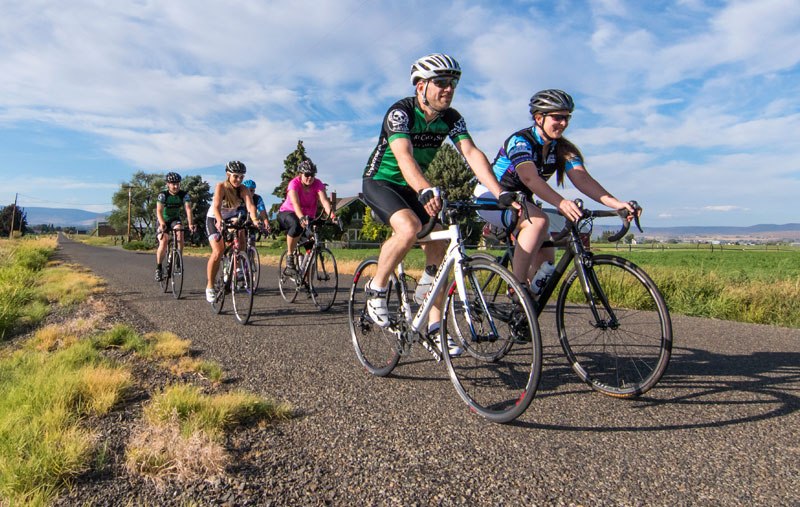 Off-roaders can work on their technique closer to home, at the Rotary Bike Park, a 2.3-acre, corporate-sponsored skills park that opened in 2016, according to an article in the Daily Record.
"Honestly it's what I think is neat about a town this size and the community this close knit," Greg Parker, president of the Kittitas County Chapter of the Evergreen Mountain Bike Alliance, said about the 800 volunteer hours that went into building the park. "You do something for the community and everyone shows up to help. It's neat to see, now we have something great to show for it."