Vexcel Imaging: Post Disaster Aerial Imagery Free to Government Agencies
GIS-as-a-service supports government agencies with free access to post-disaster imagery within hours after an event is made possible through a partnership with NICB.
---
BOULDER, COLORADO -- Vexcel Imaging, a provider of aerial imagery and related geospatial data products, is making the Vexcel Disaster Response Program for Government Agencies available within hours of a disaster at no cost or obligation. The post-event aerial imagery is provided as an Esri ArcGIS Image Service or through other open standards and can be added to a government's current GIS maps and software.
This initiative is made possible through our partnership with the National Insurance Crime Bureau's (NICB) Geospatial Intelligence Consortium (GIC) and demonstrates the benefits of this public-private relationship," said Richard Butgrereit, GIC director of disaster response. "The GIC and its insurance industry members look for ways to support communities in their time of need through increased situational awareness gathered from GIC post-disaster imagery."
By leveraging Vexcel Imaging's aerial imagery software and hardware and the large community of Vexcel UltraCam equipped aircraft, GIC is able to collect and deliver imagery of very large impacted areas within hours of an event.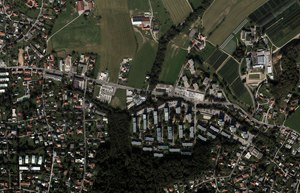 "GIC collects entire impacted areas not just along the shoreline. For example, we collected an 85,000 km2 area of interest spanning four states after Hurricane Michael. Over just three days, this data was published online to help insurers and first responders better assess damage without needing to place staff in harm's way," stated Ryan Bank, managing director for GIC.
Since the GIC was founded, it has responded to more than 20 events including hurricanes, tropical storms, tornadoes, floods, hail storms and floods through its Gray Sky program.
Government agencies can sign up to join the Vexcel Disaster Response by contacting Vexcel via phone (720) 460-1645 or at dataprogram@vexcel-imaging.com
About Vexcel Imaging
Founded in 1992, Vexcel Imaging boasts over twenty years of photogrammetric and remote sensing expertise. Its highly successful line of UltraCam systems was launched with the first UltraCam in 2003. In 2006, Vexcel Imaging was acquired by Microsoft Corporation and contributed as a subsidiary to the success of Microsoft's Bing program by pushing the envelope of photogrammetric hardware and software technology with innovations that underpinned the Bing Maps web service and mapping platform.
Read more about free storm-related tools for government agencies