Missoula climate plan one step closer to implementation
The Climate Ready Missoula Plan has been drafted over the past two years by local city, county and nonprofit employees.
---
Missoulian
By Patrick Reilly
MISSOULA, Mont. — Local planners voted to forward the Climate Ready Missoula Plan to the Missoula City Council and County Commissioners Tuesday night.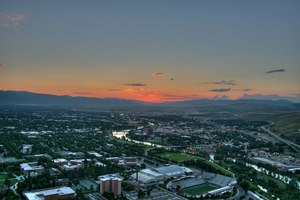 Missoula County is headed for an average annual temperature increase of 4 to 5 degrees Fahrenheit by mid-century, and the plan aims to prepare the area for this shift.
The purpose of Climate Ready Missoula is climate adaptation, it is not climate mitigation," explained Diana Maneta, energy conservation and sustainability coordinator for Missoula County Community and Planning Services.
While the city, county and local nonprofits have other initiatives to mitigate the carbon emissions driving climate change, the Climate Ready Missoula Plan (which can be reviewed in full below) focuses on bracing the area for the changes that rising temperatures will unleash.
The latest draft contains 29 goals for climate adaptation, and 77 strategies to meet those goals. They range from making portable air cleaners affordable as a means to improve indoor air quality during wildfires, to creating an economic innovation hub to identify new business opportunities presented by climate change.
"They are intended to identify what needs to be done to help Missoula County prepare for climate change," Maneta told the Planning Board.
"They don't get to the level of identifying 'What are the steps needed? What is the timeline to get there? What are the costs and benefits? What are the funding sources?' They don't get into all of those details. ... Those are all the details that will need to be worked out in the implementation phase."
The implementation task force will also determine which steps get prioritized, Maneta told the board later in the meeting. With some steps, she said, "there's a lot of momentum already underway, it's just a matter of maybe supporting or ramping up that might be a reason to prioritize. In some cases, we may want to prioritize based just on the sense of urgency, ... I'm a little hesitant to call out any in particular that we want to jump on first."
When the plan came for a vote, all of the members — except for John Newman, who was absent, and Caroline Lauer, who co-authored the plan and recused herself — voted to recommend that the city and county adopt the plan. Amy Cilimburg, Climate Smart Missoula's executive director, said that the City Council and Missoula County Commissioners will take up the plan at a joint meeting April 6.
Climate change has drawn intense interest among Missoulians recently. A presentation on the topic by renowned physicist Rob Davies and the climate plan's unveiling at City Club Missoula each drew audiences in the hundreds. But only five people unaffiliated with the plan turned out for the Planning Board meeting.
One of them, Gary Matson of Milltown, commended the plan's authors during the public comment session.
I just wanted to thank them for their efforts, and I'm sure you'll agree this is an important part of growth policy," he said.
Review the Climate Ready Missoula Plan:
Revisedclimatereadymissoula 2.22.20 by Ed Praetorian on Scribd
(c)2020 Missoulian, Mont.
Visit Missoulian, Mont. at http://www.missoulian.com
Distributed by Tribune Content Agency, LLC.