APCO Seminar: Modernizing Emergency Call Centers
Technologies that work with existing hardware are available to help agencies of all sizes modernize emergency call centers.
---
Beyond line-of-duty stress and the day-to-day challenges on the job, many public safety agencies and emergency call centers face another daunting challenge: how to modernize in the face of outdated infrastructure and budget constraints.
In addition to finances and logistics; major tasks include upgrading emergency call-handling systems and implementing interoperable Next Generation 911 (NG911) technologies to better prepare emergency operations.
Modernizing 911 Seminar Summary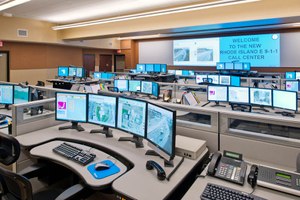 At the Association of Public-Safety Communications Officials' (APCO's) annual conference last year, the organization hosted a professional development session titled, Non-traditional Approaches to Modernizing 911, featuring Carbyne COO Eyal Elyashiv and RapidDeploy CEO Steven Raucher.
Elyashiv and Raucher discussed issues facing emergency call centers and presented cutting-edge solutions for modernizing 911, including cloud-based dispatch technology and tools to bring legacy software into the next generation.
[911 is] no longer phone calls in and radio calls out; it's data in and data out," Raucher said.
4 Key Takeaways on Modernizing PSAPs
#1 It's easier than ever before: "As we know, one of the greatest challenges to public safety projects is integrating with myriad systems and third parties," Raucher said. "I would argue that one should never use a traditional approach to modernize a legacy system; that's counterintuitive."
Effective modern solutions shouldn't work against existing technology, Raucher and Elyashiv emphasized -- they should go hand in hand.
Carbyne's c-Lite is a plugin that works with legacy call-handling software to unite four critical emergency call elements -- data sources, performance, call management and data management -- in one streamlined toolbar on a call center's existing system.
"This is basically a tool that can turn any legacy PSAP into a next generation-enabled PSAP," Elyashiv said. "It's an overlay on your current system, and you can decide whether you want to use it or not."
c-Lite requires no integration and does not affect operation flow of the existing PSAP, Elyashiv said.
Similarly, RapidDeploy's cloud-based dispatch program and emergency analytics software does not require expensive hardware or a lengthy install period, and it's fully functional and accessible to agencies of any size.
"We did not need to set out a bold new technology when there is an established solution we can integrate with," Raucher said. "The less prescriptive and the more solutions-oriented we are, the better solutions you will achieve."
#2 Life-saving. Whether dispatchers are fielding calls about a car crash, natural disaster or home invasion, the goal is the same: to keep callers safe until help arrives.
That can be difficult when a caller doesn't know their location, or can't describe the nature of their emergency. Emergency dispatchers struggling to pinpoint a caller's location, get an accurate picture of the situation or communicate with the caller can use Carbyne's c-Lite to locate the caller within 20 feet, stream live video and chat in real time in order to make well-informed decisions when time is at a premium.
These capabilities can reduce call duration up to 65 percent, Elyashiv said.
Raucher estimated it's only a matter of time before all 911 centers make the switch to the cloud. RapidDeploy's cloud-based features provide a level of accessibility that could help public safety officials save more lives in an emergency.
RapidDeploy uses the cloud to help dispatchers and responders make fast, informed decisions through tactical map display, intelligent call-handling, route optimization, end-to-end tracking technology and more. The tool also uses predictive and descriptive analytics to keep responders safe through increased situational awareness.
#3 Cost-effective. NG911 technology may seem out of reach for smaller agencies and call centers, but those are precisely the organizations who need next-generation solutions the most, the speakers said.
Many call centers working with outdated systems are also struggling with shrinking public safety budgets. Updating a system could be cost-prohibitive as well.
"Integrating interface [in the past] was often an ordeal, version-dependent and most definitely coin-operated," Raucher said.
#4 Available now. Cloud-based dispatch and live video straight from a caller's smartphone may seem like features from Sci Fi, but there are NG911 technology solutions that are now accessible to agencies of all sizes.
Learn more about APCO 2019 being held August 11-14, 2019, in Baltimore.