South Florida restaurants are voluntarily closing as COVID-19 cases surge across state
Once desperate to open their doors to pay overhead, these restaurants now claim the danger in reopening isn't worth the risk
---
South Florida Sun Sentinel
By Phillip Valys
For pandemic-weary restaurants in South Florida, the walls are closing in.
COVID-19 cases are surging in record numbers. Bars are staying closed. Mask-wearing rules are confusing. South Florida's hospitality industry — cruise ships, hotels and everything in between — is decimated. At half-capacity and with shrinking revenues, restaurants are even policing coronavirus rule-breakers on their own.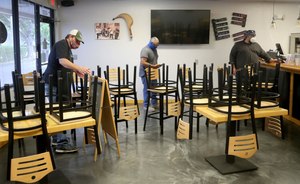 Now, as state and county officials offer limited guidance about how to deal with rising infection rates, many South Florida restaurants have decided to voluntarily shut down.
Once desperate to open their doors to pay overhead and rehire employees this spring, these restaurants now claim the danger in reopening isn't worth the risk. And the wave of voluntary closings is growing daily.
For restaurateur Ralph Pagano, his decision to voluntarily close Naked Taco, his pair of clubby Mexican restaurants in Coconut Creek and South Beach, seemed to be inevitable. He recently upgraded both locations with plastic walls dividing the dining booths, QR-coded menus and hand sanitizer stations.
Pagano panicked as he watched daily COVID-19 cases surge across Florida, from 2,000 on June 14 to 8,500 last Sunday. Then he learned a handful of his furloughed Naked Taco workers had tested positive for the novel coronavirus.
They weren't active employees but if it could happen to them, it could happen anywhere, and the smart move was to close," says Pagano, who shut both Naked Tacos on June 26. "If everyone stays healthy and clean, we did the right thing."
For their part, South Florida counties — without guidance from state officials — took stricter steps this week to curb the spread of COVID-19. Broward restaurants must shut down their dining rooms from midnight until 5 a.m. starting July 2, according to an emergency order signed Wednesday. (Takeout and delivery is allowed, but alcohol can't be sold during that time period.) On Tuesday, Miami-Dade Mayor Carlos Gimenez ordered Miami-Dade restaurant dining rooms that seat eight or more people to close between 12:01 a.m. and 6 a.m. until further notice, although takeout/delivery would be allowed. And the mayors of Broward, Palm Beach and Miami-Dade counties agreed to close beaches over the July 4th weekend.
"There's no question: If the numbers go up, you lay off," says Pagano, 52, who has appeared on "Hell's Kitchen" and talks pop culture and food on BIG-105.9\u2032s "The Paul Castronovo Show." He wants to reopen by July 7 but if cases keep spiking, "I can kick the can down the road another week," he says.
At It's a Cubano B restaurant, chef/co-owner Rob Menendez reopened his Pompano Beach dining room for three weeks in June. Then he voluntarily closed his office-park Cuban eatery on June 20. At half-capacity, his dining room could serve customers at three of the restaurant's six tables.
"It could kill our restaurant being closed just as much as it kills us being open at half-capacity," he says. "But it's the best choice. If customers weren't worried about dining out before, they are now."
Risking the health of his two employees — his sister and father — to serve a small handful of dine-in customers isn't worth it, Menendez says.
"It's just me, sister and my dad, and he takes food to our grandma twice a week," Menendez says. "We can't risk anyone's safety right now. And now that daily cases are so high, we're worried about more state shutdown mandates."
For now, it seems, Menendez may be on his own. Florida Gov. Ron DeSantis vowed on Tuesday not to return to the shutdowns of March and April, keeping in place state emergency orders to close bars and set restaurant dining-room capacity at 50%. By contrast, at least 19 states — and counting — have pulled back on reopening plans for businesses.
In New York City, Mayor Bill de Blasio put the brakes on indoor dining indefinitely on Wednesday. In California, Gov. Gavin Newsom on Wednesday closed indoor businesses including restaurants and movie theaters. Meanwhile, infectious disease expert Dr. Anthony Fauci warned Tuesday that daily coronavirus cases could top 100,000 nationwide if trends continue.
These moves have emboldened South Florida restaurants to adapt. Chef Michelle Bernstein's acclaimed Café La Trova, a Cuban restaurant-bar on Miami's Calle Ocho, closed its dining room on June 29. Meanwhile Shuck 'n' Dive in Fort Lauderdale, a longtime Cajun haunt, opted to close its dining room but offer takeout and outdoor seating instead.
In West Palm Beach, longtime barbecue boss Derrick McCray shut his 10-month-old McCray's Backyard Bar-B-Q and Seafood restaurant on June 20 after learning one of his workers "may have been exposed to the highly contagious virus," he wrote in a press statement. He added that he closed "in an abundance of caution."
McCray, whose pit has catered NFL Super Bowl parties, plans to keep paying workers and will require them to take COVID-19 tests before returning, says Sandy Collier, McCray's spokesperson.
"We removed all the tables and chairs, so when we open, we'll just do drive-thru, delivery or customers can use the walk-up window," she says.
Tropical Acres Steakhouse in Dania Beach hasn't been profitable for the 33 days since it reopened at half-capacity, says co-owner Jack Studiale. But after reading stories of South Florida diners pushing back against mask-wearing and other coronavirus rules, "that was the tipping point," he says.
"I couldn't believe how cavalier the crowds on the beach were with no masks," says Studiale, 69. "We're going the wrong way with corona. This is the responsible thing to do."
So at 2 p.m. Tuesday, Studiale told his 60-employee staff that Tropical Acres would close its dining room again on July 2. Tropical Acres' new butcher shop — created in March to keep the steakhouse afloat during lockdown — will stay open for pickup orders, he says. Between March and June, Studiale says the butcher shop helped keep his entire staff employed.
Now that Tropical Acres is closing again, Studiale can't afford to be fully staffed anymore.
"A few [employees] just asked me, 'OK, is it time to collect unemployment now?' and I said, 'Well, yeah,' " Studiale says. "My rainy-day savings are gone. It sucks. We just have to hold our breaths for five or six more weeks and we'll get through this."
Next: 'Exhausted' by customers' rage over wearing masks, California restaurant chain shuts down

(c)2020 the Sun Sentinel (Fort Lauderdale, Fla.)
McClatchy-Tribune News Service