'We're slowly dying': Indoor dining ban a gut punch to struggling California restaurants
Gov. Gavin Newsom's order banning indoor dining in 19 counties makes it much more difficult for many restaurants to stay afloat
---
The Sacramento Bee
By Benjy Egel
SACRAMENTO — Ryan Young held off on dine-in seating for more than a month after other Sacramento County restaurants reopened. But sushi tastes best fresh.
So Young held a soft reopening for Kintaro Sushi Bar on Monday and Tuesday, filling his Elk Grove restaurant with four or five parties during peak hours. He scheduled the grand opening Wednesday at 8355 Elk Grove Blvd., Suite 100, though occupancy would still be just 30% of normal and no bar seating would be available.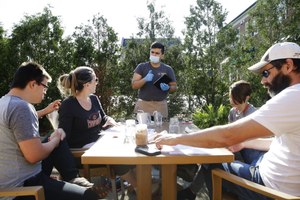 Sacramento County quashed those plans and many others with a moratorium on indoor dine-in service for at least three weeks to slow the spread of COVID-19, per California Gov. Gavin Newsom's request.
Restaurants can still seat customers on outdoor patios if they have them, but Kintaro's positioning in Elk Grove Landing shopping center would only allow it to fit two tables on a tiny corner, which Young said wasn't worth the effort. It's back to takeout-only for now, with that hint of daylight snuffed out.
We're not going to be making money," Young said. "I need to open for dine-in to (make) more sales to cover all the overhead I'm paying for."
Despite not turning a profit, Kintaro has been able to tread water during the coronavirus pandemic thanks to now-spent Paycheck Protection Program money and additional bank loans. Casa Tulum didn't have the same luck in applying for the federal Small Business Administration program, rejected for reasons chef/co-owner Arturo Vargas doesn't understand.
The year-old Mexican restaurant at 1914 Alhambra Blvd. has lost 33% of its revenue since the shelter-in-place order was issued in mid-March, Vargas said. Co-owner Martha Geraty, Vargas' wife, has dug into a retirement fund meant to fund the couple's next few decades along the Yucatan Peninsula in order to pay bills and staff.
Casa Tulum can seat up to four tables on an outdoor patio, but Vargas is sour on a future without the dining room. Sit-down customers might pair mole negro with a pitcher of sangria or a bottle of wine; those who order takeout typically just pay for their food and leave, he said. Sunday brunch has changed, too, and is no longer enough to carry Casa Tulum through slow midweek periods.
"We really want to survive this whole thing, (but) we're close to hanging our hat," Vargas said. "We haven't gotten any help. We're slowly dying. We don't make money. We're just paying our bills, and sometimes we have to borrow money from our retirement fund to do that."
After 18 years running an East Sacramento breakfast and lunch linchpin, Dave and Rose Hanke are in the same boat. The Hankes have dug into their savings to keep Nopalitos Southwestern Cafe afloat. And as Dave said, owners always get paid last.
Removing indoor service (and inherently, revenue) for another indeterminate amount of time is demoralizing, Hanke said. Medical advice and standards have been repeatedly shifted throughout the pandemic, from the U.S. Centers for Disease Control and Prevention's initial declaration that masks were unnecessary to the likelihood of infection from touching contaminated surfaces. Everyone is learning more about COVID-19 as time goes on, Hanke said, but running a business is hard when the goalposts keep moving.
The whole thing is incredibly stressful and everybody is having to jump through hoops to do the right things," Hanke said. "It's so frustrating, and I understand it — I don't want to get sick, I don't want my wife to get sick or anybody else to get sick. But it's hard to know when you're getting the straight scoop on anything."
A recent city concession allowing Sacramento restaurants to set up tables in parking lots won't do Nopalitos much good as summer heat persists, Hanke said. The Southwestern restaurant at 5530 H St. can seat four tables on its front walkway.
At least 20 Sacramento-area restaurants have permanently closed since the original shelter-in-place order was issued, and more may fold during the takeout- and outdoor-only regression. Hanke said he thinks closures will start piling up in six months to a year as business owners' finances and patience wear thin.
"There's already been a bunch of businesses that are closing, and a bunch more are going to either because they've just run out of money and can't keep doing it, or because their stamina is exhausted, or all of the above," he said. "It's going to be an issue, for sure. It's going to be worse than it's been."
Next: Indoor dining may be exacerbating virus spread, study finds

(c)2020 The Sacramento Bee (Sacramento, Calif.)
McClatchy-Tribune News Service