Indoor dining may be exacerbating virus spread, study finds
Governments across the nation are responding to surging case numbers by closing dine-in restaurants or imposing stricter limits on indoor seating capacities
---
When U.S. restaurants began reopening back in May, the vast majority were committed to doing it right. 
Restauranteurs like South Florida's Ralph Pagano upgraded dining rooms with plastic walls dividing the booths and provided QR-coded menus and hand sanitizer stations.
They also committed to operating at significantly reduced capacities so that social distancing measures could be properly implemented. Some restaurants even went to so far as to enforce the recommended six feet of distance between diners via dummy guests.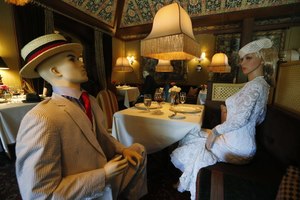 But as we now witness an unprecedented resurgence of the virus across the nation, it appears these efforts have failed to pay off. And a new study from JP Morgan suggests that dine-in restaurants may have played a major role. 
JPMorgan analyzed data from 30 million Chase cardholders and the Johns Hopkins University's case tracker and found that higher restaurant spending in a state predicted a rise in new infections three weeks later. The study also found that higher spending at supermarkets predicted a slower spread of the virus, which could indicate that states that buy more groceries are more effectively practicing social distancing.
Weighing in on MSNBC last week, Dr. Anne Rimoin of UCLA's School of Public Health Epidemiology said there was nothing surprising about these results.
"What it's telling us is that if people are going to restaurants and they're sitting in places where they're going to be exposed to others, because you're not going to be eating with your mask on, you're likely to be infected if there's somebody near you that has coronavirus," she said. "It's pretty straightforward."
And while many localities limited their initial restaurant reopenings to outdoor dining only, waiving permits and in some instances shutting down entire city blocks to make the orders more financially feasible for businesses requiring a certain capacity to survive, the vast majority took a different approach, allowing restaurants to reopen for indoor service with varying restrictions as early as late April.
We conducted a reader poll the last week of May, which corroborated these statistics:
64% of Gov1 respondents said indoor dining was permitted in their communitites
only 9% reported that in-person restaurant service was limited to outdoor seating  
While cities like Chicago and New York have seen their case numbers steadily improve in recent months, undoubtedly due to their more aggressive public health orders — Chicago gave the greenlight to indoor dining just last week, while New York City announced this week that indoor dining has been put on hold indefinitely — Dr. Rimoin urges caution when it comes to outdoor seating as well.
We're working with the State to postpone indoor dining as we move towards Phase 3. We've made too much progress fighting COVID-19 to risk going backwards.

— Mayor Bill de Blasio (@NYCMayor) July 1, 2020
"The bottom line is that we just really don't know if people being outdoors close to each other is also going to be a problem," she said. "No matter where you are, if you're close to somebody else and you're not wearing a mask, you're going to see increase in cases. 
"But certainly if you're indoors," she concluded, "it's definitely worse."
And governments across the country apparently agree. Just this week, California Governor Gavin Newsom ordered restaurants in 19 counties to cease indoor dining; New Jersey Governor Phil Murphy issued an 11th hour order, not only keeping dining in the state limited to the outdoors, but also prohibiting indoor drinking and smoking at the state's casinos. Even Texas has walked back orders allowing restaurants to operate at near full capacity; they're now limited to 50% of available indoor seating.
While new research suggests that outdoor activities in general are far safer than those conducted indoors, since UVB light and warmer, more humid air largely inhibit the virus, this is unlikely to help struggling restaurants attract the diners they need, especially in areas known for oppressive summer heat. 
East Sacramento restauranteur Dave Hanke said that his city's recent ruling allowing dining in parking lots provides little help for his breakfast and lunch eatery; in July, daytime temps regularly reach the 90s.
Next: 'Exhausted' by customers' rage over wearing masks, California restaurant chain shuts down