Local public safety agencies celebrate the season in style
Don't think public safety agencies can get into the holiday spirit? We've got news for you
---
Ah, Christmastime. Is there a more joyous time of year? The holiday parties, the twinkling lights that make the long, cold nights abundantly worth it, the signs along the interstate reminding us to enjoy the season while also staying safe.
Wait, what?
No, this isn't some deep fake trying to trick us into believing our public safety officials are actually people, too. It turns out, state departments of transportation and local law enforcement agencies can get into the holiday spirit, and the results are frankly spectacular.
The Chester, Vermont, Police Department made the headlines this week with holiday-themed speed radar signs.
As WCAX reports, the department has (understandably) received positive feedback on these festive signs, with one resident even calling in to let them know "that being caught being naughty at his age gave him 'the giggles.'"
And then there was the Tennessee Department of Transportation's Christmas Vacation-themed sign -- arguably the greatest holiday film of all time -- to remind drivers of the state's newly enacted hands-free law.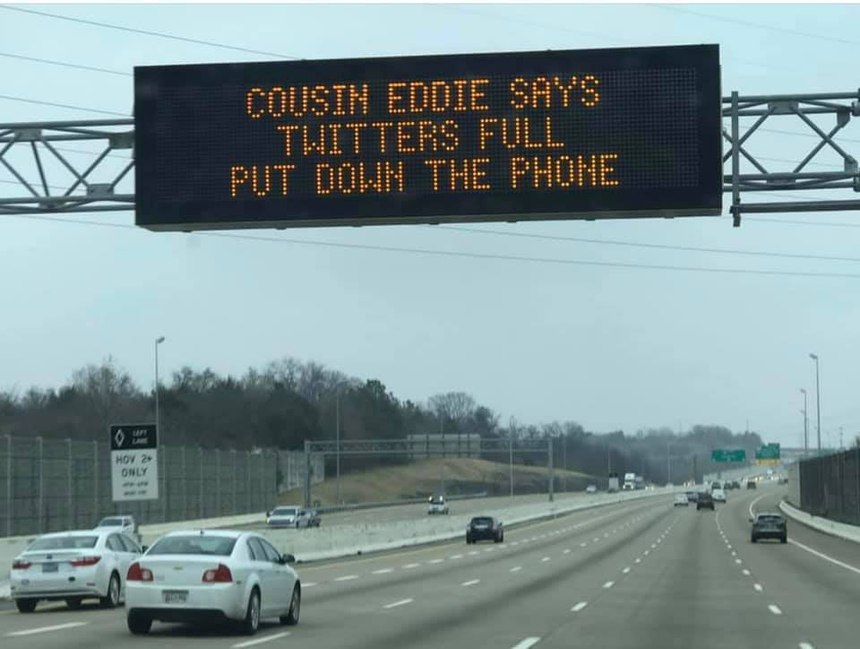 Lana Nealy took to the Tennessee Highway Patrol's Facebook page to express her appreciation.
I love seeing the signs," she wrote. "I drive in from South Carolina to visit family & always have a laugh at the signs!"
But unfortunately for fun, not everyone sees these signs as an easy way to engage with communities. In Missouri, state Rep. Ebenezer Scrooge, I mean Tony Lovasco, has introduced a bill to prohibit MoDOT from using the "dynamic message signs mounted along state highways to convey anything other than traffic conditions, weather or emergency alerts," Springfield News-Leader reports.
Those signs are hideously expensive," Lovasco said, "and MoDOT has a lot of incredibly detailed information they could share. But rather than sharing that information with people, they make puns about Santa Claus."
MoDOT, however, isn't backing down any time soon. "When it's not being used for those critical things, we take the opportunity to let people know about simple things they can do to make Missouri a safer place to drive," Jon Nelson, assistant to the State Highway Safety and Traffic Engineer, said.
Nelson points to the "predominantly positive" feedback they've received about the signs as well as the federal research that suggests drivers are much more likely to notice and think about such messages.
Thank goodness, because we at Gov1 are all for them.