What's Next for Mayor Buttigieg & South Bend
South Bend, Ind., Mayor Pete Buttigieg returns from a brief DNC Chair campaign focused on community development, public safety and code enforcement work.
---
After making a splash running for chair of the Democratic National Committee and stepping down moments before votes were cast, Mayor Peter Buttigieg returned promptly to South Bend, Ind., to continue driving initiatives he started six years ago.
He told the South Bend Tribune that his presence in the national race had benefits for the city.  "Now I think there's a lot more people, at least in the party, who know where South Bend is."
Smarter Streets, More Housing & Sensible Code Enforcement Decisions
Buttigieg told the local press that his administration is near completion of three major initiatives, including the city's Smart Streets project.
This multi-phase project included early highlights like the South Bend Bikeway, and main street conversions from one-way to two-way streets, that supported $100 million in new downtown investments, including hotel and building conversions and turning the former College Football Hall of Fame -- not far from Notre Dame University -- into a hotel.
The second program, 1,000 Homes in 1,000 Days, which tore down blight structures and refurbished 373 abandoned or vacant homes, finished three months early.  The next step for Mayor Buttigieg and South Bend is to pursue a Vacant to Value program to address the more than 600 vacant lots.
We've eliminated a lot of collapsing houses," he said, "but vacant lots are not the final end game, so we're going a little deeper on what some our options are."
Community gardens have been planted on some vacant lots, so the administration is exploring whether neighbors can help take care of them to reduce the city's code enforcement responsibilities. Part of that challenge is addressing the tax liabilities on citizens that take title of these spaces.
"We very rarely do anything like a residential tax abatement but this could be an example where it makes sense," he said.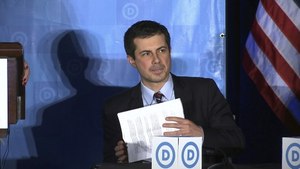 Trading in Guns for Jobs, Support
Buttigieg's third major initiative, South Bend Group Violence Intervention, gives at-risk individuals who have been involved in acts of violence or gun activity an avenue to contact police and community leaders. They are able to speak one-on-one and get connected to more than 70 area social services, including job training or child support assistance.
The program reportedly is saving the city and county on prison and community costs, as it helps the at-risk individuals overcome barriers. But it's also good for business.
"What we're finding is that the more we work to reduce violence in our community, the more profitable it is for the companies in the city of South Bend," Isaac Hunt, the program's social service manager, told WSBT.
Placemaking, People & the Public Service Message
Buttigieg said with these projects on the home stretch, South Bend will pursue placemaking through its newly created Venues, Parks and Arts Department to improve use of green space through public art and community events.
His administration will also out some muscle into its minority inclusion plan, which involves city employee training and increasing city contracting opportunities for minority-owned firms.
Buttigieg was criticized by the Indiana Republican Party in an email, according to the South Bend Tribune, for building his reputation rather than putting time into South Bend during his two-month campaign. But he said it was never about wanting a different job -- rather, it was about bringing what he has to a DNC that needs it.
In that vin, Buttigieg -- now 36 -- will take his public service and innovation message to millennials. He will be speaking to them about public service in Raleigh, N.C. later this month, and later this year in Nashville. He said the national speaking engagements could continue.