Mobile Communications Centers are Designed for Today & Tomorrow
Mobile communications centers have and continue to evolve with technology and MCC design innovations.
The prevalence of mobile command centers or mobile
communications centers in public safety agencies in the aftermath of September
11th was prompted largely by the availability of Department of Homeland
Security grants and other funding opportunities. These resources were aimed at
increasing the incident management capability of local and regional public
safety resources in a post-9/11 world.
As the founder and one of the managers of the California Mobile Command Center Expo since 2009, I've explored mobile communications centers inside and out, and have operated within them during real and simulated incidents. The technologies inside these vehicles has changed over the previous 10 years, and there is more coming for these "EOCs on wheels" in the next decade ahead as innovation continues and provides greater degrees of situational awareness. In this article we'll address changes I've followed in several California-based mobile command vehicles.
It's important to keep up with the state of the art in
mobile incident command, but remain mindful of what's needed. "Having a
reasonable budget to maintain what you have and explore what you might like to
have are the important elements of a successful mobile command unit program,"
advised Palo Alto Director of Emergency Services Kenneth Dueker.
Sizing & Set Up: Significant Developments in MCC Design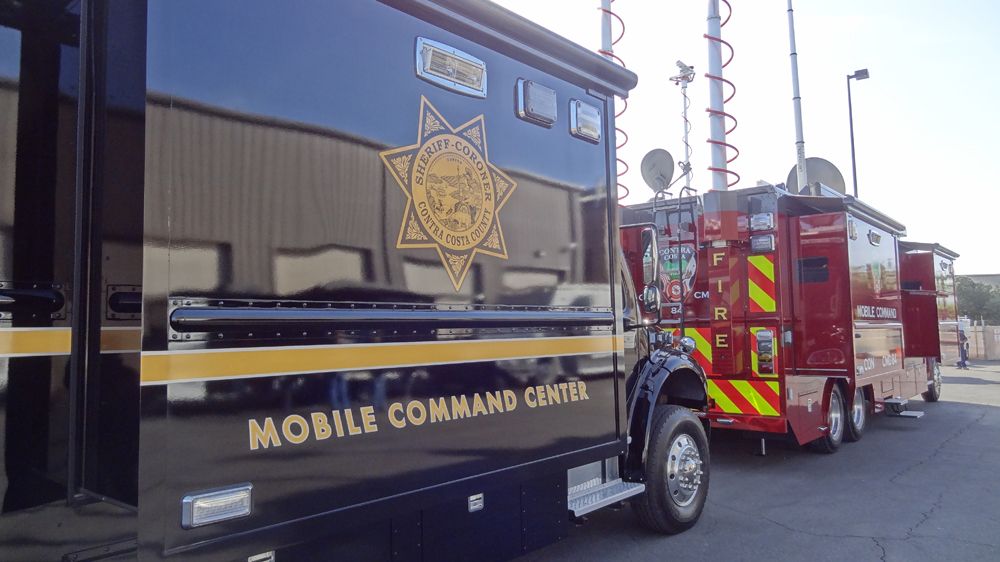 Probably the most significant MCC modification we've seen in
more than 10 years are slide-out rooms. Just as with recreational vehicles (RVs),
slide-out rooms increase interior work space by up to a dozen feet side to
side, which can permit more staff to operate more comfortably in traditionally
cramped incident command vehicles. Depending on the size of the MCC, the
configuration is either two or four slide-outs. "If you design a unit with
double slide-outs, one on each side, you're gaining an additional four feet,"
said Rick Zinnen, senior sales specialist for Wisconsin-based specialty vehicle
manufacturer LDV. "Most MCCs we build now have a 102-inch-wide body, which is
the widest you can legally have driving down the road. That gives you about 99
inches of interior space and then you're adding another two feet [per
slide-out] so you'll get approximately 12 feet of additional interior space
when you open the slides, going across."
Since most modern MCCs are loaded with technology to run
radios, communications interoperability interfaces, antenna masts, CCTV cameras,
video monitors and all manner of switchable and moving parts, understanding how
to set a unit up when it arrives on scene can be daunting.
A significant change in recent years is vehicle automation through multiplexing," said Zinnen. "Push an 'auto start-up' button on a touch screen monitor and the system literally starts setting the truck up for you automatically — aligning leveling stabilizers, raising antennas, extending the slide-out rooms, deploying awnings, etc. Literally anyone can go in there and have the command center ready to go within five minutes of arrival."
Manny Perez, western regional manager for Florida-based
Emergency Vehicles, Inc. (EVI) has seen a trend in recent years in which sales
for medium-sized MCCs has dropped off significantly. "They're either going
small or they're going big," he said. "An agency might want to stay small with
a SWAT command or hostage negotiation unit, or else they'll go gigantic. There's
no in between. We're in production now on a unit for the city of Inglewood which
is huge. It has conference rooms and four slide-outs and outdoor meeting areas,
but with their city's new football stadium, they needed something big serve as
a command post out there."
Scaling Based on Funding & Ongoing Support
Inglewood Police Department in Los Angeles County is replacing an older MCC purchased in 2002. This follows a previous purchase of a new SWAT Command Vehicle, also from EVI.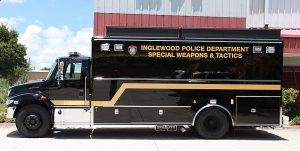 "We were fortunate enough with moneys coming into the city from the development and construction of the stadium, so along with our own asset forfeiture funds we were able to purchase a 40' state of the art command vehicle that we can grow into as technology advances," said SWAT Commander Lt. Jim Kirk, adding, "It will be utilized as a mobile command post during stadium operations and other special events, as well as a mobile dispatch center in case our communications center goes down."
Last year the California Governor's Office of Emergency Services, Fire & Rescue Division, was looking to expand their fleet of mobile command units from four to eight. A Request for Proposal was issued, and the contract awarded to Burton's Fire, Inc., which arranged for the units to be built by emergency response vehicle manufacturer Rosenbauer in South Dakota. "These 42-foot long units were designed with input from the users and OES staff as well as the Rosenbauer design team," said John Borges, operations manager for Burton's Fire. "Basing the interior layout on the four existing MCCs with various improvements and upgrades as requested by Cal OES, the goal was to make the units self-contained and operationally effective with two interior rooms, one for communications and one as a command area."
Choosing
a contractor or working directly with the builder is important in order to
ensure the final result matches up with the specifications in the original RFP
and incorporates any changes requested during the design/build of the vehicle.
"The most important thing is to make sure the builders have done these
types of units and are capable of supporting them after they hit the street,"
said Borges. "These are emergency vehicles and they have plenty of electronics
and specialty equipment on board that needs to be cared for. Downsize your
proposal if your budget requires it. Our goal is to deliver the right
technology in a vehicle designed to specifications that will be usable for the
next 20 years."
Is Bigger Better?
During the past 10 years of the California Mobile Command Center Expo, organizers have seen an abundance of configurations, sizes and designs that attest to the fact that one size — and one design — does not fit all.
While the big and beautiful 40' MCCs tend to attract the most
attention and can hold the most equipment and staff, they are not necessarily
the best unit for every agency. In some cases, a smaller unit works as well or
better in some jurisdictions. It's best to design the kind of vehicle that's tailored
to the specific needs of a jurisdiction's operations and environment.
Depending on how large the vehicle is, it may present
problems based on its gross vehicle weight rating (GVWR). "In California, once you cross 26,000 pounds
GVWR you're required to have a Class B license to drive the vehicle," said
LDV's Zinnen. "If you stay at 26,000 or below, you can operate with a normal Class
C license. While the trend has definitely been to go with the larger trucks,
that isn't always possible."
Two MCCs Zinnen recently delivered to Hayward Police Department
and to neighboring cities Morgan Hill and Gilroy were deliberately designed to
remain under the 26,000 lb. threshold so their operators could drive with Class
C licenses.
"What we're seeing now is, rather than police and fire buying their own MCCs, they're looking for something they can use jointly," said EVI's Manny Perez. "Another thing is operational longevity — these things are staying on scenes longer now, especially if it's a wildland fire campaign. They're staying out there two or three weeks sometimes, so they have different needs for their generators and even some bathrooms to be installed."
Healthy Mobile Communications Centers Get Regular Workouts
The city of Palo Alto, in the heart of California's Silicon
Valley, purchased their Mobile EOC (MEOC) through LDV in 2010 with a
combination of a federal grant and matching city funds. "One of the most
important things we realized in our process was that acquisition of a command
vehicle was not the end of the process, but really the beginning of a long
obligation," said Dueker. "Command vehicles require 'care and feeding' and,
moreover, need a team of dedicated staff."
The units also need to be used. I've seen and heard stories
of public safety agencies who buy a big MCC with grant funding and it sits in
the parking lot because the agency hasn't drafted a policy for its use, or
staffing has rotated and whomever started the process is gone and there's no
one left to manage the unit.
Palo Alto's MEOC is activated at least once per week, either
to support planned events, local dignitary visits, or real emergencies. The
MEOC partners with Stanford University Police to serve as the alternate command
post for Stanford football games, and frequently assists outside agencies on
request. "The other thing to keep in mind is that our MEOC was, at least in
part, funded by Homeland Security or UASI grants, so that means it's a regional
asset," Dueker added.
5 MCC Developments We Will See Ahead
It's clear that mobile command centers need to keep pace
with future changes, as new communications equipment is developed and
operational tactics are introduced. Officers, dispatchers, and managers need to
be trained and then re-trained so they are familiar in operating in these
units. Here are five coming developments
in MCC operations and technology to get
ready for.
#1 Advanced Cellular Services
Vendors are
looking forward to FirstNET, which is dedicated cellular voice communications
for public safety agencies and will provide MSSs with priority cellular
service.
"The next big thing we're waiting to be released is 5G
cellular service," said Zinnen. "They're claiming that it's going to be as fast
as fiber, which will be a great solution."
#2 Drone Technology Interface
MCCs can already access video from law enforcement and fire
service helicopters and aircraft, so integrating drone technology into the units
is the next obvious step.
"Agencies that have drone systems can downlink their video into
the AV system in the vehicle, and through their cellular or satellite
connectivity be able to share that video back to headquarters or whoever they
need to share it with," Zinnen said.
#3 Solar Battery Power
In Palo Alto, Kenneth Dueker has already experimented with
solar batteries as an alternate and long-lasting power source for his MEOC,
eliminating the noise and exhaust of portable generators and the short run time
of regular batteries.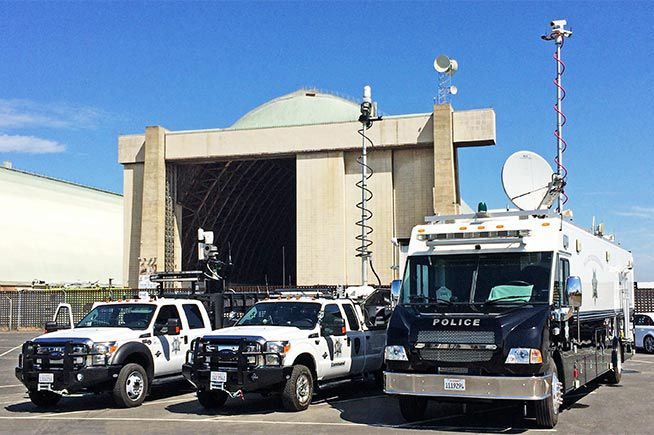 "The Achilles heel of all these vehicles is power. We just got
a grant award for a military type solar battery with enough juice to run our
MEOC, theoretically, indefinitely. While the solar stuff isn't quite ready for
prime time, it's tantalizingly close."
Dueker plans to add a truck or trailer to his fleet carrying a solar
battery to provide up to half a megawatt hour of battery power. "For my command
vehicle that's plenty" he said. "Even if it's rainy and dark and cloudy for
weeks."
#4 Sleeping Quarters
EVI's Manny Perez notes that he's being asked by some agencies
to have sleepers in their command units. "That goes back to some of the long wildfire
deployments," he said, "so we've incorporated some sleeping quarters in the
command units. Recently I've spoken to three agencies that want to be able to
have crews on 12-hour shifts. When they rotate off, they grab something to eat
in base camp, and then go to sleep in a secure isolated sleeping quarters
within the vehicle."
#5 MCC Supporting Vehicles
Mobile command posts require additional mobile support.
In addition to their MEOC, Palo Alto has a small fleet of
mostly grant-funded supporting vehicles: a Ford F-550 4WD pickup truck
providing logistical support to incident command; the director's command
vehicle — a Ford F-250 pickup providing
rapid response to establish incident command and provide the OES director or
incident commander mobility and communications outside the MCC; and a utility
terrain vehicle, a 100 percent all-electric Polaris Ranger used to tow
emergency supplies into incident sites and disaster zones.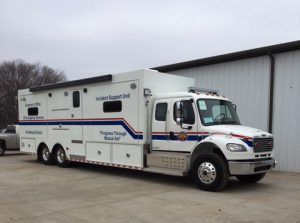 The 11th Annual California Mobile Command Center Expo takes place in San Francisco on April 18, 2019.
Learn more about the free event featuring MCCs and disaster management and mobile incident communications seminars.
---
Explore our related coverage of mobile communications centers: