Trial by Fire: California's First TERT Deployments
California began to develop TERT -- dispatcher mutual aid -- in 2017 with its first deployments needed quickly. A total of 144 dispatchers -- from 30 outside agencies -- served as mutual aid resources during the 2018 Camp Fire.
---
The evolution of the Telecommunicator Emergency Response Taskforce (TERT) initiative over the last two decades has shown the value of dispatcher mutual aid programs. Deploying qualified public safety telecommunicators from one 911 emergency communications center or Public Safety Answering Point (PSAP) is needed to assist with emergency response during critical disasters and other major emergencies from hurricane-borne storm surges to devastating wildfires that inundate even large city 911 centers with emergency calls.
The notion of public safety dispatcher mutual aid had been growing since 2001, as regional and statewide programs began developing through the National Emergency Number Association (NENA) and the Association of Public-Safety Communications Officials-International (APCO International). These organizations partnered to create the National Joint TERT Initiative (NJTI) in 2006, which became the governance body for the TERT program. With the program formalized in 2009 and a certified training curriculum devised through FEMA, the value of such programs became evident during numerous TERT dispatcher deployments to support Southeast PSAPs experiencing increasingly disastrous hurricane seasons over the last decade.
Mutual aid resources during 2018's Camp Fire deployment provide insights into the development of California's TERT program, including incorporation of dispatchers with tactical incident support experience.
California TERT Launches Just in Time
By 2017, TERT programs became credentialed through the National Incident Management System (NIMS) and a methodology for deployment put in place at the national level. TERT teams are organized on – and their deployment coordinated at – the state level. The state of California developed its TERT program just a year before it experienced one of the largest TERT deployments in the initiative's history.
California created its TERT program after experiencing severe mutual aid hardships during the February 2017 evacuation of more than 180,000 residents of Oroville and surrounding areas due to the potential imminent failure of the Lake Oroville dam, and then during the devastating Atlas and Tubbs wildfires that occurred in October.
The Oroville event started some regional discussions about evacuation procedure, staffing and resources.
"Our first step was to organize a steering committee," said Jamie Hudson, Dispatch Supervisor for the Elk Grove Police Department in California's Sacramento County, with 26 years of law enforcement dispatch, who assumed the role of Acting State TERT Coordinator. "Folsom PD Support Services Manager, Sherri Rinkel, chaired the committee and we began creating a TERT manual, which has been recently completed after a lot of research and discussion."
The Oroville dam emergency had resulted in a mutual aid request for the immediate (code 3) response of 200 police officers and sheriff's deputies from throughout the region, conducted through California OES, which manages statewide mutual aid. The Butte County Sheriff's Office PSAP was evacuated and moved to an alternate location, which included a field command post as well.
After the 2017 wildfires, Hudson reached out to the managers of each affected PSAP and asked them about their staffing and any potential needs they may have. "The California TERT process began at this point," he said. "A group of interested and committed dispatchers from across California began the long process of developing the team, while also exploring how the state TERT could become recognized as an available resource through the state Office of Emergency Services (OES)."
The Atlas and Tubbs wildfires had caused an unexpected inundation of 911 calls in both the city of Santa Rosa and Sonoma County, as well as a potential crisis in the PSAP in Fairfield.
"As a result, I decided to deploy two Tactical Dispatchers to join our responding mutual aid officers to assist at the command post," said Hudson. "The Tactical Dispatchers ended up being used for three days and, along with the dedicated Butte County dispatchers, were an integral part of the response and mitigation of the crisis."
That was the unofficial beginning of the TERT development in California. More than 120 12-hour shifts were filled by dispatchers from 25 agencies to staff three PSAPs during those two fires.
Trial by Camp Fire: California TERT in 2018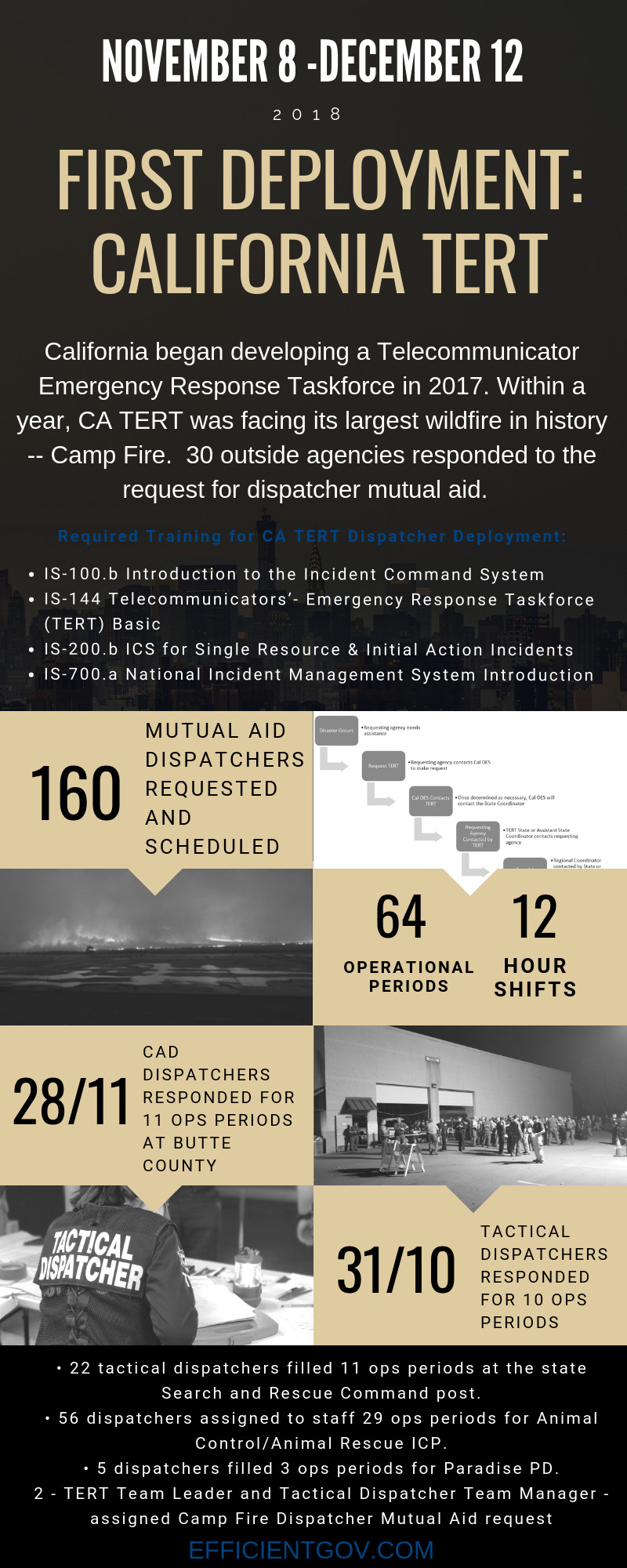 When the state's largest-ever wildfire (to date), the Camp Fire (named by protocol after its point of origin, along Camp Creek Road in the unincorporated small town of Pulga in Butte County), broke out on November 8, 2018, the new TERT experienced its first official deployment.
It also highlighted the placement of TERT personnel in more than just PSAPs, but serving as tactical dispatchers (if qualified) at field command posts.
Hudson and his Tactical Dispatch Team Leader, Caity Peak, filled the first assignment to assist the Butte County Sheriff's Office (BCSO) at the Incident Command Post (ICP).
"Once on scene, it was determined that mutual aid staffing of between two and four tactical dispatchers would be needed to assist at the ICP for at least three days," said Hudson.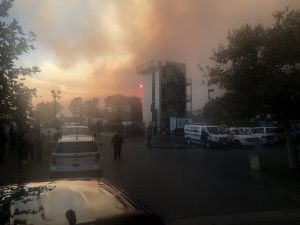 Ultimately, however, as the fire progressed and swallowed the entire town of Paradise, 31 tactical dispatchers from several outside agencies were called in to aid the law enforcement command post across ten 12-hour operational periods.
"After the initial crisis mitigation within the local PSAPs occurred, it became clear that BCSO had multiple ICP and PSAP needs where dispatchers were the best resource," Hudson explained. "BCSO reassigned mutual aid dispatchers within their PSAP to help augment their remaining staffing, sending three dispatchers for dayshift operations and two for night shift. One of the nightshift dispatchers was a supervisor to maintain supervisory coverage."
BCSO uses the RIMS Computer-Aided Dispatch (CAD) system, so all mutual aid responders were from agencies that used that same CAD system. Sunridge Systems Training and Project Specialist Michelle Edwards was contacted and assisted the effort by forwarding an email from California TERT to all RIMS users in California – this resulted in the response of 40 RIMS-savvy mutual aid dispatchers, who were assigned to 17 operational periods.
"Six of those operational periods were canceled when staffing was no longer needed to maintain the PSAP," said Hudson. "Twenty-eight of the original 40 scheduled dispatchers responded and completed their shifts."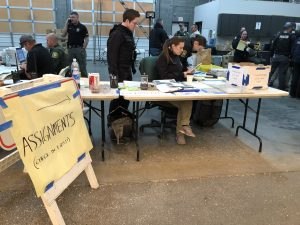 The Paradise Police Department PSAP had originally evacuated to the Chico Police Department when the fire began to claim the town, and then transitioned into the BCSO PSAP. During the transition, five mutual aid dispatchers were assigned to work three operational periods as mutual aid for Paradise PD.
Tactical Dispatchers helped with the check-in/check-out process, resource management, resource acquisition (OES equipment, radio equipment, mobile ICPs), scribing, assignment of tasks/duties, operating incoming telephone calls to the ICP, and ICP setup.
Search & Rescue, Plus Large-Scale Animal Rescue Ops
Predating the national TERT initiative, California is one of a handful of states that trained and deployed tactical and incident dispatchers to assist at command posts of law enforcement or fire/rescue incidents, respectively. Since the late 1990s, these field-deployable dispatchers have been utilized both locally and via mutual aid through California OES.
Two weeks into the Camp Fire, in addition to the TERT dispatchers, the Search and Rescue operation requested mutual aid tactical dispatchers for operational periods in the field from November 17-30. Twenty-two mutual aid tactical dispatchers ended up filling 11 operational periods at the OES Search and Rescue Command post.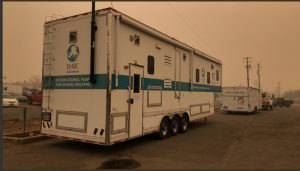 In addition to supporting local dispatch centers and Search and Rescue, California's TERT was assigned to help to staff the Butte County Animal Control ICP. An overwhelming amount of animal-related calls required the large-scale deployment of animal rescue and animal control personnel to respond to the crisis. The dispatchers needed did not require tactical experience, but they did need to be field-deployable inside a mobile command vehicle, with the North Valley Animal Disaster Group supplying their large command trailer as a mobile command post for animal-related operations. This turned out to be the longest deployment of resources for the crisis, spanning between Nov. 14 and Dec. 12.
"Twenty-nine operational periods were staffed by 56 mutual aid dispatchers," said Hudson.
At the Search and Rescue ICP, the majority of tasks were radio operation, scribing and assignment of tasks to resources. The animal control ICP was similar, with the added task of periodically fielding incoming telephone calls.
Lessons Learned from the TERT Response at the Camp Fire
During the Camp Fire, coordination of dispatcher mutual aid was completed simultaneously for three ICPs and two PSAPs between Nov. 8 and Dec. 12, 2018.
A total of 73 operational periods were scheduled, with 64 of them completed. One hundred and sixty dispatchers were ordered and scheduled, with a final count of 144 dispatchers, from 30 outside agencies, who responded and were utilized as mutual aid resources (the balance were cancelled prior to arrival or released on scene).
"California OES requested TERT coordinate all dispatch mutual aid for this fire and TERT was able to deliver on that request," Hudson remarked.
From this experience, there were three primary lessons learned:
#1 Include Tactical Dispatchers into TERT Response
The extraordinary response of TERT personnel to the Camp Fire cemented the fact that, at least in California, TERT teams will need to have a tactical dispatch component in addition to a PSAP component.
"TERT responders may not always be assigned to the dispatch centers," Hudson noted. "Tactical dispatching on the law enforcement side – as with incident dispatchers on the fire and rescue side – is no longer just scribing and radio operation, as it has been for many years. It has grown to where tactical dispatchers are helping with initial setup of field ICPs, are looked to for suggestions of available resources, and other integral parts of the efficient operation of those ICPs."
#2 Understand Unique Needs While Keeping to NJTI Guidelines
Including tactical dispatch, etc., in dispatcher mutual aid has proven advantageous in California and is prudent on the national level, even while following NJTI guidelines.
"While considering the unique needs of the state, we felt it was very important to not completely deviate from the original mission of the NJTI," Hudson emphasized. "We want our TERT to be within NJTI recommendations, while having some variances based on regional or state need."
#3 Prepare for Expanded Capabilities
It is essential for field-deployed TERT resources to not only be able to work under adverse conditions, like the PSAP deployments, but also work independently, while potentially making logic-based decisions for future operational periods.
"Based on past tactical dispatch responses and having incident commanders recognize what tactical dispatchers could do, requests similar to those from animal control and Search and Rescue encountered during the Camp Fire will become more common," said Hudson.