Funding opportunities for local government under the Infrastructure Investment and Jobs Act (eBook)
The IIJA provides $550 billion in new investments for transportation and utilities, among other purposes
---
The Infrastructure Investment and Jobs Act, signed into law in November 2021, includes $550 billion in new federal investments to America's infrastructure.
This historic, bipartisan legislation is the largest long-term investment in infrastructure in our Nation's history. Over fiscal years 2022 to 2026, it provides $550 billion in new investments for all modes of transportation, water, power and energy, environmental remediation, public lands, broadband and resilience.
Download this eBook to learn: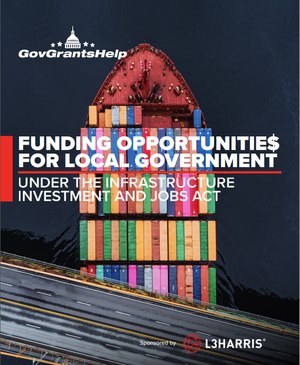 An overview of funding opportunities.
Grant opportunities for transportation, utilities and other critical national infrastructure.
What you need to know about applying for funding.
Reasons why your organization should consider expending some of the grant funds to purchase P25-compliant radios.
Fill out the form below to download your free guide.
If you're unable to see the request form below, visit this page on Gov1. 

Funding opportunities for local government