Va. city opioid program partners EMS, law enforcement, local psychiatry center
"The First Step Program" will offer individuals an opportunity to get help without the fear of arrest or having to worry about a lack of health insurance
---
Jane Harper
The Virginian-Pilot
VIRGINIA BEACH, Va. — The number of people who died from opioid overdoses in Virginia Beach last year was more than double from the year before.
There were 103 fatal opioid overdoses in the city in 2020, a record for the area, according to the city. There were 44 such deaths in 2019, and 47 in 2018.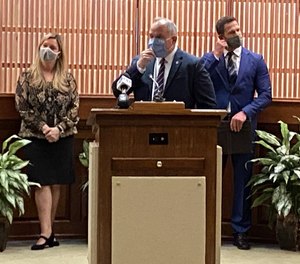 And the use of naloxone — a medication that can quickly reverse an opioid overdose if administered in time — was up 50% last year, said Ed Brazle, chief of Virginia Beach's emergency medical services.
In an effort to curb the problem, city officials on Thursday announced the kickoff of a new initiative: "The First Step Program." Through it, addicts will be able to get treatment without the fear of arrest or having to worry about a lack of health insurance.
So, what's the first step to which the program's name refers? It's simple: Walk into any of the city's four police precincts and tell them you need help for an opioid addiction. Anytime — day or night.
No one will be denied help due to a lack of insurance, the officials stressed. And no one has to worry about getting arrested for their drug use. Outstanding warrants will be served, but if the charge is not a major felony the person likely will be allowed to go into treatment.
From there, the person will be screened to determine what level of care and support they need, then sent to the appropriate facility.
Those who need immediate medical attention likely will go to an emergency room. Those without insurance typically will be sent to the Department of Human Services' Pathways Center, while those who have insurance most likely will go to the Virginia Beach Psychiatric Center.
If a bed isn't available, the program will work to provide resources and services until one opens.
The First Step Program is a partnership among five agencies: the city's police department, prosecutor's office, emergency medical services, human services department and the Virginia Beach Psychiatric Center.
"We're hoping to save some lives," said Kurt Hooks, the psychiatric center's chief executive officer. "That's the bottom line here."
Family and friends of people suffering from an opioid addiction also can stop in at one of the police precincts to seek advice and assistance with getting them into the program, the officials said. They also can obtain naloxone nasal spray after receiving training on how to use it.
"We're going to be ready 24/7 for anyone who walks in the door," Commonwealth's Attorney Colin Stolle said. "The bottom line of our jobs is to help people and that's what we're going to do here."
---
©2021 The Virginian-Pilot. Visit pilotonline.com. Distributed by Tribune Content Agency, LLC.
McClatchy-Tribune News Service