Uber and Lyft pledge free rides to help victims of domestic violence during COVID-19
As governments look for ways to continue to provide necessary services to domestic abuse victims, Uber and Lyft have come forward to lend helping hands
---
Both Uber and Lyft have pledged millions in free ride credits for victims of domestic abuse in need of safe transportation during the COVID-19 pandemic.
Uber is partnering with domestic violence organizations and local governments across 35 cities in 16 countries to provide 50,000 free rides to shelters and safe places along with 45,000 free meals. Lyft has committed $1.5 million in ride credits for LyftUp to those with essential needs, including domestic violence victims in unsafe situations.
As the pandemic rages on, data shows many cities worldwide are experiencing a rise in domestic violence. At the same time, there are also cities in the U.S. that have seen a decrease in crime reports of such cases, which some agencies find even more concerning.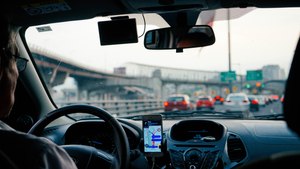 During times of crisis, the risk of domestic violence is escalated, and with the restrictions put in place to combat the spread of the virus, victims face further challenges to receiving the help they need.
Domestic Violence is always a community threat
According to the CDC, one in three women and one in 10 men in the United states have experienced intimate partner violence (IPV) in their lifetime, including physical violence, sexual violence and stalking. At least one in seven children experienced abuse or neglect in the last year — the CDC believes this to be an under estimate.
Approximately 41% of female and 14% of male IPV survivors have suffered some sort of IPV related physical injury and 16% (one in six) of homicide victims in the nation were killed by an intimate partners. Nearly half of all female homicide victims are killed by current or former intimate partners. In 2018, nearly 1,770 children died of abuse and neglect.
A perfect storm
Like many businesses and organizations right now, domestic violence shelters and service providers are struggling to provide uninterrupted services and operate safely amid the global health crisis.
Under normal circumstances, leaving an abusive situation is not an easy thing for a survivor to do. Now, with stay-at-home orders and social distancing measures in place, victims may be too scared to leave their homes in search of help, or they may lack the required support system to safely seek refuge, leaving them trapped at home with their abusers.
Children are particularly vulnerable to abuse during the pandemic as parents and guardians experience added stress, financial strain and loss of access to childcare resources.
Community Partnerships are stepping in to fill the gaps
The cities of Chicago and Houston have recently made announcements about the financial relief they are receiving from the two ride-sharing companies in their respective efforts to help domestic violence victims during this time.
Houston — On April 22, Houston Mayor Sylvester Turner announced Uber's provision of a $50,000 grant to support the city's recently launched domestic violence awareness initiative. The money will go towards ride services to help domestic violence and human trafficking victims seeking help during this time. The city is also partnering with Houston Women's Center and Harris County Domestic Violence Coordinating Council in its efforts. More information about available resources for those in the greater Houston area can be found here.
Chicago — On April 9, Chicago Mayor Lori Lightfoot announced a joint partnership with both Uber and Lyft to help city residents seeking refuge from domestic violence during the pandemic. The ride-share companies have collectively donated $20,000 in free rides, and additional funds will be given to the Illinois Domestic Violence Hotline for distribution to those in need.