Disaster Recovery: School Infrastructure Resilience Roadmap & Best Practices
Communities facing the loss of a school after a hurricane, earthquake or other disaster can increase school infrastructure resilience. Get a roadmap for stakeholders, tools and best practices. 
---
School districts that face the loss of a school in a natural disaster like a hurricane face myriad challenges after the immediate danger passes, ranging from education and public safety to reconstruction. To improve community resilience, replacement schools can be designed to mitigate disaster risk and increase school infrastructure resilience in affected areas following a disaster.
The World Bank Global Program for Safer Schools (GPSS) offers a 2017 roadmap to engage stakeholders and 2018 100 Resilient Cities workshop in Cali, Columbia, generated best practices for communities focused on or required to increase school infrastructure resilience.
Roadmap for School Infrastructure Resilience 
According to a 2017 World Bank briefing, there is impact to the learning environment through the affected community's recovery phase, which extends into public safety and public health operations.
Damaged school infrastructure exposes the educational community to physical and mental stress and interferes with school operations, teaching and learning. When non-resilient communities experience a natural disaster, the effort to bring children back to school and recover the full operation of the education sector is prolonged, often involving a lengthy emergency response and a protracted recovery and reconstruction process. 
The GPSS launched a Roadmap for Safer Schools in 2017 to provide governments affected by devastating natural disasters like earthquakes and hurricanes a systematic guide infrastructure managers and government and school district stakeholders can use to structure and promote a more informed dialogue on making new school infrastructure investments.
The Roadmap:
Uses concepts and language that are accessible for those without experience in disaster risk reduction and construction
Provides guidance on the technical expertise required by the activities
It consists of six steps that follow a logical sequence from diagnosis to analysis, opportunity and investment, shown in this inforgraphic posted to the blog: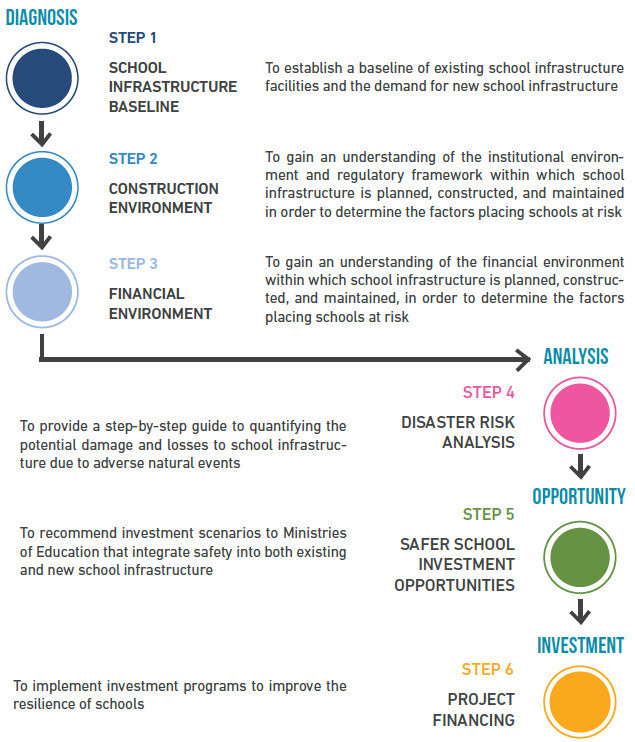 While the Roadmap was designed after identifying areas of strength and opportunities for improvement after disasters in Peru, Jamaica, El Salvador, Kyrgyz Republic, Nicaragua and Dominican Republic, there is a stakeholder management framework with evidence-based rationale for developing a school infrastructure resilience program.
Also available are related e-learning resilience courses for infrastructure managers and a toolkit with case studies and a school resilience terminology guide.
Best Practices for School Infrastructure Resilience 
Through a 100 Resilient Cities workshop that took place February 20-22, 2018, in Cali, Colombia that included the Cali mayor's office, departments of education, risk management and planning agencies, the following recommendations were developed for school systems to develop disaster response and school infrastructure resilience plans:
The city should use a 'systems' or 'network' approach to allocate limited funds to retrofit existing schools and invest in new schools for multi-hazards. For example, while all schools should be retrofitted or built to be made 'life safe', not all schools need to be designed to an 'operational' performance level to serve as emergency facilities. When the school system is viewed as a network as opposed to individual sites and a disaster response and recovery plan is put in place in advance of a disaster, it is possible to find efficiencies in the system.
As part of the systems approach, the city should conduct a vulnerability assessment of its entire school infrastructure portfolio (starting with pre-1984 buildings, followed by 1985-2010 buildings) to identify those schools which are most vulnerable to earthquakes and floods. This information should be used to prioritize retrofits and new construction through a long-term mitigation plan.
School retrofits can be phased over time to distribute cost and reduce disruption to operations.
New school construction and retrofits for the purposes of risk reduction should be leveraged to create additional benefits to schools -- for example, the introduction of passive design concepts to increase natural daylight and improve cross ventilation; use of durable finishings to reduce cost of maintenance and upkeep as well as materials to improve classroom acoustics; introduction of pervious surfaces and grass, trees and gardens to not only reduce flood risk but also create environmental learning opportunities.
Schools should be designed with flexible spaces allowing adaptability of use for both everyday and disaster situations as well as maximizing long-term utility of the facility.
Schools and school grounds should be designed as multi-purpose, cultural utility for communities and accommodate interaction and partnership between students, teachers and communities. Avoid physical barriers that isolate schools from surrounding areas. Consider a layered approach with varying degrees of public and private facilities which can also provide resources and services to the wider community. For example, a central private and protected 'core' school for students; controlled public facilities such as libraries and community performance spaces surrounding it; and public parks accessible to students on the periphery.
National regulations for school zoning should be updated to allow for more flexibility in their application to different local contexts and needs. Consider form-based and performance-based zoning approaches.
Develop a program of co-management of facility maintenance, cleaning and improvements (and associated fund management) by parents, students and communities to promote a culture of care and respect for the physical infrastructure.
The investment in improving (Cali's) school infrastructure should be used as an opportunity to build capacity in the local design and construction sector in earthquake-resistant construction techniques.
Access the Cali, Columbia, workshop report on the 100 Resilient Cities website.