'We need not fear' stay-at-home order, NC mayor says of coronavirus measure
Mayor Steve Schewel explains his reasoning for issuing a stay-at-home order for the City of Durham and what that means for residents
---
The News & Observer
By Anna Johnson and Virginia Bridges
DURHAM — Durham Mayor Steve Schewel on Wednesday issued a stay-at-home order, effective as of 6 p.m Thursday.
Schewel called it an "agonizing" but necessary decision to help slow the spread of the coronavrius, which has now infected over 70 people in Durham County. It came amid reports of North Carolina's first coronavirus-related deaths.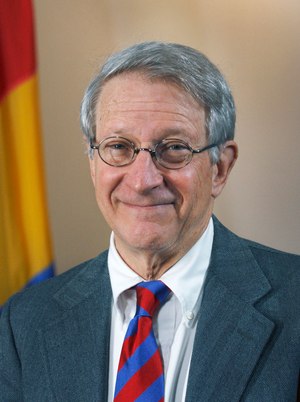 "This is not something we need to be afraid of if we act," Schewel said, speaking in a nearly empty City Hall council chamber.
We have the power to control this as a community," he said. "There is no need to fear this virus if we act. The way we can act together is to stay at home."
Schewel's order applies to the city of Durham, small parts of which reach into Orange and Wake counties.
Durham County will issue a similar order after a meeting to revise the county's emergency rules Friday for the unincorporated parts of the county, which includes most of Research Triangle Park and Treyburn Corporate Park.
"I fully support the action that the mayor has taken," said Wendy Jacobs, chair of the Durham County Board of Commissioners. "We have worked very closely on this."
Only a few communities in North Carolina, including Mecklenburg County, have told their residents to shelter-in-place or stay at home. But more are expected.
Wake County Commissioner Chair Greg Ford said Wake will make a stay-at-home announcement Wednesday and hold a a press conference Thursday. Orange County is also expected to make a stay-at-home announcement soon.
Right now, the trend line for coronavirus cases in the United States is following the trend line of coronavirus cases in Italy," Schewel said. "Watching the Italian experience from afar is sobering for all of us."
Nearly 70,000 cases have been identified in Italy, he said, and more than 26,000 cases have been reported in New York, he said.
"This is our window for social distancing to work," Schewel said. "This is our best time to intervene. If we are going to stop the spread of the virus this is our window. We can't wait until we are inundated with cases and our health-care system is stretched to the limit. Acting then is way too late."
What the order says
Durham's order restricts movement outside people's homes except for essential jobs and tasks, mostly related to health and food. It will remain in effect until April 30 but could be revised.
Businesses that will be allowed to remain open include grocery stores, pharmacies, hardware stores, gas stations, hotels and motels, and health-care facilities. Restaurants will still be able to provide take-out and delivery options.
Daycares, homeless shelters, and government agencies can continue to operate, though buildings such as City Hall, police headquarters, fire stations, and Durham Parks and Recreation facilities and playgrounds, will remain closed to the public, according to a city news release.
People may leave their homes to care for a family member, friend or pet, the mayor said.
People also will be allowed outside for recreation but only for walking, hiking, running, biking, golfing and playing tennis, he said, and only if social distancing is practiced. That means people must be at least six feet away from each other.
The Durham Police Department will enforce the order, Schewel said, but people will not be arrested or cited unless there are "continuously and egregiously" offenders.
A challenge for artists, pastors
The stay-at-home order will create difficulties for many people, Schewel acknowledged.
My heart goes out to everyone who has lost their job because of the virus and because of its consequences," he said. "Our whole community is hurting because of this."
One positive aspect of social distancing, Schewel said, is the art, music and poetry Durham artists are creating. And he called on them to share their talents at least once a night digitally so others can experience their work.
He also asked pastors and religious leaders to directly call members of their congregations and check in on them.
Elders, Schewel said, shouldn't consider themselves victims but people who can take control by staying home and offering advice and resources to young people who may have lost their jobs. And young people should check-in on elderly neighbors and offer to pick up food and medicine for them.
'People not using good judgment'
In a livestream on the city's Facebook page Wednesday morning, Schewel said the stay-at-home order will help people get back to work sooner, as well as protect health-care workers on the front lines fighting this virus, he said.
The order was also made because people have not remained home as encouraged.
We frankly have had people not using good judgment, particularly young people, who have not been using good judgment and have been congregating in large numbers," Schewel said. "It unhealthy. It is unsafe."
Durham County reported more than 70 confirmed coronavirus cases as of Tuesday evening. There have been about 500 confirmed cases throughout North Carolina, though local and state officials acknowledge not everyone who has the disease can or will be tested. Only eight of Durham's cases have been through community spread, Schewel said.
About a third of Durham's cases include Duke University students, The News & Observer has reported. Nearly all of those students had recently traveled abroad and were quarantined in their off-campus homes.
Students at the private school were told to leave their dorms and stay off campus while the school switched to online courses for the rest of the semester.
View the full press conference announcing the stay-at-home order:

(c)2020 The News & Observer (Raleigh, N.C.)
McClatchy-Tribune News Service