The arts and culture sector is struggling; the City of Phoenix, independent organizations and patrons take initiative
Arts and cultural organizations have experienced nearly $7 billion in losses due to the pandemic, which does not bode well for communities
---
Last month, Phoenix, Arizona's City Council announced that of the $293 million in federal funding the city received from the Coronavirus Aid, Relief, and Economic Security (CARES) Act, $2.6 million would be going towards COVID-19 relief for the city's arts and culture sector. Funding would be provided to individual artists and nonprofit organizations affected by the pandemic as grants.
This was especially welcome news for the Phoenix arts community since in March, the $2 million in funding requested by the Arizona Commission on the Arts had been left out of the state's "skinny" budget of $50 million for the fiscal year.
According to Phoenix Mayor Kate Gallego, the city's arts and culture sector generates over $400 million in revenue annually. "When the arts are supported, our quality of life improves and our local economy benefits," she said.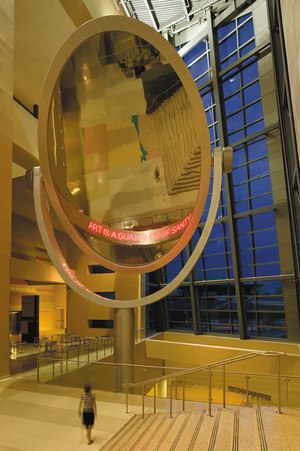 With the funding provided through the CARES Act, one-time emergency relief grants with amounts of up to $50,000 were made available for local arts and culture groups that lost revenue due to the cancelation of events, programs and performances. Smaller grants of up to $1,500 were also made available for individual artists who lost income due to performances, shows, contracts and sales being cancelled or terminated.
Funding was also allocated for technical assistance, including workshops, webinars and other resources that could help nonprofit arts organizations strategize their financial futures.
It seems Phoenix is pioneering the use of city or state funding awarded through the CARES Act to directly aid its local artists and cultural organizations. While applications for the Arts and Culture Coronavirus Relief Program are now closed, cities looking to establish similar initiatives through their CARES Act funding can learn more at phoenix.gov. 
Boosting public Safety And The Economy Through Community Arts And Culture Resources
Though the nation is in a time of crisis, it's important to recognize the importance of investing in arts and cultural resources, as they play a major role in community development, including public safety. Studies show that these resources have a positive impact on individual persons and community well-being alike.
A 2017 study commissioned by ArtPlace America, led by then PhD candidate Tasha Golden, found that "arts and cultural strategies are helping drive change in community health outcomes." In particular, creative placemaking, the practice of the intentional leveraging of arts and cultural strategies to address community issues and implement change, has a significant impact on mental health, including stigma, trauma, community-level stress, depression, substance use disorders and cultural identity.
A study on arts and community change by The Social Impact of the Arts Project (SIAP), a research group at the University of Pennsylvania, School of Social Policy & Practice, found that neighborhoods that employ arts and culture strategies "enjoy 'spillover effects' — including stronger community and civic engagement; better health, schooling, and personal security; and economic revitalization."
Further stressing the importance of the arts and culture sector is the rather significant contributions it makes to U.S. economy as a whole.
According to a report by the the Bureau of Economic Analysis (BEA) and the Office of Research & Analysis at the National Endowment for the Arts (NEA), the arts and culture sector contributed more than $763 billion to the U.S. economy in 2015, accounting for 4.2% of the nation's GDP through 4.9 million jobs.
In 2016, revenue jumped to $804.2 billion, accounting for 4.3% of the nation's GDP with employment totaling 5 million. In 2017, revenue from the sector jumped again, earning $877.8 billion, accounting for 4.5% of the nation's GDP via 5.1 million jobs.
The sector has consistently grown with each year and the nation's economic output has grown right alongside it.
Despite this, the sector has gone largely neglected by state and local agencies in their financial relief and recovery efforts for businesses during the pandemic. According to a report by Americans for the Arts, nationwide, the sector has experienced nearly $7 billion in losses.
The CARES Act only allocated $300 million to arts and culture organizations. Much like how Small Business Administration (SBA) Paycheck Protection Program (PPP) loans were distributed through a network of banks and credit unions, the money to bail out the arts and culture sector was divided between seven major organizations, institutions and corporations to distribute to other smaller entities and individuals.
$75 million was given to the NEA

40% of funds will be distributed to state arts agencies and regional arts organizations
60% will go towards direct grants

$75 million for the National Endowment for the Humanities (NEH)

40% of funds will be distributed to state arts agencies and regional arts organizations and
60% will go towards direct grants

$75 million for the Corporation for Public Broadcasting

Funds will be used to support public television and radio stations, particularly small and rural stations, which are expected

$50 million for the Institute of Library and Museum Sciences

Funds may be used to support libraries and museums, including assisting with expansion of digital network access, purchasing Internet accessible devices, and providing technical support services to their communities.

$25 million for the John F. Kennedy Center for the Performing Arts

Funds will be sued to to cover six months of salaries for current and furloughed employees and musicians

$7.5 million for the Smithsonian to cover

Funds will be used to cover salaries and other expenses while its museums are closed.
Alternative Resources Available For Artists and Organizations
Though the arts and culture sector may be going largely without financial assistance from many state and city budgets, independent organizations and arts patrons are banding together to lend a helping hand. Below is a list of just some of the grant opportunities available for organizations and individual artists: