Spring lessons learned for addressing COVID this fall
Six months into the global pandemic, are we any better prepared for the fall wave?
---
The Centers for Disease Control and Prevention diagnosed the first case of coronavirus infection on January 20; the first virus-related death occurred hardly a month later. But only after the World Health Organization declared a global pandemic on March 11 did much of the United States and other advanced countries initiate economic shutdowns to help mitigate the crisis.
On one day four months later, however, the novel coronavirus 2019-nCoV killed 400 and another 58,000 new cases were reported in the United States. Those numbers have only worsened in the last week.
Early on in the pandemic, which may come to be known as the spring wave — there's little debate over whether the migration of heightened positivity to Sun Belt southern states this summer is a part of that first wave — the U.S. was decidedly behind in its stockpiles of needed items for first responders, healthcare facilities and intensive care units. The nation's governors complained daily at regular press briefings about shortages of personal protective equipment (PPE), like face covering masks and shields.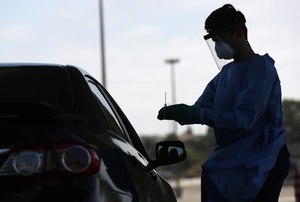 Are we better prepared now?
Six months on is as good a time as any to take stock of lessons learned in anticipation of the fall wave.
CDC Director Robert Redfield, on a widely reported discussion for the Journal of the American Medical Association, warned that the fall and winter of 2020-21 "are going to be probably one of the most difficult times that we've experienced in American public health" because of a co-occurrence of COVID-19 and the annual influenza season.
The nation is certainly in better standing in terms of scientific understanding of the virus. A quick perusal of publicly available working papers demonstrates the concentration of researchers in all kinds of fields. A select committee was also created by the House of Representatives focused solely on the pandemic.
Members of the White House Coronavirus Task Force like FDA Commissioner Stephen Hahn, infectious disease expert Dr. Anthony Fauci and Redfield have also repeatedly expressed optimism at the pace of vaccine development.
That being said, a surge in testing capacity and contact tracing ahead of any approved vaccines are broadly seen as needed to build confidence in fully reopening the economy. Federal Reserve Chairman Jay Powell said as much in May. 
What follows is a discussion of what needs to happen to get us there.
Acquisition must improve
Having formed a consortium of states in April to procure supplies on their own, essentially going it alone after competing against the federal government, New York Governor Andrew Cuomo called the group a longer-term production goal — one state could manufacture masks, another gowns, and another reagents for testing, etc. — but hospitals across the state must now have a 90-day supply of PPE or else seek a waiver from the state health department.
Some New York hospitals have 120 days of materials at the highest rate of use, but Cuomo noted that the statewide requirement does not apply to testing equipment. While House Speaker Nancy Pelosi (D-Calif.) has called on President Trump to again invoke the Defense Production Act to compel more rapid, scaled production of PPE as well as testing supplies, his hesitation to use it in the spring for domestic ventiliator and N95 mask production makes another such move unlikely.
Meanwhile, Illinois Gov. J.B. Pritzker told a House panel in early July that his state found itself in a "bidding war" for supplies against other states and international allies. "There were states calling other states to try and figure out if some international businessman offering a warehouse of 2,000 N95 masks was a scammer," he said.
That must not be repeated come autumn. A Senate committee took testimony about fraud and exploitation in June, indicating an importation role even for law enforcement.
New Mexico Governor Michelle Lujan Grisham likewise said in a Washington Post Live appearance hours after Cuomo's press conference that she was faced with "chasing down supplies and PPE" for first responders and healthcare. The former Congresswoman said that not in her "wildest dreams" did she ever think she would be spending her "own specific time finding supplies," manufacturers and reagents, nor "dealing with the federal government [that] would literally then take" what she had secured to redistribute nationally.
Lujan Grisham also warned that governors were finding themselves in the same situation mid-summer — decidedly not a situation to repeat a third time come autumn.
She further stressed the need for universally rapid turnaround times for test results. "The sooner we know you're infected, the better we are at managing the isolation," she said, pointing to the fact the Indian Health Service that processes COVID-19 tests for the Navajo Nation in her state takes twice as long as one of her state laboratories.
Two days later, 47-year-old Oklahoma Gov. Kevin Stitt — who rarely wears masks and resisted a statewide mask mandate, aggressively pushed to reopen his state, and attended President Trump's campaign rally in Tulsa in June — announced he had tested positive for COVID-19.
Small states, then and now
Wyoming health director Dr. Alexia Harris echoed Lujan Grisham a week earlier at an update with Governor Mark Gordon, saying the state needed more "active surveillance testing" without control measures and better epidemiology. But, she added, "problems with supply, diversifying and increasing our ability to test" must first be addressed, emphasizing the timeframe to turn around results.
Gordon said in March that there "simply aren't enough supplies for everyone to get tested," telling the public, as peers did at the time, to focus on washing their hands and avoiding surfaces thought to be sources of transmission. Four months later, Gordon says Wyoming hospitals and counties are making "concerted efforts to conserve supplies" of PPE.
Mississippi Governor Tate Reeves said at a March 26 press conference that at the request of Washington, he had encouraged hospitals to utilize their traditional supply chain sources for PPE, using the National Guard and emergency management agencies to distribute what was procured statewide. "But to be honest, we haven't really had the resources to be able to be more aggressive," he lamented. As of July, the state is still working on its goal of a 21-day supply.
Having met with relative success early on, Florida has now recorded the country's highest number of cases in a single day. Governor Ron DeSantis told reporters at a regular update in Miami that nearly 200,000 caretakers at long-term facilities and nursing homes around the state were being tested every other week, but hospitals were running low on lab chemicals. He added that over 700,000 tests a day overall across the Sunshine State had backed up commercial labs, delaying results to a week or more.
Today, the healthcare supply chain is still struggling to provide medical grade respirators, some disinfectants and other specifics for personal protective equipment," an Alabama official testified to Congress recently. "The supply and demand mismatch continues to plague Alabama," just as feverish work is underway to replenish the state's stockpile in preparation for the fall wave of the virus.
"Our focus should be on fostering and outward sharing of resources and information that is incentivized by federal grants aimed towards developing capabilities with commonality, interconnectedness and partnerships — instead of driving duplication, competition or stovepipes," he said.
Logistics is personnel, too
Logistics is a meticulous business characterized by epistemic (knowledge sharing) and physical (geographic, material) challenges. But the needs are not just for goods — nurses are in especially high demand, and not just to staff hospitals. Projections by the American Association of Colleges of Nursing show new academic enrollments shrinking while half the nation's nurses are of retirement age.
The shortage predated the pandemic, but just as policymakers are addressing immediate needs (surge needs for Florida hospitals or New Mexico schools), the nation needs to address the long-term goal of sufficient healthcare providers to care for an aging population. (See how your state compares here.)
Federalism: Not made for a pandemic
"This was a federal crisis," Cuomo said in mid-July. "Why is New York State, or the state of Georgia, or the state of California, or any of the states handling the COVID crisis? It's a national issue," adding that the federal government, which is supposed to manage declared federal emergencies, "got offended when the states asked for any resources or help."
While FEMA's Task Force outline explicates the apparent division of power and labor — "Locally Executed, State Managed, Federally Supported," reads an April advisory — "FEMA's initiatives caused confusion. States reported issues with communication surrounding equipment availability and delivery timeframes," House Homeland Security Committee Chairman Bennie Thompson (D-Miss.) said at a July hearing.
And given this administration's penchant for obfuscating the facts, perhaps more local control is the best-case scenario. It's also important to remember that the federal government has no appreciable control over local laws or ordinances besides mandates and minimums already in statute.
What we're left with, however, is a hodgepodge of rules and mixed messages that have no doubt contributed to the general public's difficulty with keeping themselves safe. "Inconsistent messaging at the federal, state and local levels have led to further confusion and complacency at the individual community level," Harris County Public Health Executive Director Umair Shah recently told a House committee.
Take the phased reopenings, full or partial reversals of public health orders, and mask mandates by states, subdivisions and companies.
Ohio Gov. Mike DeWine warned Buckeyes that if "we do not take immediate action to slow this virus down, the tragedy that we see playing out on our television screens every day in Florida, Texas, Arizona and California may well be our reality in just a matter of weeks," though he held off on a statewide mask requirement. Alabama Gov. Kay Ivey only did so after a state high watermark of virus-related deaths.
At the other end of the political spectrum, California has also required masks be worn statewide, with easy-to-understand guidance.
Many municipalities have also instituted their own ordinances where local leadership were inclined to be more aggressive. Indianapolis has joined three counties in the Hoosier State requiring face coverings in public spaces. Many Ohio cities likewise have mandates despite DeWine. Cities in Arizona, Georgia, Mississippi and Minnesota have as well.
In extending his state's virus-related restrictions, Georgia Gov. Brian Kemp overruled local governments by executive order, reversing orders issued in cities like Atlanta and Savannah. Mayor Keisha Lance Bottoms, in particular, has gained national attention as a critic of the federal government and an aggressive local leader in the fight to contain COVID-19. Bottoms, who has tested positive, said her administration would "defy" Kemp's order despite his taking her and the city council to court. Legality is now in question, leaving residents caught in the middle of their dispute.
state, local governments unite
Mutual aid — an agreement between organizations to help each other across jurisdictional boundaries — is a norm in the fire service, and as the pandemic rages on, the concept continues to gain traction with governors.
Case in point: 
When New York was in need, volunteers from around the country came here to help. We vowed to pay that generosity forward.

At the request of @KeishaBottoms, NY will send 7,500 test kits, 30,000 pieces of PPE and 1,250 gallons of hand sanitizer to Atlanta by Friday.

— Andrew Cuomo (@NYGovCuomo) July 15, 2020
While mutual aid certainly isn't a cure-all for the problems plaguing our decentralized response — it is of course easier to say agencies will share resources than to stipulate what resources would be shared under what conditions based on what needs — the unrelenting urgency of the pandemic demands additional assistance for those in greater need. 
Whether ad hoc, as in the case of New York's gift to Atlanta, or under a persistent cooperative agreement, state and local leaders are proving their commitment to helping everyone through this storm.
In sum, plan for this fall and winter as you would have prior to January 20, those plans activated by March 11, but don't hesitate to lean on your peers. 
"Counties are assisting other counties, states are assisting states," Gordon said in April. "This is the American way."