Georgia governor sues Atlanta over mask mandate
Gov. Brian Kemp announced the suit against Atlanta Mayor Keisha Lance Bottoms and members of the city council Thursday
---
Georgia Gov. Brian Kemp announced Thursday afternoon that he is taking Atlanta to court in an attempt to block the city's mask mandate. 
Many of the state's mayors have been vocal opponents of the governor's stance on masks. Fifteen local governments have now put their own mask orders into effect, though their enforceability was called into question when Gov. Kemp explicitly banned such actions in an executive order signed yesterday.
Local leaders, including Atlanta Mayor Keisha Lance Bottoms, remained committed to their directives Thursday.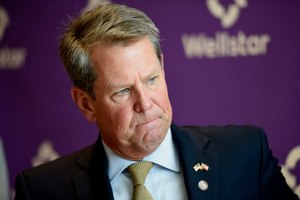 "I am not afraid of the city being sued and I'll put our policies up against anyone's, any day of the week," Bottoms said during a video news conference.
It seems the governor is taking her up on it, filing the suit shortly after.
"This lawsuit is on behalf of the Atlanta business owners and their hardworking employees who are struggling to survive during these difficult times," Kemp said in a statement.
Georgia is experiencing a significant surge of COVID-19 cases, predominantly in the Atlanta metro area. MDLinx.com recently ranked the state "second-to-last" — behind Arizona — among states that have experienced the poorest health improvements over the course of the pandemic. 
Next: What happens when a governor and the capital city's mayor go to war?
Read the lawsuit:
Georgia v Atlanta Mask Mandate Lawsuit by Ed Praetorian on Scribd