Is state preemption making us less safe? Local officials in Georgia 'frustrated' at lack of control in COVID-19 response
Gov. Brian Kemp has now explicitly suspended mask mandates put in place by local governments via executive order
---
The Brunswick News, Ga.
By Taylor Cooper
GLYNN COUNTY, Ga. — The frustration of watching something bad unfold without being able to intervene comes as close as anything else in describing how Glynn County's government is feeling.
My sense of the (Glynn County Commission) is they would look favorably upon a mandate to wear the mask," said Mike Browning, commission chairman. "The problem is Gov. (Brian) Kemp has taken the ability to mandate things from us."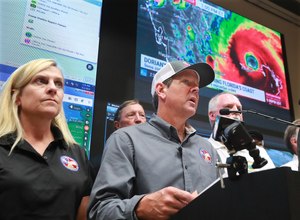 In an attempt to slow the spread of COVID-19 in the early days of the outbreak, county commissioners voted to shut down the beaches on St. Simons and Sea islands and to put a stop to hotel, motel and short-term rentals, among other measures. The Jekyll Island Authority did the same in its jurisdiction.
In early April, Kemp undid those efforts, replacing them with an executive order that prevented local governments from taking similar actions on their own statewide. It included many of the same restrictions Glynn County and other local governments had implemented but banned measures more or less restrictive than his own.
"We have some issues other places don't have, i.e. a beach," said commission vice chairman Bill Brunson. "Maybe it would have prevented some of this uptick, and more control for short-term rentals could have been something we did locally that could have slowed it down."
Kemp's order was set to expire at midnight Wednesday, but he renewed it late Wednesday night and added language that any mask mandates put in by city or county governments that go beyond the order are suspended.
The order hasn't stopped some from trying. The Brunswick City Commission considered whether to pass an ordinance Wednesday night requiring residents to wear a mask in public, joining Savannah, Atlanta and Athens in a largely symbolic gesture because of its enforcibility.
Health officials say wearing a face mask, keeping a six-foot distance from others, covering coughs and sneezes and regularly washing hands are the most effective ways to at least put a serious dent in person-to-person transmission of the virus.
Kemp has made it clear that while he has no plans to force local authorities to retract the orders, such restrictions are legally void from the perspective of the state.
The governor has come out very strongly and said it's unenforceable," Browning said. "If we wrote citations (and) people went to court, the judge is going to throw them out."
While it's impossible to know what might have been, Browning said it's hard to think the measures the county implemented in March wouldn't have helped.
As of 3 p.m. Wednesday, the Coastal Health District reported 1,653 cases of the severe flu-like respiratory virus had been confirmed in Glynn County, an increase of 31 in just 24 hours.
Glynn County has stabilized relative to a spike in new cases that started in June and spilled over into early July. The number of cases is cumulative, though nearly half were reported in the last two weeks. The number had doubled during the prior two-week period as well.
According to the Centers for Disease Control, coronavirus symptoms begin to show around two weeks from initial infection. Recovery can take one to two weeks even in mild cases, according to the World Health Organization, and more than six weeks in more severe cases.
Following the surge in cases, Glynn County could have easily been called a COVID-19 hotspot, referred to as an "area of concern" by Coastal Health District officials.
The rate of newly reported cases has since declined somewhat. A seven-day rolling average of new cases tracked by the health district has fallen below what health officials would consider concerning. But it has not yet been two weeks since visitors packed the beaches on St. Simons Island — likely visiting restaurants, staying in hotels and shopping in the commercial districts — on Independence Day.
"Glynn County is still an area of concern," said Dr. Lawton Davis, health district director. "There have been more cases reported in the first 15 days of July than in the previous three-and-a-half months combined."
Following Memorial Day, health agencies saw an observable spike in cases that Davis said were "preliminarily" linked to the holiday. The Fourth of July was just as busy for the Golden Isles, if not more so. A similar surge resulting from the festivities is not out of the question.
"One certainly hopes we will not (see another rise in infections), but it appears that conditions were ripe as there were many large gatherings where social distancing was lax, at best, and where face masks were in very short supply," Davis said.
"The best guesstimate for another significant increase following July 4th activities would be somewhere around July 24-25 on through early August. Time will tell."
The rate of positive COVID-19 test results to negatives rose in June from 3% to 10% and has remained at around that point, he noted.
"The number of people requiring hospitalization has increased significantly," Davis said. "The community transmission index, (a formula used to quantify the spread of COVID-19 in a given population), is still well above 900 — greater than 100 is considered 'significant.'"
The Southeast Georgia Health System was caring for 52 inpatients at its Brunswick hospital on Tuesday, the greatest number to date. In Camden County, six COVID-19 inpatients were under the care of the St. Marys hospital, under the peak of nine.
It's not all bad news, however.
"Today, the community transmission index fell for the first time since June 12 and the seven-day rolling average of newly reported cases has dropped from 95 cases a day on July 6 to 47.8 cases per day as of this morning, July 15."
Local elected officials want the public to rest assured they see what's happening and wish they could do something about it.
"If you don't want to wear a mask, you don't have to wear a mask," Browning said. "If you want to do a short-term rental, you can do a short-term rental. If you want to come down from New York where the infection rate is very high, come on down. We're wide open.
We have control over the public buildings, but over individuals and their lives and that they have to wear a mask wherever they go, we can't do that."
The county and city have both gone as far as to require their employees and anyone entering public buildings to wear masks, but they "can't do anything more or less restrictive than (Kemp has) laid out."
That's not to say Kemp has ignored the issue. He stopped in Brunswick last week on a fly-around tour of the state to encourage mask-wearing. Kemp and his staff pushed for the public to wear them regularly, but so far the governor has stopped short of mandating it.
"I wouldn't wish this on anyone and I hate that the governor has to deal with it, but we're all big people," Browning said. "Everyone volunteered to run for office and he decided he was going to deal with this. I don't think it's a state vs. local matter as much as he's decided he's going to call the shots."
Few in authority positions dispute the effectiveness of masks. Health department officials say COVID-19 could be beaten in two weeks if all practiced the recommended guidelines.
Rather than making state residents adhere to the rules, though, Kemp has put the responsibility on the shoulders of individuals.
"We don't need a mandate to do the right thing," Kemp said, speaking under the awning of the Nunnally House in Brunswick on July 2.
Social distancing, or keeping a six-foot distance from others, was required in Kemp's order, as was a 50-person cap on gatherings, but restrictions on businesses and activities have mostly been lifted or significantly relaxed in the last month and a half.
Browning said he gets plenty of calls for restrictions but said there's nothing he can do about it.
"We're encouraging our citizens to contact the person who can make a difference, and that's the governor," he said.
Next: 5 key takeaways on state preemption trends during COVID-19

(c)2020 The Brunswick News (Brunswick, Ga.)
McClatchy-Tribune News Service