Miami-Dade County overhauls hurricane shelter plans to reduce COVID-19 risk
The county plans to test every person who seeks shelter and separate the infected from the healthy
---
The Miami Herald
By Alex Harris
MIAMI — This hurricane season, which officially starts June 1, is already unlike any other. And not because it could be off to an early start.
For the first time, leaders have to figure out how to keep people safe from a potentially life-threatening hurricane rampaging outside, and a highly contagious and lethal disease spreading inside.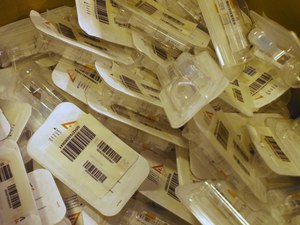 Miami-Dade's plan? More shelters, more space and COVID-19 testing at the door.
There's no question here we're facing a double whammy if this comes to be," Frank Rollason, director of emergency management at Miami-Dade County, said in a virtual round table held Thursday by Democratic U.S. Rep. Debbie Mucarsel-Powell, one of the lawmakers who represent Miami-Dade.
Mucarsel-Powell called for the state and federal government to provide more testing, protective equipment and transparency as preparation ramps up for hurricane season.
"A disaster is already difficult to manage, but during a pandemic, it's going to be exponentially harder, which is why we need to be prepared," she said.
Getting people to evacuate before a hurricane is already tricky business. Now, a call to leave would go against months of messaging from the highest levels of government to stay home.
"Now all of a sudden we may have to come on the air and say forget about what we told you before, this impending peril is more dangerous to you and you have to move," Rollason said.
Emergency managers worry that residents will choose to stay at home in potentially lethal storm surge zones rather than decamp to a shelter or a friend's house out of fear of contracting the virus.
In the Midwest, where tornado season is in full swing, some local governments have closed safe rooms and shelters to avoid the spread of COVID-19, leaving some people with no place to go. Rollason said that will not be the case in Miami-Dade.
"We will not turn people away. They will not be turned away," he said.
But there will be changes. For one, Rollason said the county is expanding its potential shelters to 82, up from the 20 available in 2017 for Hurricane Irma. That includes an additional special needs shelter, bringing that total up to five.
Since the school year is pretty much over already, Rollason said staffers are already disinfecting and clearing furniture out of classrooms to make more room for potential evacuees. Instead of giving each person 20 square feet of space inside the shelter, they're increasing it to 36 square feet.
"We have to face the reality that if we have a Dorian looming upon us, we're going to have to occupy these facilities and it's going to be tight," he said.
Another option to alleviate the crowds — hotels. Rollason said the county is in talks with hotels in the north and west parts of the county to pre-arrange evacuation spots. But arranging a similar process for the region's homeless population has been time-consuming.
"We don't have that kind of time in a hurricane," Rollason said.
He said Mayor Carlos Gimenez is looking for a way to use an emergency declaration to place people immediately, "then work out the details after the storm."
Perhaps the most drastic change to Miami-Dade's shelter plan, however, is that the county plans to test every person who seeks shelter and separate the infected and symptomatic from the healthy.
Dr. Aileen Marty, an infectious disease specialist at Florida International University who advises the county on coronavirus issues, said at the virtual round table it would be "prohibitively expensive" to test every shelter resident via nasal swab, one of the most accurate testing options.
Instead, she recommended a spit test, which can be self-administered. It's not a great test, she admitted; it's only 80 percent accurate, but it's cheap.
But despite testing and separating the sick and healthy inside shelters, Marty said there's still a chance the virus could spread while people take cover.
It's very likely we'll have a rise in COVID cases, in which case our hospitals will have to have surge capability," she said. "Already COVID by itself was a perfect storm of complications. We certainly don't need to add our current state of conditions with a hurricane."
(c)2020 Miami Herald
McClatchy-Tribune News Service