House passes childcare bills as element of recovery
Childcare, school reopening intertwined with 2020 politics
---
Long seeing aid to state and local budgets – and public servants themselves – as central to recovering from the ongoing coronavirus pandemic, House Democrats have sought to assist the nation's parents directly with a pair of bills that passed after little debate and votes.
The Child Care for Economic Recovery Act by retiring Appropriations Committee Chairwoman Nita Lowey (D-N.Y.) would increase the child and dependent care tax credit, grant employers payroll tax credits for childcare facilities closed due to the outbreak and in-home caregivers, and allow carryovers into 2021. The bill passed the House by 250-161, with 20 Republicans joining Democrats in favor.
The Child Care Is Essential Act by Rep. Rosa DeLauro (R-Conn.), Chair of the Appropriations Subcommittee on Labor, Health and Education, would create a $50 billion Child Care Stabilization Fund for grantmaking to childcare providers under the popular Child Care and Development Block Grant (CDBG) program for operating costs lost during government-imposed lockdowns. The bill passed by 249-163, with only 17 in the minority voting in favor.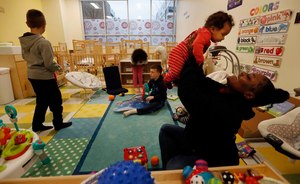 A mother of three, Rep. Cathy McMorris Rodgers (R-Wash.) argued that "the majority seem more interested in scoring political points these days than actually working together to solve problems," blaming Democrats for not addressing protecting children from abuse and neglect among discussions about sanitation and social distancing. Her amendment – the only allowed under a rule stipulated by Democrats – would have required recipients to assure that employees' education on safety protocols and know how to recognize and address child abuse.
The CARES Act included over $6 billion in additional funds for the Administration for Children and Families (childcare summary) and $3.5 for CDBG, which was created in 1974, run by the Department of Housing and Urban Development. Neither bill got a hearing nor a committee markup before advancing to the floor over Republican concerns about process and cost.
The CARES Act CDBG funding expired with many other programs at the end of July.
Needs abound, just like everywhere
Senator Pat Leahy (D-Vt.) pointed to an open letter suggesting that half of all childcare providers could lose work and a third had already in the first months of pandemic, leading to a worsening "childcare desert" situation facing many communities. The National Women's Law Center and other organizations released an analysis in April finding that almost $10 billion is needed monthly to keep childcare as it is afloat nationally.
Even before the pandemic onset, the House Education and Labor Committee had looked hard at childcare in America, holding a hearing with caregivers and others in February. The structure of childcare, workplace dimensions, streamlining government involvement, and the role of childcare for the broader economy of adults were all addressed. Reforms were suggested, but none in Congress have entertained a comprehensive rethinking to date.
DeLauro argued that the bills are "not about going back to normal. We cannot afford to do that either."
Senator Patty Murray (D-Wash.), a preschool teacher before her 1992 election, recently pushed for more aid, introducing her own Coronavirus Child Care and Education Relief Act. Eighteen Senate Democrats have cosponsored the bill, which has little chance of advancing legislatively but may become a point of negotiation as talks resume on a CARES follow-up.
Almost 100 childcare-specific bills have been introduced in 2020, among them pandemic-related bipartisan legislation like the Affordable Child Care for Economic Strategies and Success (ACCESS) Act, which would allow the Commerce Department to make grants for childcare "as part of a broader economic development strategy," according to lead House author Rep. Abby Finkenauer (D-Iowa).
Perennial process, budget worries abut immediate pressures
Lowey's bill serves as a "response to the heightened urgency of the childcare crisis" by upping funding for infrastructure, such as for facilities to adapt to social distancing. The bill would reimburse any care obtained by essential workers and, for the first time in a decade, increase guaranteed childcare funding to states to $10 billion a year over five years.
"What's good for our babies is good for our budget," Lowey told the Rules Committee.
Rep. Brad Wenstrup (R-Ohio) countered the facilities features specifically, arguing that the federal government was not picking up fixed operating expenses for any other industry. Rep. Linda Sanchez (D-Calif.) credited the Lowey bill for helping employers "who are doing right by their employees by paying for childcare expenses," emphasizing the that many childcare facilities "have been in desperate need of enervation for years" and faced even bigger compliance costs.
Rep. Tom Cole (R-Okla.) said Lowey was "absolutely right when she points out that nobody's going to back to work if their children cannot go to a safe environment to be looked after adequately." Cole argued in opposing the bill that Democrats were "rushing something to the floor without broad member buy-in or education," a refrain of the minority in a time of Zoom hybrid hearings and remote proxy voting. He called sending a $60 billion bill with major changes to the tax code straight from the floor "just premature at the minimum," urging hearings which will not occur.
Wenstrup accused the majority of having "quickly patched together sort of a greatest hits of various childcare proposals with no effort to collaborate or engage with Republicans."
Lowey included DeLauro's own Childcare Flex Spending Act, which increases the amount employees may exclude from their gross income for employer-provided dependent care assistance. "The childcare crunch triggered by the pandemic has rapidly become a crisis for many workers' companies that is hindering the economic recovery," she said, "disproportionately harming women and threatening to leave deep scars for years to come."
Rep. Katherine Clark (D-Mass.) told reporters that indeed 96% of childcare providers are women, 40% women of color who are often underpaid.
"So part of this is also an economic justice issue," she surmised. The $10 billion grant for facilities upgrades was her idea.
For that and the price tag, the Senate is not expected to take up the pair of bills, but rather, anyone interested should watch closely what gets into the CARES follow-on.
Familiar education politics abut economic pressures
House Republican with Steve Scalise (R-La.) told reporters that the time was ripe for debate about school choice "because if there are school systems that don't want to safely reopen but still want to take the hard-earned tax dollars of families across America" while others were willing to try, "shouldn't the money be able to follow the child" if parents want to send students to carefully reopened schools, he asked.
"As we begin to emerge from the COVID-19 public health emergency," Wenstrup said, hoping for input, "it's important to give families the financial tools they need to weather the storm. And one way to do this is by giving families flexibility to use their own childcare dollars."
Senators Lamar Alexander (R-Tenn.) and Tim Scott (R-S.C.) jointly introduced the School Choice Now Act days later, giving scholarships to students for returning to private schools they had pre-pandemic and with one-time funding and tax credits for certain educational non-profits for others to join them. Their bill would also let states create their own tax credit scholarships.
Theirs is another example of using the tax code to jumpstart schooling, with the bill's chance at becoming law as good as any other in a deeply divided Congress.
Still, Stabenow told reporters another comprehensive package being drafted by Republicans mustn't be about stimulus. "It's about survival."
"The need now is greater than it was," Clark said separately. "The tone from parents and providers who call my office about this issue," Rep. Jahana Hayes (D-Conn.) shared in debate, "have become increasingly more desperate." Such is the constant pressure heard by members.
Legal exposure by reopening
Senator Mitch McConnell (R-Ky.) has said dis-including legal liability protections for businesses was his redline. Senator Dick Durbin rebutted that but was still waiting for language of a bill to counter a supposed "tsunami of lawsuits that were going to be filed because of COVID-19, the vulnerability of some of those innocent business owners individual bills across America to these crafter lawyers who are rushing to the courthouse."
According to Durbin, there have only been 15 consumer personal injury cases, six medical malpractice cases involving COVID-19 treatment and 69 unsafe workplace lawsuits in the first half of 2020. Childcare providers and school administrators alike should stay tuned to any liability provisions to emerge if McConnell's bill becomes law.
The one Senator who controls the legislative agenda, McConnell also called for "real, targeted solutions" aimed directly at American families: Kids, jobs and health care. Never one to mince words, his order matters. He mentioned direct payments to Americans is helping drive a "national come back," as the country totters in a "complex middle ground" between April lockdowns and the "need to carve out a new normal."
But liability protection is the biggest sticking point for Senate Minority Leader Chuck Schumer (D-N.Y.), too. McConnell's counterpart said "it favors corporations, we know that," but he also asserts McConnell insists on "a radical change of all liability law" by addressing non-COVID claims. "He has taken it to a whole other place," House Speaker Nancy Pelosi (D-Calif.) said at a press update with Schumer.
"We're not talking about for businesses," McConnell told reporters. "Please do not write that, because that is not the entire story." Senator John Cornyn (R-Tex.) explained that their provision would explicitly protect non-profits, churches, synagogues, mosques, schools and retailers from "opportunistic litigation."
Nothing beyond the reach of election year politics
And then there is the incoming president and a former Vice President vying for votes in November. "If you had to put your career on hold indefinitely or have seen your hours cut or your job lost, the confusion over school reopening only makes things worse," Joe Biden said at a speech in Newcastle, Delaware.
"While the radicals want to abolish charter schools and eliminate school choice, I want to expand school choice and every family in America should have that option," President Trump said in an East Room statement with law enforcement on urban violence.
Even two-time presidential candidate Mitt Romney (R-Utah) weighed in after a caucus meeting to indicate he would favor "some type of effort" to direct assistance towards individuals and families with children in the next relief bill.
"There is no chance, zero chance America can get back to normal without the Cornyn liability protection," McConnell said hours earlier. "And no bill will be put on the Senate floor that does not include it.
As school systems begin their fall terms in August and September, important decisions confront parents eagerly awaiting those of administrators. And as districts roll out plans for instituting hybrid settings while students in others will return with virtual classrooms, McMorris Rodgers noted that a county in her rural Washington State district has one provider, arguing, "We can't afford to be limiting parents' choices. We need to give parents more control and the ability to navigate this new future."
Like the Murray and Finkenauer bills, Lowey and DeLauro may find parts of their bills tucked somehow into the HEALS Act – the next CARES-like package – as bicameral negotiations tilt away from McConnell's "starting place" and towards assuring House concurrence – and the president's signature. Days or weeks will tell but not much longer.