Bipartisan group of mayors, governors meet with Biden over COVID stimulus
The president's American Rescue Plan includes $350 billion for local governments to distribute vaccines, fund rental assistance programs and pay public sector workers
---
Joey Flechas
The Miami Herald
MIAMI — Miami Mayor Francis Suarez will go to the White House on Friday along with other U.S. mayors to discuss a proposed $1.9 trillion COVID relief plan with President Joe Biden.
Suarez, a Republican holding a nonpartisan office, will attend the Oval Office meeting, the White House confirmed Thursday. The group, which Suarez said also includes governors, is expected to discuss the American Rescue Plan, Biden's pandemic relief package. The proposal includes $350 billion for local governments to distribute vaccines, fund rental assistance programs and pay public sector workers.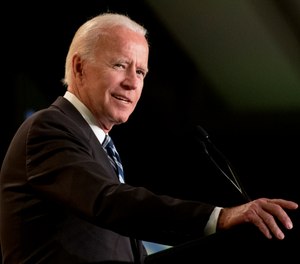 In an interview, Suarez told the Miami Herald the White House reached out to him earlier in the week to invite him to the meeting, which is scheduled around noon Friday. He said he plans to highlight the need to make sure that cities such as Miami get stimulus dollars directly from the federal government.
The mayor said his message for the president will focus on minimizing cities' financial concerns as the pandemic wears on and local governments administer relief programs such as business grants and rental assistance while preparing for anticipated budget shortfalls.
Much of the conversation, Suarez predicted, will be about vaccines.
"If we're given enough vaccine to be able to vaccinate 24 hours a day, we want to be able to do that without having to worry about overtime and other costs," the mayor said.
Suarez said he is one of a bipartisan group of five mayors and four governors who have been invited to the Oval Office. He said the other mayors on the guest list hail from Arlington, Detroit, New Orleans and Atlanta. Suarez said the Democratic governors of New York and New Mexico are also expected to attend, as are the Republican governors of Arkansas and Maryland.
Suarez, whose invitation to the White House was first reported by CBS4's Jim Defede, said he's been asked to speak at a press conference after the meeting.
On Wednesday, while announcing that Biden intended to meet with a group of mayors, White House Press Secretary Jen Psaki said that "mayors in particular are on the front lines of this, and we've seen widespread bipartisan support from them."
Suarez's invitation to the bipartisan summit comes as he's advocated for another round of stimulus money. He recently co-authored an Op-Ed with St. Petersburg Mayor Rick Kriseman that ran in the Tampa Bay Times and called for the passage of Biden's COVID relief plan.
"We cannot afford to wait," they wrote. "Florida's cities are in agony and are crying out for help."
Suarez, who contracted COVID-19 early last year, has also criticized the pandemic response from Republicans holding higher office, including former President Donald Trump and Gov. Ron DeSantis. The mayor has opposed DeSantis' decision to deny cities the authority to curb commercial activity and enforce fines for public mask mandates, measures Suarez has touted as effective tools to combat the spread of the virus in Miami.
The rift with DeSantis has played out publicly — DeSantis has not returned Suarez's calls for months. But Suarez said he doesn't think Friday's discussion should be framed by partisan politics.
"I don't view these issues as partisan," he said. "I view this as I need to take care of my residents."
(c)2021 Miami Herald
Visit Miami Herald at www.miamiherald.com
Distributed by Tribune Content Agency, LLC.
McClatchy-Tribune News Service