Wisconsin's major cities receive $6.3 million to implement safe voting plan
With federal funding falling short, 5 Wisconsin cities have partnered with a local nonprofit to ensure safe voting this election cycle
---
The Center For Tech And Civic Life (CTCL) has awarded Wisconsin's most densely populated cities — Milwaukee, Madison, Green Bay, Kenosha and Racine — a total of $6.3 million as a part of the Wisconsin Safe Voting Plan. This is a collaborative initiative between the five cities' mayors to ensure safe voting operations amid the COVID-19 pandemic for the state's primary election on August 11 and the presidential election on November 3.
The CTCL is a nonpartisan, tech nonprofit dedicated to modernizing U.S. election procedures, encouraging and keeping Americans civically engaged through information distribution, and improving the way local governments and the communities they serve interact with one another. Funding awarded to the five Wisconsin cities will be used to support early in-person voting and vote by mail, poll worker recruitment, training and safety efforts, to secure safe and efficient election day administration and to expand voter education and outreach.
With the election quickly approaching and the uptick in confirmed cases in more than 30 states since partial reopening began, many are concerned about the challenges the pandemic poses to voting systems across the nation and the safety of Americans, and with good reason.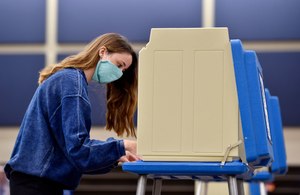 According to the CDC, as of August 1, more than 152,000 people in the U.S. alone have died from COVID-19 and another 4.5 million have fallen ill. The pandemic has cost many Americans their livelihoods, disrupted their day-to-day and is now jeopardizing the 2020 election cycle.
Of the 50 states, 16 have postponed primary elections.
This year, election departments are facing an unprecedented challenge of administering safe and secure elections that provide healthy voting options to the public," said Center for Tech and Civic Life Executive Director, Tiana Epps-Johnson in a press release. 
"To meet this challenge, CTCL is providing support to Wisconsin election officials so no voter is required to make a choice between their health and their ability to vote."
The Brennan Center for Justice estimates that in order to adapt the country's current voting systems and practices to meet the challenges of the pandemic and ensure a safe and fair election, it would cost $2 billion. This does not include the other statewide and local elections expected to occur in 2020.
The CARES Act only allocated $400 million to aid in these efforts. Collaborative initiatives like the one between the CTCL and these Wisconsin cities are necessary to bridge the gap.
"The deadly COVID-19 pandemic has triggered a global public health crisis, and seriously impaired the ability of local governments to administer safe and smooth elections," Racine Mayor Cory Mason said in a news release. "These grants will help each municipality make investments that will ensure smooth, safe, and healthy elections in a time of a national health pandemic — which each municipality otherwise would struggle to do while facing an intense budget shortfall."
Below is a summary of the CTCL grant awards and funding uses:
Total by municipality
• City of Milwaukee: $2,154,500
• City of Madison: $1,271,788
• City of Green Bay: $1,093,400
• City of Kenosha: $862,779
• City of Racine: $942,100
Total by use
Support Early In-Person Voting and Vote by Mail: $2,572,839
Expand the number of in-person early voting sites (including curbside voting). 
Provide assistance to help voters comply with absentee ballot requests and certification requirements. 
Utilize secure drop-boxes to facilitate return of absentee ballots. 
Deploy additional staff and/or technology improvements to expedite and improve accuracy of absentee ballot processing.
Launch Poll Worker Recruitment, Training & Safety Efforts: $1,810,028
Recruit and hire a sufficient number of poll workers and inspectors to ensure poll sites are properly staffed during virus outbreak, utilizing hazard pay where required.
Provide voting facilities with funds to compensate for increased site cleaning and sanitization costs.
Provide updated training for current and new poll workers administering elections in midst of pandemic.
Ensure Safe, Efficient Election Day Administration: $876,700
Procure personal protective equipment (PPE) and personal disinfectant to protect election officials and voters from coronavirus.
Support and expand drive-thru voting on election day, including covering additional unbudgeted expenses for signage, tents, traffic control and safety measures.
Expand Voter Education & Outreach Efforts: $1,065,000
Outreach to remind voters to verify and update their address, or other voter registration information, prior to the election.