Southern Poverty Law Center announces $30M investment in voter registration and mobilization efforts
Voter outreach organizations in Alabama, Florida, Georgia, Louisiana and Mississippi are eligible for support
---
Last month, the Southern Poverty Law Center (SPLC) announced the launch of Vote Your Voice, a campaign to invest $30 million in voter outreach organizations across Alabama, Florida, Georgia, Louisiana and Mississippi.
Founded in 1971, the SPLC is an Alabama-based civil rights nonprofit that uses litigation, education and other forms of advocacy to fight hate and bigotry and to seek justice for vulnerable members of society.
Along with its work to break down barriers to voting for minority groups, the SPLC has helped to shut down various violent white supremacist groups, has worked to eliminate remnants of Jim Crow laws, reformed juvenile justice practices, made strides in equality for women, children, the LGBT community and the disabled, has worked to protect low-wage immigrant workers from exploitation, and more.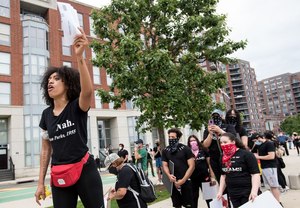 With its Vote Your Voice campaign — a partnership with Community Foundation for Greater Atlanta — the SPLC hopes to increase voter registration and participation among people of color in the South. 
Addressing an urgent and growing need
The United States has a long history of denying voter rights to and using voter suppression against minority groups.
In 1870, the 15th Amendment granted African American men the right to vote and later in 1920, through the 19th Amendment, women, including black women, were granted the same right. It wasn't until the passing of the The Indian Citizenship Act of 1924 that all Native Americans were granted citizenship and later in 1962, that Native Americans were guaranteed the right to vote in every state.
Even with these laws, however, states were largely left to determine qualifications for voter eligibility, and ever since then, political parties and local governments alike have employed voting laws and practices that disproportionally affect minority communities, including gerrymandering, strict voter registration and ID requirements, cuts to early voting sites, mass purging of voter rolls and more.
In 2013, the Supreme Court's decision in Shelby County v. Holder ruled section 5 of the 1965 Votings Right Act — a landmark law in the civil rights movement — unconstitutional. Section 5 required certain states, as well as counties and townships in states not covered as a whole, with a history of racially biased voting laws and practices be required to submit proposed changes in voting procedures to the U.S. Department of Justice or a federal district court in D.C. for review to ensure changes were not discriminatory in purpose or effect.
With this section now revoked, the doors are again open to these previously identified jurisdictions to institute voting procedures as they see fit. And the ramifications are already being felt.
In the last decade, SPLC explains, there has been a spike in voter suppression laws across the nation. As the 2020 presidential election quickly approaches, politicians, advocates and citizens alike are concerned about how COVID-19, in addition to restrictive voter laws and practices, will impact voter participation.
The work ahead of us will not be easy," said SPLC President and Chief Executive Office Margaret Huang in an SPLC post. "The COVID-19 pandemic has and will continue to have a disproportionate impact on democratic participation for communities of color who have been harmed most deeply by the health and economic crisis and who will encounter greater barriers to voter participation given the new risks of voting in person on Election Day."
Funding those who get out the vote
The Vote Your Voice campaign has four main goals:
Reconnecting with constituencies that historically and currently face barriers to voting, focusing on returning citizens, voters of color, and those who have been purged from voter rolls. 
Engaging voters who are often ignored by outreach programs, including low-propensity voters of color and voters of color who live outside of major metro areas. 
Building greater capacity for voter outreach work to combat voter suppression by providing multi-year support through the 2022 election cycle.
Funding and supporting organizations that are led by people of color.
The campaign will run through the midterm elections in 2022. Only nonprofit-nonpartisan activities will be supported with funding. For the first round of applications, which has already concluded, organizations that work with communities of color were invited to apply. The second round, which the SPLC is now accepting applications for, is being conducted through an "open for proposals process."
Organizations interested in receiving funding can email the Community Foundation for Greater Atlanta and can complete an organizational profile here to begin the application process.
Next: I asked people why they don't vote; this is what they told me