Mental Health Collaboration Lowers Recidivism Rates in County Jails
The Stepping Up Initiative puts law enforcement in contact with local resources that can assist in the education and rehabilitation of inmates with mental health illnesses, including substance abuse, to help pave the way to lower recidivism rates.
---
There is a collaboration that helps local correctional facilities address mental illness and it's affect on criminal recidivism rates.
The Stepping Up Initiative is an effort between the Council of State Governments Justice Center (CSGJC), the National Association of Counties (NAC) and the American Psychiatric Association Foundation. The goal is to put local law enforcement and city leaders in contact with resources and organizations that can help inmates who suffer from mental health illnesses get the assistance they need to prevent them from re-offending.
Trend: Mental Health Illness Can Lead to Longer, More Frequent Incarceration
Every year, nearly two million people with mental illnesses are detained and admitted to jails across the U.S. Data show these individuals typically have longer stays in correctional facilities, and are more likely to be admitted again than individuals without mental illness.
Individuals suffering from a mental illness are also more likely to be associated with alcohol abuse or drug addiction. Nearly 75 percent of arrestees suffering from mental health issues also struggle with substance abuse.
The numbers show this trend is detrimental to both taxpayers and society as a whole. The increased recidivism rates for those with mental health issues means more public money is spent on those individuals. The lack of solution to break the cycle is often a result of low resources, and lack of coordination among agencies that can assist.
In Bexar County, Texas, which includes the city of San Antonio, $2.2 million is spent each year on psychotropic drugs to treat people incarcerated with mental health issues, of whom nearly 60 percent have been arrested five times or more.
Local Government, Law Enforcement & Others Find Success in Mental Health Collaboration 
Through Stepping Up, counties can look at ways to reduce the number of individuals suffering from mental health issues in their jails. With formal resolutions, cities commit to working with local resources to learn what kind of mental health issues inmates are dealing with, look at resources available to address the issue and strategies that reduce re-arrest incidence.
There are currently 422 counties across 43 states whose city officials have committed to changing the way they handle inmates with mental health issues: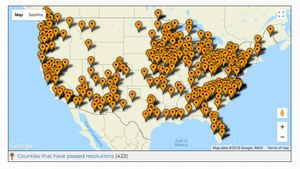 According to Kati Habert, deputy program director for Stepping Up, since the initiative launched in 2015, county leaders have reported success with mental health collaboration; working cooperatively with other organizations to address offender mental health challenges. Previously, they would have worked separately.
We have heard that there are a lot more folks that are doing collaborative planning, whereas as before it may have been in silos of criminal justice or behavioral health systems," she said. "Now, those groups are actually meeting together and more regularly with an actual focus on how they've reduced the number of people with mental illness in their jails."
Six Questions to Help City Leaders Get Started
An instruction booklet is available on the Stepping Up Initiative website containing information about obtaining the correct data for their area that will lead to successful solutions, and includes six questions city officials should ask themselves to determine where changes need to be made in regards to confronting mental health at the local level.
#1 Is our leadership committed? 
A united front across all spectrums of government is important for making a difference for real individuals. This includes a clear mandate that prioritizes the ability to make changes and a planning team that brings together local officials, key leaders in the justice system and behavioral and mental health experts.
#2 Do we conduct timely screening and assessments?
This includes a comprehensive mental health screening for every individual booked into jail, with follow-ups for those who screen positive, using a system-wide definition for mental illness that is used by law enforcement, behavioral health experts, the judicial system and city officials.
#3 Do we have baseline data?
A baseline would include the number of people booked into jail with mental illness, their average length of stay, the number of people connected to treatment and their recidivism rates. This is in addition to baseline data collected for neuro-typical individuals.
#4 Have we conducted a comprehensive process analysis and inventory of services?
This includes an exhaustive, end-to-end analysis of the system's processes, from the point of law enforcement's contact with a person with a mental illness through final case discharge. This allows decision makers to understand where the gaps are that need to be filled.
#5 Have we prioritized policy, practice and funding improvements?
From the information gleaned from the system analysis, officials should prioritize system needs based on pre-determined priorities that will best utilize the resources available.
#6 Do we track progress?
To gauge how well the system is working, progress reports must be reviewed on a regular basis that looks at the key outcomes outlined in the baseline data. Looking at the progress, or lack of, will allow leaders to revisit and evaluate the system and make changes where needed.
Mental Health as a First Step in Criminal Justice Reform
In Ohio, more than half of all adults booked into the Franklin County Jail were rearrested within three years, according to a 2015 CSGJC report, which also found that a lack of record-keeping prevented individuals with mental health concerns from connecting with support organizations after release.
As a result of the report, city leaders voted to spend nearly $1.5 million on an additional 27 Sheriff's Office employees to help screen arrestees for substance abuse and mental health, and determine what resources to provide them with during their stay.
In Salt Lake County, Utah, a lack of baseline data made it difficult to prioritize and assist inmates who suffer from mental health issues. As a result, the Salt Lake County Council approved $2.2 million to be dispersed between the Sheriff's Department, behavioral health services and criminal justice services. In addition, Mayor Ben McAdams was eligible to negotiate $3 million in contracts with two private sector providers geared toward reducing recidivism.
It's an enormous milestone to have the support of the County Council to move forward with the first steps of criminal justice reform," McAdams said in an interview with the Salt Lake Tribune.
Watch this video from Step Up Together to find out more about how mental health impacts the criminal justice system.