How Participatory Budgeting Can Help Cities Modernize Services
Participatory budgeting and community engagement are advancing municipal operations by getting digital technologies purchased.
Participatory Budgeting (PB) integrates direct citizen involvement into the regular annual government budgeting process. The process begins with regular meetings to pitch and share residents' ideas and develop project proposals, and culminates with annual voting on a short-list of the proposals.
It's been so popular in New York City that after eight years of voluntarily allocating budget to PB, residents voted to require it. The Participatory Budgeting Project, an advocacy organization that tracks PB initiatives, said the Big Apple's move will likely double total PB funding nationwide, and it's likely to host the largest PB process globally. In New York, 31 council districts participated in PBNYC's recent Cycle 8 voting, which will account for $31 million of the city's $89 billion budget, according to the Harvard Ash Center for Democratic Governance and Innovation.
Participatory budgeting opens up local budgeting by nurturing community engagement. While most people think of PB as funding community projects like gardens, playgrounds and community center renovations, participatory budgeting initiatives often fund technology purchases that modernize schools, public safety services and transportation.
PB, which is closely tied to open government initiatives, has not always proven effective for capital and expense-related municipal projects and services. However:
These innovations may not be a panacea for status quo politics in the United States, but they do suggest that we can more creatively equip citizens as problem solvers and civic participants in 21st century society," wrote Hollie Russon-Gilman, author of Democracy Reinvented: Participatory Budgeting and Civic Innovation in America, for Brooking's TechTank.
Citizen Participation in Budgeting Trends Up
This past year, the city of Lynchburg, Virginia launched an online budget tool after learning about its use in nearby Charlottesville. The local government was looking to increase engagement and education.
Lynchburg Mayor Treney Tweedy said the budget simulation tool allows her residents to see how the city operates and the funding required to maintain its services, according to the News Advance.
"We need citizens to engage with us and to understand there's a lot of deliberation, discussion and information sharing that goes into these decisions on the budget," she said.
With budgeting tools, cities like Lynchburg can integrate financial, payroll, human resources and other municipal program data into graphs and charts that explain the budget and finances to residents.
Residents can use the online budget simulation tool to make changes to department funding, including public safety and schools. They can also change tax rates and see how their changes affect funds for city services.
Using Participatory Budgeting to Modernize Government Services
Participatory Budgeting New York City (PBNYC) has resulted in city budget allocations being used to purchase tech like surveillance cameras to increase public safety and various technology upgrades and equipment for schools and other government services.
The city has an online map that tracks suggested PB ideas: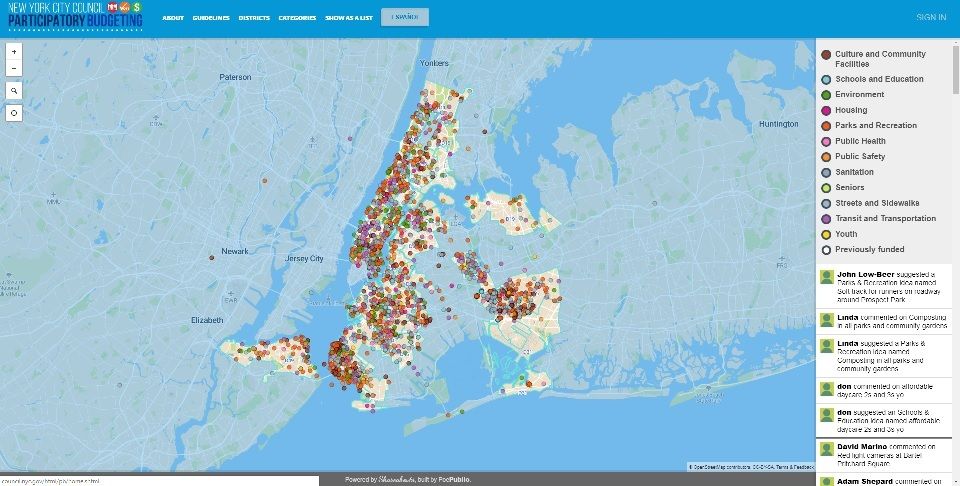 The Participatory Budgeting Project recommends the following seven dimensions for municipal PB processes:
Air & Water Quality
Community Safety
Education
Employment
Family & Social Support
Housing & Transit
Income
Numerous cities have used PB for education. A Sunset Park Prep mom -- Laura Espinoza -- put together a proposal with teachers and administrators to fund technology upgrades, according to Chalkbeat. During PBNYC's Cycle 7, the Better Technology for Classrooms & Libraries proposal was voted on and won $750,000 for schools in the Sunset Park and Red Hook districts.
Community safety, or public safety, has proven a popular spend. PBNYC tends to fund NYPD safety cameras annually. There are several more examples from New York City including funding $300,000 in security cameras for the 47th, 50th and 52nd police stations during PBNYC's Cycle 6 and Cycle 7. During its recent PB cycle, the city of Cambridge, Massachusetts, voted to spend $110,000 on firefighter tech, which includes eleven wireless headsets that protect hearing and improve first responder communications.
Pedestrian safety and transportation upgrade needs have also spun off dedicated PB programs. Ranging from safer pedestrian signals to bus time clocks and better lighting, cities like Seattle, through its Neighborhood Street Fund and New York, through its rich history of livable streets projects have used PB to address transportation safety needs. Last year, San Francisco Bay Area's Metropolitan Transportation Commission became the first transportation funding agency to utilize participatory budgeting to fund projects for its Lifeline Transportation Program, which is dedicated to improving mobility for low-income residents of the Bay's nine counties. The voluntary pilot will allocate $1 million to be spent through the city's recently closed Cycle 5 voting.
Learn how to set up PB in this video:
Participatory Budget Framework from Benjamin Mosh on Vimeo.
Download a free PB guide on ParticipatoryBudgeting.org.
Access a PB literature review and case studies on the Bay Area Metro blog.