Rents Expected To Increase
A short supply of available units is pushing up rent prices nationwide
By Victoria Stilwell
Bloomberg
If the monthly rent check is already painful to write, brace yourself.
The Census Bureau's U.S. rental vacancy rate, which tracks the share of properties that are unoccupied, fell to 6.8 percent in the second quarter. That's the lowest level using comparable data since 1985.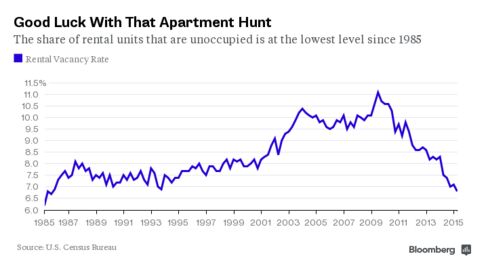 The short supply of units means "rental inflation is not going away anytime soon," Neil Dutta, head of U.S. economics at Renaissance Macro Research LLC, wrote in a note to clients.
Already rents have climbed 3.5 percent in the 12 months through June, matching the biggest jump since 2008, Labor Department data show. That far outstrips the increase in consumer prices excluding food and fuel, which gained 1.8 percent in the same period.
Read full coverage here.