Racial equity task force calls for NC city to offer reparations
The task force is also calling for policies to decriminalize substance abuse, poverty, mental illness, and to address housing inequality and public health
---
The News & Observer
By Charlie Innis
 
DURHAM, N.C. — A city task force asked the Durham City Council on Thursday to consider some form of reparations to address systemic racism and human rights violations at the local level.
In its first official report since being formed 21 months ago, the racial equity task force urged city leaders to establish a reparations program and a fund to "address the city's growing racial wealth gap." (Review the full report below.)
"If you believe in the necessity of genuine anti-racist action, then we urge you to Put Your Money Where Your Mouth Is," the report states.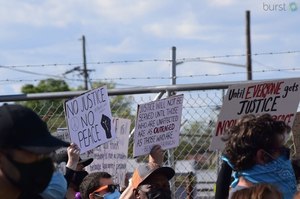 In addition to reparations, several task force members spoke to council members about policy recommendations to address inequity in the legal system, public health, housing and education.
"First, you have to realize there is a problem. Durham, we have a problem." said task force Chair Elaine O'Neal, a retired judge. "Second, you need a critical mass of people who are committed to changing and repairing the breach."
O'Neal suggested that Durham could show the nation, by example, how a city can address racial inequity.
"We can make a difference. So we send this love letter to you, and we are saying this is just the beginning," she said.
The Racial Equity Task Force was formed in October 2018, to help address racial inequity in the city. Mayor Pro Tem Jillian Johnson had proposed the city appoint 17 members across racial and ethnic lines. Members had to be Durham residents with racial equity training. No City Council members are task force members.
Wealth equity fund
The task force wants the city to create a wealth equity fund to pull from for reparation efforts.
"As white people, we live in a permanent state of unpaid debt to our Black sisters and brothers, to indigenous people and to all others exploited by the economy that we built on stolen land on the backs of enslaved people," said criminal justice attorney Emily Coward, a task force member.
The group wants Durham's elected officials to push for reparations resolutions at a national level while implementing local programs.
We have leading scholars on reparations and the racial wealth gap right here in Durham, who the city and county should be consulting with in launching such a fund," Coward said. "We recognize that regressive state laws limit some of the options for such a fund, but Durham is not powerless."
Coward said Durham's "rich institutions" like Duke University and "wealthy individuals" in Research-Triangle Park should contribute to the fund.
Asheville, NC reparations
The report to the council notes the city of Asheville's recent steps to approve reparations for its Black residents and encourages Durham leaders to do the same.
On July 14, Asheville's city council unanimously approved measures to fund reparations programs, but didn't stipulate direct payments to individuals, The New York Times reported.
The task force report does not specify whether the city should make payments to individuals or how much money the race equity fund should have.
Criminal justice, public health and housing
The task force also calls for policies to decriminalize substance abuse, poverty, mental illness, and to address housing inequality and public health.
This includes:
decriminalizing cannabis possession for personal use
eliminating police traffic stops "based solely on equipment infractions"
banning questions about criminal system history for potential renters
providing mortgage and public rent relief
increasing funding to court diversion programs
monitoring whether jury pools are racially and ethnically representative
investing in mental health wellness through community-based yoga classes, meditation centers, and other recreational spaces
beautifying parks in under-served areas
'Education is no exception'
In the group's presentation on education, task force member Katie Mgongolwa said she recognized education is a "hot button issue."
"There's so much stress and trauma built into this moment we are in, this very critical moment, that has made America's many structural and institutionalized inequities very visible," said Mgongolwa, an English teacher at Hill Learning Center.. "Education is no exception."
Among the long-term recommendations, the task force wants more staff members of color, implicit bias training for teachers, limits on school resource officers' power, and in-class conversations about race and white privilege.
"As we as a community strive to deal with COVID, it's time to re-imagine and reinvent what our schools and our education community looks like," Mgongolwa said.
"Ultimately, we know the city is not in charge of funding our schools. We know these recommendations need to be heard by county commissioners, the school board county manager and beyond," she added.
Council members show support
City council members praised the task force's work.
"I think this report is a love letter as they said, but it's also a reminder that this city has been failing in many key respects for 151 years," said Council member Charlie Reece.
Reece called the task force's presentation a "seminal moment" and hopes its members continue to serve on a larger, more permanent commission.
Other council members and the mayor also said they want the task force members to continue their task force work in some capacity.
"None of us could have predicted when we started this group that we would be finishing up and giving this report in the middle of a national Black Lives Matter uprising and a global pandemic," said Mayor Pro Tem Jillian Johnson.
"It's a really good time for us to to move this work forward in a significant way, and I think that everyone on this council is committed to doing that," she said.
FINAL REPORT-Durham Racial Equity Task Force 7.22.20 by Ed Praetorian on Scribd
(c)2020 The News & Observer (Raleigh, N.C.)
McClatchy-Tribune News Service