Editorial: Diversion is a good step toward criminal justice reform
Pittsburgh announced a new pilot program this week that aims to keep low-level offenders out of the criminal justice system
---
The Tribune-Review
PITTSBURGH, Pa. — On Monday, Pittsburgh announced a pilot program that would work to keep people out of the criminal justice system.
As a pilot program, it's starting small, just on the North Side. The idea is a "public health-focused, pre-arrest diversion program," something that would address issues of substance abuse or behavioral health with appropriate treatment rather than just starting a cycle of arrest and release that could become a quicksand trap that is hard to escape.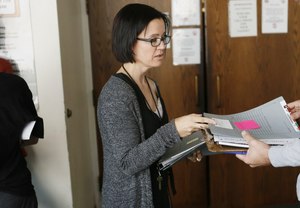 We know that cycling people through the criminal justice system does not improve outcomes," Mayor Bill Peduto said in a statement.
That is true. It is the kind of thing supported by evidence from the federal Department of Justice. A 2015 report showed the financial cost of arrest, bail, fines and fees for poor households is ultimately costly to not only the defendants but to taxpayers as well.
Parents who are arrested are more likely to have kids who are arrested. Those kids are more likely to end up in the foster care system. There are attendant risks of drug abuse, sexual abuse and mental health problems, all of which can pose a financial burden to the government.
That is, no doubt, why criminal justice reform has been such a rare bird in recent years. It is a bipartisan issue that brought about one of the few legislative bright spots in Washington. In 2018, President Trump's adviser and son-in-law, Jared Kushner, brokered a groundbreaking reform bill into law.
That momentum was picked up in Harrisburg, as the state works toward similar changes, such as the Clean Slate law passed with more unanimity from both parties.
It brings together people invested in the bottom line and heart and soul. And maybe that is why it could succeed in the post-George Floyd world where calls for change are everywhere.
Finding a way to keep people from entering the criminal justice system can be a way to not defund the police — the oft-heard cry during protests — but to shift the burden from one agency to another.
The idea of this program is not to take money from the police coverage. It is an augmentation that could release pressure on police while simultaneously taking pressure off those being policed. The $186,500 bill will be paid with Allegheny County Health Department's Overdose Data to Action grant from the Centers for Disease Control and Prevention.
This is an instance of paying attention to what is happening from the federal and state levels and incorporating it locally. It listens to public outcry, but it responds with compassion and common sense.
Will it work? Too early to say. But it is never too early to try.

(c)2020 The Tribune-Review (Greensburg, Pa.)
McClatchy-Tribune News Service