Judy Riffle: White privilege, racism and advocacy grants
Dr. Judy Riffle shares 5 advocacy grants offering support for equality and justice in our society
---
"There is no problem that we can't solve if we corral our resources behind it. That means people. That means money. That means the good will and cooperation of a large segment of people." — Coretta Scott King 
As the grandmother of two multiracial grandsons, I am hopeful that the current protests and outrage in America will finally lead to equal justice for all and to a society safe for all children to grow up without the fear of police and racist brutality.     
I have witnessed firsthand racism in this country, and there are myriad recent examples of it epitomized when people make statements or act as shown below.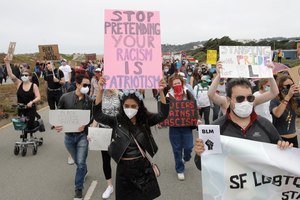 I don't see color (Facebook post).
White privilege is a myth and is racist itself. All lives matter (Facebook post).
Are they adopted? (often asked when a white adult is with children of another race)
A white mother in a children's museum pulls her white toddler away from a black toddler and says, "Don't play with him. He's weird."
Leah Donnella reports the following questions from people in public:

"They're mixed, aren't they? I can tell by the hair."
"Is that baby yours?"
"You look pure. Where are you from?"
"What are you?" 

In the beginning of the 1990s, Donald J. Trump attempted to block some Native American casinos from being built in New York and Connecticut because he feared they would infringe on his casino's success in Atlantic City. Trump was against "legislation allowing Native American tribes the right to own and operate casinos." He said to a participant during his appearance at the House Subcommittee on Native American Affairs of the Committee on Natural Resources, "They don't look like Indians to me."
Can you imagine how people feel after such hurtful words and actions? Thanks to an email by Kennedy Mitchum to Merriam-Webster, they are changing their dictionary definition of racism based on experts in black history, to be completed by August 2020. Mitchum emailed: 
Racism is both prejudice combined with social and institutional power. It is a system of advantage based on skin colour." The old definition was being used by people to defend their racism.
Oxford Dictionary defines white privilege as "inherent advantages possessed by a white person on the basis of their race in a society characterized by racial inequality and injustice." According to Cory Collins from Teaching Tolerance, "having White privilege and recognizing it is not racist."
It is inherent on all of us to admit that white privilege and racism exist, to understand our country's history of inequality, and to do something about it. To that end, here are five advocacy grants offering support for equality and justice in our society:
James Baldwin, an American writer and activist, said, "It is certain, in any case, that ignorance, allied with power, is the most ferocious enemy justice can have." 
Next: Black teens who experience daily racial discrimination show depressive symptoms, study finds