Where Can College Grads Find a Job & Affordable Housing?
Grads may find work or high salaries, but not affordable housing in the same place. Find out which cities offer jobs, or better shots at the American Dream.
---
'What are you doing after you graduate?' This question rings in the ears of many seniors preparing to take their final steps off campus. Establishing a career in a city is top of mind for college grads, yet while they have had four years to prepare for the future, there are various factors that make this plan complex.
When choosing their first job, recent grads may feel it's a choice between extra cash in their pockets and a roof over their heads. In order lock down a great job after college and still make enough money, it is important for them to find a balance between the location of job opportunities, cost of living and income.
Here are the four things graduating students should consider when planning their future -- job opportunities, salary levels and affordable housing for rent or homeownership. Does your city offer the right mix?
#1 Where are job opportunities most abundant?
When first starting a career, it's important to realize that some cities will have better job opportunities than others. Among 104 metros with a population over 500,000, San Jose ranked as the top grad-friendly metro, in terms of job abundance. Right now, 31.6 percent of job postings in San Jose were occupations that hire recent graduates. The San Francisco metropolitan area, which includes Oakland and Hayward, follows with 26.8 percent of job postings catering to recent grads. Coming in third was the Seattle metro area, where 23.7 percent of job postings were opportunities for recent graduates.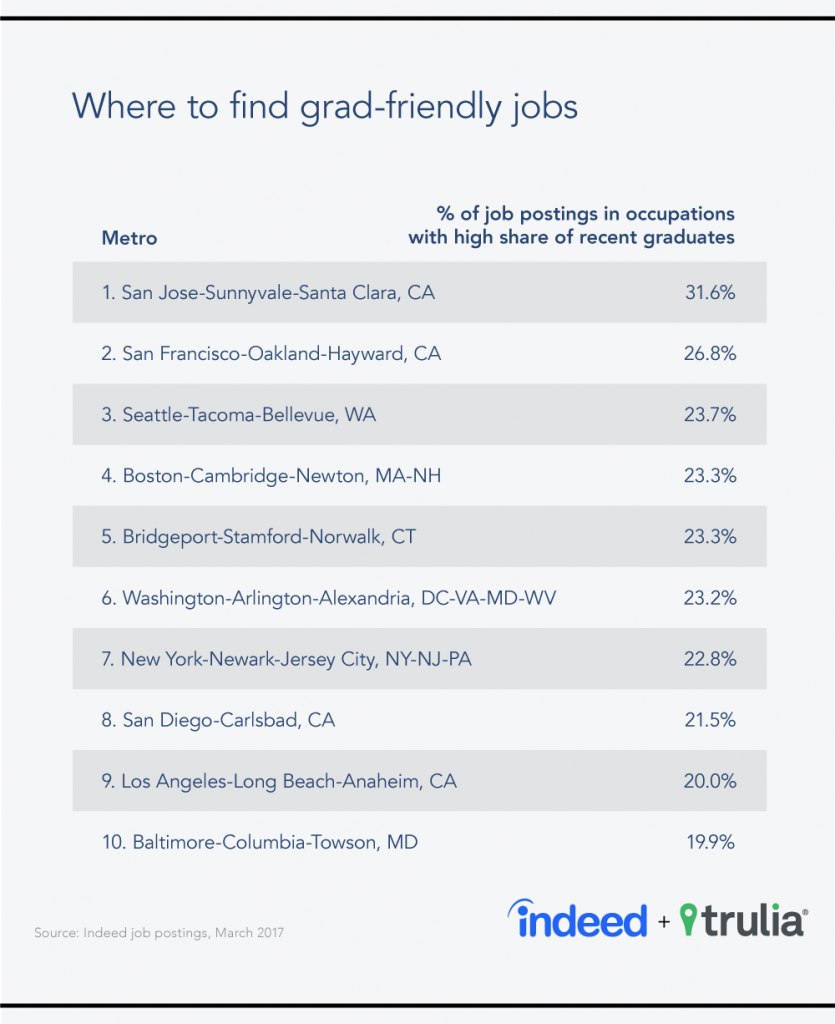 #2 What cities have the highest salaries for recent graduates?
The student loan debt crisis creates a big incentive for college students to pay attention to salary offers. In fact, in 2012, 71 percent of graduating students had a student loan debt, that's 1.3 million students. In light of this, the salary a company offers is a major factor that influences graduating a senior's decision. The Washington D.C area, which includes Arlington and Alexandria, has the highest median monthly income at $3,337. The second highest median income of $3,333 is available in San Jose, Calif. The metropolitan with the third highest income for recent grads was San Francisco, coming in at $3,250.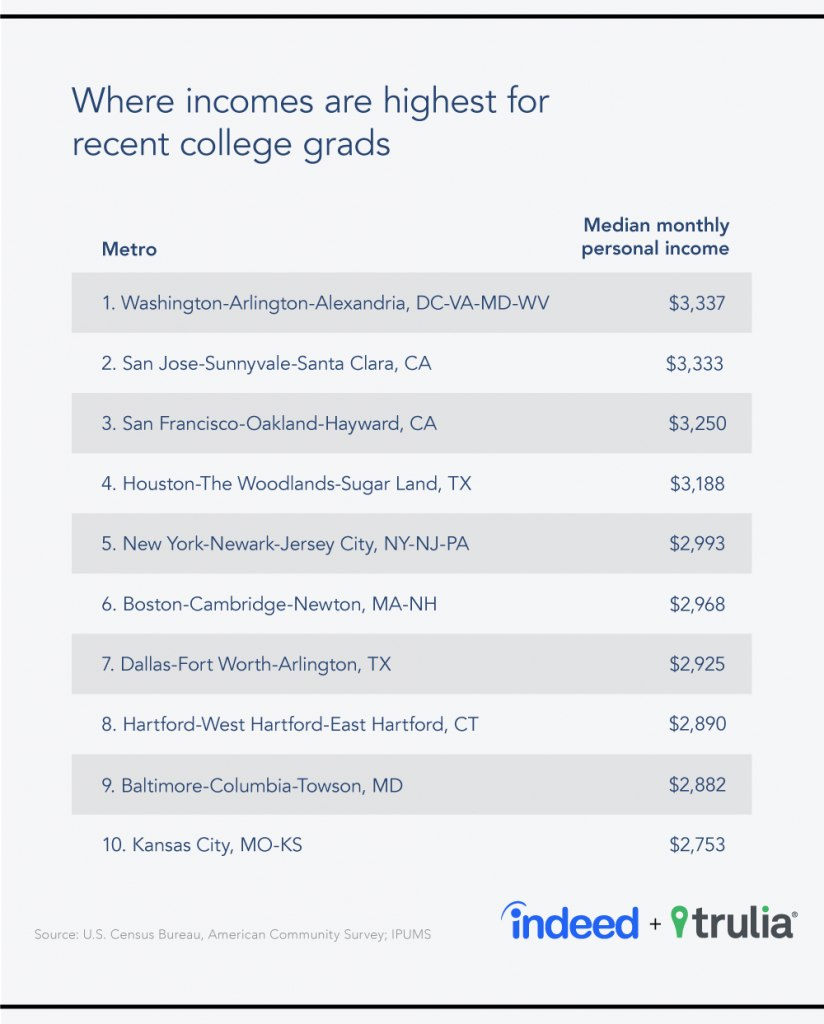 #3 What are the most/least affordable cities to live in?
The first two factors produced a similar list of cities; does this make them optimal to live in after graduation? A third factor for grads to consider is the availability of affordable housing. This factor gives a very different picture compared to the other two.
The three metros ranking highest for the percentage of affordable rentals are Dayton, Ohio, Youngstown, Ohio, and Detroit, Mich., which includes Warren and Dearborn. Over 42.8 percent of places for rent in Dayton are affordable. Youngstown and Detroit round out the top three with close to 40 percent affordable rentals.
Remember those dream jobs? Turns out while good paying jobs are abundant in those metros, affordable rentals are scarce. In San Francisco, only two percent of rentals are within the means of recent grads. Affordable rentals in San Jose represent just three percent of the market. In the Washington D.C. metro only 4 percent of its rentals are affordable, even with its lofty salaries,
#4 Is pursuing the American Dream of homeownership feasible?
What if a recent college grad is ambitious enough to buy a home? The chance of attaining the American Dream in metros with higher pay and job availability is near to impossible. Grads' chances are greater if they choose to move further from the urban core in these metros. For instance if a recent grad looks into Alexandria real estate, they would find 0.3 percent of homes, town homes and condominiums are affordable.
The American Dream is more realistic in metros like Dayton, Youngstown and Detroit. Purchasing a home in the Warren real estate market is a reasonable as renting. Affordable housing in this city is equally available to renters and buyers, 39.5 percent of rental and 38.7 percent of homes are affordable.
Methodology
Using Trulia's Home Affordability Calculator: Affordability is based upon a 36 percent debt-to-income ratio (DTI). We used the median college income for the metro, assumed a 10 percent down payment, a fair credit score and personal debt of $500 (student loan, credit card and car loan). The percentage of affordable homes in each city is based upon the amount of available homes, town homes and condominiums priced above $10,000 showing on Trulia as of May 18, 2017.
For rentals: Affordability is defined as less than 30 percent of monthly income to the median income college graduate between the ages of 22 and 30.
Additional information and methodology can be found in the full "Where New Grads Can Find a Roof and a Paycheck."
Written by Katie Bassett on behalf of Trulia.