Denver City Council to Approve Connected Vehicles Testing
Since entering the 2016 Smart Cities Challenge, Denver accelerated connected vehicles planning to mitigate traffic and will test rerouting trucks and strategies to improve pedestrian safety.
---
DENVER POST
By Jon Murray
Much like the traffic that Denver city officials hope to alleviate with the aid of new technology, the road to a future of connected vehicles is slow and plodding.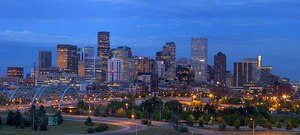 But a $12 million, four-year program that is set to receive City Council approval Tuesday aims to lay serious groundwork. Funded in part by a federal grant, the program will experiment with three threads of an emerging smart network that eventually could wirelessly tether most cars and trucks to traffic signals, signs and pavement, creating a real-time stream of information to smooth the flow of traffic.
"They are case studies in trying to establish this technology," said Nancy Kuhn, a spokeswoman for the Denver Department of Public Works.
Continue reading the story on the Denver Post website.
Review Denver's Smart City Challenge narrative on Transportation.gov.