Chicago's Electric Buses Run 82 Daily Routes with Zero Emissions
The first private fleet of electric buses shuttle 35,000 rides per month between Chicago public transit stations and the city's Aon and Prudential stations.
---
This month marks the launch of the first privately-run, 100 percent zero-emission electric bus fleet in the country in Chicago, partially funded by Drive Clean Chicago, a federally-funded program.
The Prudential Plaza-Aon tenant shuttle service runs 82 daily routes between Prudential Plaza and Aon Center in the East Loop and the city's major Metra railway terminals at Ogilvie Transportation Center, Union Station and LaSalle Street Station.
The 10 zero-emission electric buses, leased from Proterra by private investment firm 601W Companies, replace eight diesel buses. They provide 35,000 rides monthly to individuals who work in the two buildings.
The new electric buses are cleaner, reducing the environmental impacts from the diesel buses they replaced. The new buses contribute to Aon Center's and Prudential Plaza's LEED certifications.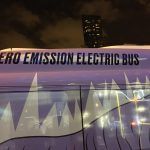 They are reportedly luxurious inside and have WiFi. They are also GPS-enabled, so riders can track them and improve their commuting experiences. The fleet is wrapped in a colorful, nautical theme.
"Creating greener transportation options and cleaner air for all Chicagoans are key pillars of the City of Chicago's sustainability goals," said Rebekah Scheinfeld, Chicago Department of Transportation Commissioner in a prepared statement.
This zero-emission fleet is exactly the type of progress we intend to create through Drive Clean Chicago. We look forward to seeing how other fleets respond to the precedent this sets," Scheinfeld said.
Drive Clean Chicago has supported deployment of more than 400 clean vehicles for area fleets, and 220 alternative fuel stations, according to TriplePundit.com. That equates to 200,000 barrels of oil, and reduced greenhouse gas emissions of 2,850 tons.