5 Tech Reasons Railroad is Strong
Railroad remains one of the key transportation links for economic development because of these five tech innovations that enable stronger freight hauls.
---
According to the Association of American Railroads, freight trains are stronger than 35 years ago. Today's railroads pull their weight in the United States transportation network, hauling an average 3,600 tons for each freight train.
Each year the rail industry heads to Capitol Hill on Railroad Day to speak to representatives and senators about the industry's priorities. Today, the rail industry will bring Congressional leaders their 2017 priorities for extending the 45G railroad tax credit, preserving regulation and supporting a more balanced transportation infrastructure spending policy.
Here's why railroad is such an important part of the economy, which depends on all modes in the U.S. transportation network delivering a total of 54 tons of goods and commodities per American per year.
#1  Distributed Power
More power means trains can carry heavier tonnages, increasing the efficiency of a single train. Distribution of multiple locomotives throughout a train allows coordinated braking and traction power, decreasing stopping distance and enhancing overall safety. The technology also reduces equipment damage on steep inclines, fuel consumption and rail wear and tear.
#2 Lighter Freight Cars
Freight railroad operators have replaced aging steel rail cars with lightweight aluminum cars -- designed specifically to carry coal. About 1/3 lighter than their steel couterparts, with lighter weight rail component castings, materials advances have reduced the weight of a train without sacrificing its safety or strength. They can carry larger cargo shipments.
#3 Alternating Traction Motors
Alternating current traction motors provides greater adhesion between a train's steel wheels and the steel rail. Greater adhesion means better stability and more pulling power for heavier loads, which reduces the number of locomotives needed.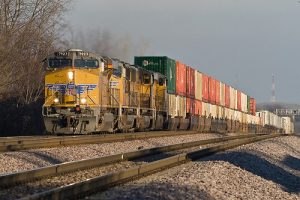 #4 Double Stacking
A single train carries as much freight as hundreds of trucks because the double-stacked intermodal rail car was pioneered in 1977. Since then, operators have raised clearances, upgraded tunnels and strengthened rail lines to accommodate double-stacked intermodal trains throughout most of America's 140,000-mile freight rail network. Double stacking increases efficiency, and reduces greenhouse gas emissions.
#5 Heavy Axle Load Program
Research by the Transportation Technology Center's Heavy Axle Load Research Program allowed railroads to increase axle loads safely by nine percent. Freight railroad implements 36-ton axle loads with today's tracks and rail equipment. The center helps railroad improve equipment design, track structure and procedures for inspection and maintenance.