Solar Jobs Lost to Tariffs -- and Under-Priced Imported Solar Panels
2018 tariffs on solar panel imports are reduced U.S. solar jobs, but under-priced foreign panels also hurt the U.S. solar industry workforce.
---
Tariffs imposed on imported solar panels put 350 solar manufacturing jobs at risk in Hillsboro, Oregon, not long after the manufacturing plant's Germany-based owner SolarWorld declared insolvency and had already laid off 360 workers last year, according to The Oregonian.
But California-based SunPower purchased the domestic manufacturing source, moving some of its advanced manufacturing back onshore from the Philippines and Malaysia, so it won't be subject to the tariffs.
LG Electronics also announced that it would invest $28 million to open an advanced solar module assembly plant in Huntsville, Alabama, and create 160 jobs.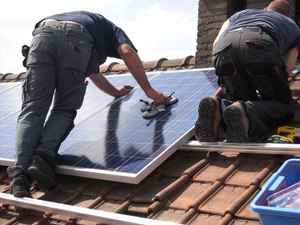 But these two examples of solar jobs may be a drop in the bucket compared to what is being lost, and U.S. solar panel manufacturers may not replace those jobs as quickly as they are lost.
The Workforce Fallout of Chinese Manufacturers 'Dumping' Solar Panels 
The state of Oregon gave SolarWorld tax credits and property tax breaks worth roughly $100 million and the company began manufacturing solar panels in 2008, but it reportedly struggled due to falling solar prices driven by a flood of imports, according to article in The Oregonian.
SunPower and other companies had protested the Trump Administration's tariff, while SolarWorld and others U.S. companies argued for it -- citing Chinese manufacturers dumping solar panels on the domestic market in order to undercut U.S. producers.
The tariff has halted solar projects and led to solar installer and other solar job losses in the United States. The Solar Energy Industries Association (SEIA) estimates that 2018 tariffs will remove 23,000 jobs from the U.S. solar industry, according to a recent Fast Company article on the workforce impacts from several Trump tariffs.
Editor's Note: May 16, 2019. In 2018, the drop was estimated at 8,000, according to Inside Climate News, precipitated by a 2017 drop of 10,000 solar jobs. But in ICN's breakdown of which states had jobs growth (Indiana, Florida the Midwest), the opening of new markets creates hiring blooms. For example, Florida utilities opened their policies and companies began leasing rooftop solar for residents that conveyed a demand to procure solar. Several outlets report companies are positive to long-term trends. Tesla's Buffalo factory added 132 jobs beyond its 500 manufacturing jobs capacity requirement in it's deal with the state of New York, according to Green Tech Media.
Many of those solar industry job losses are solar installers, a career once considered one of the fastest growing U.S. jobs through 2025.
However, India's Parliament Standing Committee on Commerce has also said under-priced solar panels manufactured in China have also flooded India with at least 200,000 job losses, according to Energyworld From The Economic Times.
The committee is calling on the government for immediate trade measures to protect the nation's domestic solar industry, according to the story.
Various U.S. state caps and legislative actions are resulting in reports of a volatile solar industry and indicate its jobs are at stake.