The 100 Fastest Growing Jobs of 2016
The fastest growing jobs list is led by the wind energy and public health industries, with home health aides and commercial divers making the top 10.
---
A recent report studying the latest state job data and federal labor projections has determined the United States' 100 fastest growing jobs.
According to the researchers at Zippia, a career resource company, the jobs indicate industry trends and national priorities. But on a more practical level, the fastest growing jobs listed can also be considered reliably secure because they are here to stay, said the report authors.
The list is something civic leaders should consider with workforce development and education initiatives: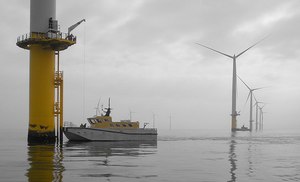 We were surprised to see that the fastest growing jobs weren't all in technology, but spanned technology and medicine. To us, that is indicative of a wide array of job options for anyone who is willing to get an advanced degree. It also shows that a Bachelor's Degree just isn't going to cut it for millennials today," said Kristy Crane, Zippia's public relations manager.
The top 100 fastest growing professions are:
Wind Turbine Service Technicians
Occupational Therapy Assistants
Physical Therapist Assistants
Physical Therapist Aides
Home Health Aides
Commercial Divers
Nurse Practitioners
Physical Therapists
Statisticians
Ambulance Drivers and Attendants, Except Emergency Medical Technicians
Occupational Therapy Aides
Physician Assistants
Operations Research Analysts
Personal Financial Advisors
Cartographers and Photogrammetrists
Genetic Counselors
Interpreters and Translators
Audiologists
Hearing Aid Specialists
Optometrists
Occupational Therapists
Web Developers
Forensic Science Technicians
Diagnostic Medical Sonographers
Personal Care Aides
Solar Photovoltaic Installers
Prosthodontists
Phlebotomists
Ophthalmic Medical Technicians
Nurse Midwives
Emergency Medical Technicians and Paramedics
Opticians, Dispensing
Reinforcing Iron and Rebar Workers
Medical Assistants
Therapists, All Other
Health Technologists and Technicians, All Other
Biomedical Engineers
Helpers–Brickmasons, Blockmasons, Stonemasons, and Tile and Marble Setters
Substance Abuse and Behavioral Disorder Counselors
Bicycle Repairers
Cardiovascular Technologists and Technicians
Law Teachers, Postsecondary
Orthotists and Prosthetists
Massage Therapists
Speech-Language Pathologists
Criminal Justice and Law Enforcement Teachers, Postsecondary
Athletic Trainers
Anesthesiologists
Computer Systems Analysts
Medical Secretaries
Mathematicians
Surgeons
Clinical, Counseling, and School Psychologists
Mental Health Counselors
Makeup Artists, Theatrical and Performance
Nurse Anesthetists
Healthcare Social Workers
Insulation Workers, Mechanical
Nursing Instructors and Teachers, Postsecondary
Computer Numerically Controlled Machine Tool Programmers, Metal and Plastic
Health Specialties Teachers, Postsecondary
Mental Health and Substance Abuse Social Workers
Software Developers, Applications
Veterinary Technologists and Technicians
Dental Hygienists
Market Research Analysts and Marketing Specialists
Brickmasons and Blockmasons
Dental Assistants
Orthodontists
Helpers–Electricians
Dentists, General
Industrial Machinery Mechanics
Actuaries
Information Security Analysts
Medical and Clinical Laboratory Technicians
Oral and Maxillofacial Surgeons
Forest Fire Inspectors and Prevention Specialists
Obstetricians and Gynecologists
Film and Video Editors
Nursing Assistants
Chiropractors
Computer-Controlled Machine Tool Operators, Metal and Plastic
Entertainment Attendants and Related Workers, All Other
Social Sciences Teachers, Postsecondary, All Other
Medical and Health Services Managers
Mathematical Science Teachers, Postsecondary
Dietitians and Nutritionists
Biological Science Teachers, Postsecondary
Licensed Practical and Licensed Vocational Nurses
Pile-Driver Operators
Septic Tank Servicers and Sewer Pipe Cleaners
Registered Nurses
Psychology Teachers, Postsecondary
Sociology Teachers, Postsecondary
Chemistry Teachers, Postsecondary
Computer and Information Systems Managers
Medical Records and Health Information Technicians
Self-Enrichment Education Teachers
Credit Counselors
Physics Teachers, Postsecondary
Fastest Growing Jobs Methodology
Zippia's data crunching relied on gathering all the states' departments of labor data and the Bureau of Labor Statistics' most recent occupation growth projections. The Bureau last compiled that data in 2014, with projections through 2024.
The researchers selected the 818 occupations that the Bureau projects will have at least 1,000 workers in 2024. Next, Zippia ranked each occupation based on its expected job growth from 2016 to 2024.
Windtech is Fastest Growing Job in America
The results put wind turbine service techs at the number one spot. Windtechs, as they are also known, install, maintain and repair wind turbines. Their annual median wage, according to the Bureau's Occupational Outlook Handbook, is more than $51,000 per year.
Interestingly, the sixth fastest growing career -- commercial diver -- may also be related to global increases in offshore wind projects. Although Zippia said they could not confirm this correlation from their study, and the Bureau's handbook did not have specific information about the profession, the federal labor department indicates the commercial diver occupation has a much higher than average growth rate. Note that commercial diving excludes diving for fisheries-related work, athletics/sports and public safety, the Bureau noted. Further, O-NetCenter, a careers resource center supported by the U.S. Department of Labor, indicates that the top industries driving commercial divers' jobs are construction and self-employment.
According to cDiver.net, the global energy market research firm Douglas-Westwood reported in 2010 an increased need for commercial divers to support European wind energy projects. Today, the company is forecasting global investments of €200 billion in offshore wind energy projects through 2025. Again this past February, cDiver.net alerted commercial divers to work opportunities in the wind sector, in addition to decommissioning of older North Sea fossil fuel rigs. The site reported that 2015 was the wind industry's busiest year with numerous new offshore farms in construction or planning phases, and then pointed readers to where they could search work opportunities.
Read the original fastest growing jobs story on Zippia's website.