How Police Can Better Prepare the Public for Active Shooter Response
Law enforcement leaders are at a crossroads in regard to active shooter response. PoliceOne's Mike Wood suggests several proactive measures communities can take to preserve life between the start of an attack and police arrival on-scene.
---
Police1 columnist Mike Wood wrote in January, "It will take many changes, and the commitment of additional personnel and resources to make a bigger impact in these areas, but if police leaders take a more aggressive role in bolstering public readiness, there's no doubt it will have a positive influence on the outcome of active shooter attacks. Perhaps many of these murderous rampages would even be short-circuited before the police got there."
What Wood describes as "a third generation of active shooter response" positions local law enforcement and public safety agencies leading emergency preparedness activities that preserve life.
Activities include: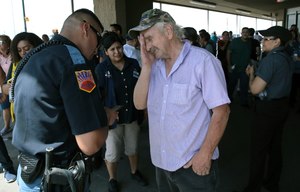 Working with schools to improve the security culture, conduct professional site surveys and threat assessments, and put rigorous security protocols in place, to include a more robust school resource officer program.
Working with the public and legislature to facilitate the formation and implementation of School Guardian, School Marshal or armed teacher programs.
Hosting and facilitating training courses conducted by outside organizations like ALICE Training Institute, FASTER Saves Lives or regional Stop The Bleed programs.
Licensing responsible adults to carry concealed firearms, and providing training opportunities for them.
Working with religious institutions to conduct safety audits and put rigorous security protocols in place, to include the development of in-house security teams.
Training members of the public in tactical emergency casualty care, perhaps in concert with fire/EMS or professional industry partners;
Working closely with stadiums, arenas, universities, public venues, concert and festival promoters, and private security providers to provide adequate police support, and ensure that credible security and safety measures are in place for large public gatherings;
Working closely with businesses and private security to ensure safety measures are in place for employees and customers.
Read the full article in Wood's Tactical Analysis column on Police1.com.
Get active shooter resources for fire departments on FireRescue1.com.